The Biggest Fashion Moments of 2016
From pantsuits to hygge, look back on 12 months of sartorial highs and lows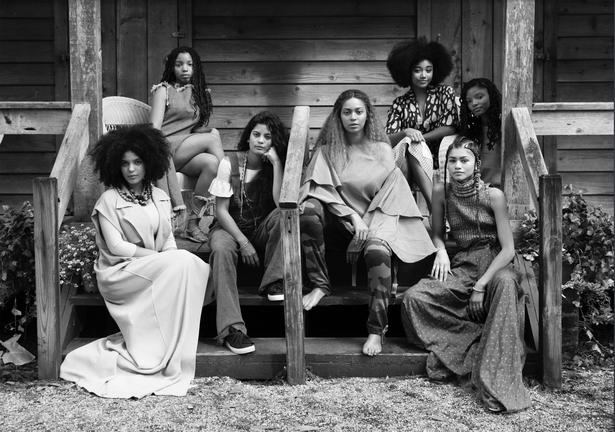 Tuesday Dec. 20, 2016
Superstar Style
We lost superstars David Bowie and Prince, but modern-day singers tried their hardest to continue the glamour and relationship between music and fashion. In February, Beyonce released Formation, with a politically charged, and visually delightful, music video that was her most stylish to date, with looks from the likes of Gucci, Fendi and Zimmermann.
That was just a prelude to April, when she released the visual album Lemonade featuring outfits from Gucci, Givenchy and more; and her Formation tour, with custom bodysuits from Gucci, Balmain and Roberto Cavalli. But her most 2016 fashion reference? Epic tour merch (another key fashion moment of the year), including a "Boycott Beyonce" printed T-shirt that cheekily references the controversy surrounding her Super Bowl performance and references to Black Lives Matter.
Lady Gaga had (another) year of fashion moments and evolution: walking in the Marc Jacobs show at New York Fashion Week in March, singing the national anthem at the Super Bowl in a custom glitter Gucci suit, paying tribute to Bowie at the Grammys in custom Marc Jacobs, and sporting a classic white jumpsuit by Brandon Maxwell for the Oscars. To mark the release of her album Joanne, her next style incarnation: a wardrobe of millennial pink.
Very Pink
While we're generally not big on colour trends, it was hard to ignore this year's craze for a very particular shade of pink. Described as "millennial pink", think of the faded, rose-tinged salmon shade that permeated every aspect of style - from the runway to branding to book covers. It's the year's rosé obsession, the rose gold iPhone, the return of tinted shades and Auckland's pop-up pink gin bar The Juniper Room (albeit a little too Barbie pink to be millennial, but close enough). It's Gucci's romanticism. New York magazine's Veronique Hyland asked, Is There Some Reason Millennial Women Love This Color?, writing of the shade, "it's ironic pink, pink without the sugary prettiness. It's a non-color that doesn't commit, whose semi-ugliness is proof of its sophistication".
Goodbye to Them
Exit, stage left, Michelle Obama and Samantha Cameron, having both played a blinder in their roles as political consorts. As well as appearing down-to-earth under the intrusive glare of international scrutiny, they introduced a more carefree, breezy approach to limelight dressing that we have all been taking copious tips from. From their deft, confident way with colour, championing of young design talent and propelling the humble cardigan to royal audiences, they've spearheaded a motion towards grown-up, realistic style.
READ: What Next for Michelle Obama?
The (Almost) Pantsuit Nation
For a moment, it looked like as though a coloured trouser suit was going to be the defining outfit of the year. They were on the Gucci and Celine catwalks; and then came the co-ordinated rally cry of Hillary Clinton's most ardent supporters. Alas for all the suffragette coding - white for debate; purple to concede - it was not to be. A shame for the sisterhood, but maybe a lucky escape for fashion watchers.
Enter Mrs Trump, FLOTUS-in-Waiting
Perhaps in time we will look back on this year and recall what we did on the day Donald Trump was elected president. You may have wept silently into your muesli, while others booked a flight for an audience in that gilded lift.
Fashion writers, however, were tasked with mulling over the sartorial implications of the incoming first lady. That may seem trite, yet this nebulous role has made style icons out of its memorable incumbents, and it currently serves as one of the most high-profile marketing slots a designer can bag. What these ladies wear can have an extraordinary effect on PR-ing the American fashion industry, pushing sales (the value of dressing Michelle Obama is estimated to be worth $38 million to a brand) and even communicating subtle nuances of attitude in the administration itself.
Yet, so far, designers have been reticent to voice support for Melania Trump, and Tom Ford, Sophie Theallat and Marc Jacobs have all declined to dress her. Meanwhile, those whose creations that she has worn have kept a tight-lipped silence on her patronage. So who will take that thorny Inaugural gown commission? Yes you'll get global exposure, but will anyone in the liberal, open-minded fashion industry respect you? Tricky.
READ: How Fashion is Getting Political
Fashion Gets Political
In such a politically tumultuous year, it was a given that people would use their clothing to express their point of view - from Nasty Woman T-shirts to Anti Brexit tees. Fashion was politicised too, with the French burkini ban in August indicating that what we wear matters. In an essay for Viva exploring whether fashion can matter in such controversial times, Noelle McCarthy wrote, "If defending women's emancipation by telling French women what they can and can't wear to the beach seems like strange logic, Islamic terrorism has made the burkini debate particularly sensitive. Whether you believe that Muslim women have the right to cover up on the beach (especially if that's the only way they'll get to have fun in the sea like the rest of us) or you see the burkini as a symbol of social control and religious oppression, it's a good indication that what we wear matters when politicians feel obliged to legislate against it."
$1500 Jeans and DHL T-shirts: The Year's Most Unlikely Fashion Sell-Outs
This year, our grammatical focus was centred on one man - Demna Gvasalia, the designer behind provocative streetwear label Vetements and, latterly, incumbent creative director at Balenciaga. He is the man who caused grown women to lose their marbles over $1500 jeans and to sport unforgiving, bright yellow DHL logo T-shirts (yes, as in the delivery service). He is proposing a fluoro legging look for next spring that, honestly, we can't say hand on heart that we're not into.
See Now, Buy Now
The biggest fashion buzzwords of the year. What do shoppers want? What do women want? This year more than ever, the fashion industry grappled with questions of how to speak directly to the consumer - with designers desperately trying to figure out what they want. 
Stranger Things
When the cult Netflix series reached peak hit during the summer, its female stars were picked off as women to sartorially lust after. Some ironic souls declared that geeky Barb's "Mom" jeans and Gucci-esque oversized 70s specs were The Look of 2016. But it was 12-year-old Millie Bobby Brown who, alongside inspiring a billion Halloween babydoll costumes, has also graced magazine covers and fashion front rows in an array of grown-up, high-styled garb. Slightly wrong and inappropriate? How very fashion.
New Zealand Fashion Goes Global
The world finally came to New Zealand, with stores from international super brands opening this year - Chanel opened a beauty store in Britomart in August, followed by H&M, Zara and Tiffany & Co. stores in October and the arrival of Tom Ford Beauty at Smith & Caughey's in September. Louis Vuitton celebrated 25 years in the New Zealand market, with revamped stores in Queenstown and Auckland. In Wellington, iconic Australian department store David Jones opened its first international store in July, offering luxury accessories brands including Proenza Schouler, Balenciaga, Valentino, Saint Laurent and more.
Local brands had a good year too, with a record number of celebrities wearing New Zealand fashion: from Taylor Swift wearing a sequin ensemble by Juliette Hogan in March to Rosie Huntington-Whitely sharing an Instagram post wearing a gown by Ruby. Lena Dunham posed for Auckland brand Loney's Lonely Girls Project, while Kylie Jenner chose one of their lingerie sets for her 2017 calendar. And finally, in the year's more surprising but delightful fashion news, Guns N' Roses wore items from Raglan-based brand Bad Things.
Greynaissance
On the flipside to 12-year-olds in $5000 dresses came an interesting curveball whereby some labels have finally taken note of their actual customers and followed the even more unusual step of appealing directly to them. Lauren Hutton (72) walked alongside 21-year-old Gigi Hadid on the Bottega Veneta catwalk; Miu Miu cast Cecilia Chancellor (50) in its campaign; British department store Harvey Nichols featured 100-year-old Bo Gilbert in their advertising, to coincide with British Vogue's centenary; while 90-year-old bikini wearer Irene Carney went viral in her polka dot two-piece and 68-year-old Maye Musk became a street-style star at fashion week, making it clear this Greynaissance is set to last.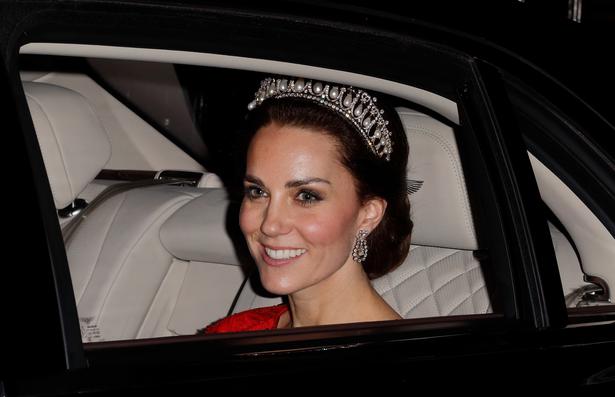 The Duchess Ups Her Game
Ardent Kate-watchers were treated to two international royal tours this year, a recalibration of the Duchess's style - and her debut as a Vogue cover girl for the fashion bible's 100th birthday issue. Out went the safe nude court shoes, in came strappy sandals worn with an off-the-shoulder number by Brazilian designer Barbara Casasola; and, later, that sensational Preen by Thornton Bregazzi red dress in Canada. Such was her commitment to glamour that she even bravely wore white to a children's tea party.
READ: British Vogue Editor Alexandra Shulman on 100 Years of Vogue
Hygge Off
While we have purposefully avoided any contrived mention of hygge, the Danish marketing phrase du jour, we concede that comfort-conscious style has taken grip this year (we're all for this), we just like to call a spade a spade - and this spade is COSY. Pyjamas in silk iterations offered anyone game enough to spend $550 on a pair the chance to sport them day and night; while tracksuits - cashmere or velvet, ideally - became perfectly do-able anywhere but the gym.
READ: The Rise of Streetwear Pyjamas
The Neon Queen
She's 90-years-old and still pulling in the crowds - and making rather forward-fashion choices. Her neon number for Trooping the Colour was really quite something. But our love for HRH certainly hasn't waned: and nor has a collective obsession with royal style.
Gucci staged its cruise show in Westminster Abbey, complete with Balmoral-friendly looks, while Dior took its travelling fashion circus to Blenheim. The Crown became our later-year obsession. The frocks! The tiaras! The jewels! What we really want to know, though, is whether ERII was watching. The suspense is killing us.
No Makeup Life
In a thankful riposte to the Kardashian-led affection for extreme contouring, some public figures took a face wipe to it all. Alicia Keys started a fresh-faced movement, Gwyneth selfied her 44th birthday without a slick of it, while Hillary showed her humanity in removing her campaign mask post-election.
- Viva, The Daily Telegraph
Share this:
More Fashion / Features & Profiles