Why Formation is Beyonce at her Most Fashionable
Take a closer look at the fashion in Beyonce's new music video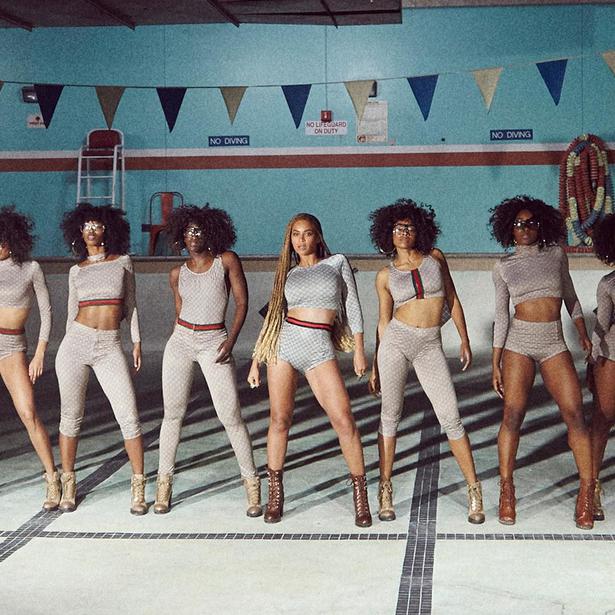 Sunday Feb. 7, 2016
Just when you thought that maybe Beyonce was losing some of her cool points (Celebrity Lip Sync Battle, Coldplay, Runnin'...), she drops another bomb to remind you why she's Queen Bey. Following her surprise album release at the end of 2013, today the superstar slayed again with new single Formation - and its politically charged, and visually delightful, music video.
Styled by Shiona Turini, Marni Senofonte, Zerina Akers and Ade Samuel, the clip is also one of Beyonce's most stylish to date with high-fashion name dropping - "I'm so reckless when I rock my Givenchy dress (stylin')" - and looks from Gucci, Fendi and more. Take a closer look at the fashion in the video:
1. The opening look, atop a partly-submerged New Orleans Police car, is a red print silk shirt and skirt by Gucci.
2. According to Man Repeller, the statement necklace is by DylanLex and choker by Fallon.
3. The high-necked Victorian-style dress (also the closing look) is by Australian-brand Zimmermann.
4. Braids and Fendi fur while riding out the car window.
5. What better for dancing with your ladies in formation in an empty pool than co-ordinating Gucci-inspired bodysuits? With classic GG pattern and web detail, the brand explained on Instagram that the bodysuits are, "an homage to Gucci, celebrating its past and its present".
6. In the sitting room wearing an off-the-shoulder white lace dress by Alessandra Rich and dainty Chanel hat.
7. The purple and mint tulle dress is another Gucci look, Beyonce's second from the spring 2016 collection.
8. The 'Uh Huh Honey' slides seen in the video are by O-Mighty, since sold out. 
Share this: