Big girl's blouse: The rise of unisex dressing
Alexander Fury has aspired to designer Phoebe Philo's unisex style since she took her bow at Celine in September. But he finds men in crossover clothing still court negative reactions.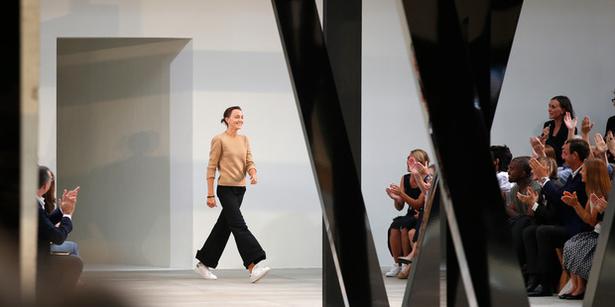 Thursday Jan. 22, 2015
I've recently realised that I love Phoebe Philo's clothes. That's a somewhat redundant statement: Philo is the creative director of the French label Celine and, since her first collection in 2009, has changed the way women dress today. I'm not sure how long-lasting it will be, nor how breathtakingly original. Nevertheless, in the here and now, the aesthetic Philo dubbed "Reductionism" is, arguably, the single most influential at high end and high street.
But I'm not talking about Philo's catwalk clothes, rather her own. For example, at the end of the spring Celine show she bounded out in a camel sweater and wide black trousers above a pair of adidas Stan Smiths. Bare ankles. Bare face. It was my favourite look from the show - in fact, it made the lappets of ruffles, scrambled florals and odd cowbell-strung twine belts her models wore look a bit try-hard. Practical, simple but stylish, it's one I've found myself subconsciously emulating. With varied success.
It seems an odd thing, a man yearning to dress like a woman - especially when it doesn't involve frocking up good and proper. But it's a feel that's in the air right now. J.W. Anderson, for instance, has always been a proponent, and although he gets plenty of press when he shows looks that have shifted straight from the womenswear department - such as platform brogues or lingerie-look suits - subtler tweaks are at work.
Frequently, similar looks directly cross from his womenswear pre-collections into his menswear, or maybe vice versa, shown as they are within a week of each other in London. For spring, it was a feminine pair of trousers with swathed hip; his winter menswear collection borrowed a big-buttoned duster-coat from the girls.
There's an idea of unisex behind those garments. It's not the overt femininity of ballgowns but gender-blurring bits like sweatshirts and tailored trousers that render the his 'n' hers wardrobe divide obsolete. Selfridges is even launching a "gender-neutrals" space across three floors of its Oxford St flagship in March.
That shows men are opting for sweaters cut snugger, with darts or tucks and details, such as boat necks and puffed sleeves that traditionally were adopted to give said garments a feminine slant. Men are wearing women's jeans because they're cut tighter. They offer options menswear doesn't. Or rather, hasn't. Until now.
Given the economic importance of menswear in the current fashion equation - having long been eclipsed by womenswear - the new prominence of menswear-dominated markets in China and the Far East have thrown particular emphasis on the area. It's also created a demand, so many womenswear designers have branched out into the arena in recent seasons.
Given the proximity of the presentation of menswear with the women's pre-collections, there is often a slipstream between the two: the neon-net detailed T-shirting of Christopher Kane's spring offering, for instance; while in Milan, Prada showed near-identical looks for men and women in June, side by side. Did they originate on the boys, or the girls? It was hard to tell.
There's a bit of cross-dressing cross-over happening, generally. Strictly speaking, that slouchy trew and sweater I've yearned for were lifted from menswear in the first place. As recently as the 1960s, women could be refused entry to fashionable restaurants if wearing trousers - as happened to the late socialite Nan Kempner in 1968.
New York's La Cote Basque didn't care if her trousers were haute couture from Yves Saint Laurent, the man widely credited with injecting trousers with a soupcon of sex and turning them into a must-have fashion item rather than mere practical proposition. Kempner was forced to check them at the door and walk in wearing just the tunic they sat under, as a (very) mini-dress.
The outrage over women in trousers has been deadened over time, but a man dressing in a feminine style remains one of the few sartorial statements guaranteed to raise hackles. Wearing a big girl's blouse still elicits questioning looks and raised eyebrows, and even some of the outright hostility experienced by Mick Jagger when swanning around in Ossie Clark bishop's sleeves in the 60s.
Which is strange, because today men are consciously and constantly requisitioning womenswear to add to their wardrobes. Like Chinese whispers, it's the menswear-inspired bits they're turning to. A tranche of blokes descend on Celine boutiques each time their brightly coloured Vans-style slip-on shoes are delivered in larger sizes.
Admittedly, the ones I know all work in the fashion industry; almost all are gay. But the demand for longer-line sweatshirts and tunics of the type sported by Kanye West, hitherto considered the avant-garde preserve of designers such as Rick Owens, has resulted in high-street labels such as Asos and Topman offering the garments; while the phenomenon of skinny men wearing their girlfriend's skinny jeans is ubiquitous enough to be unremarkable.
In short, no one seems to mind what side their trousers button on any more. How freeing.

Gender bending style has been big at the recent menswear shows in Milan - take a look at some runway highlights in the gallery below.

Share this:
More Fashion / The Latest