Wardrobe Staple: The Biker Jacket
Don a black leather biker jacket for a serious edge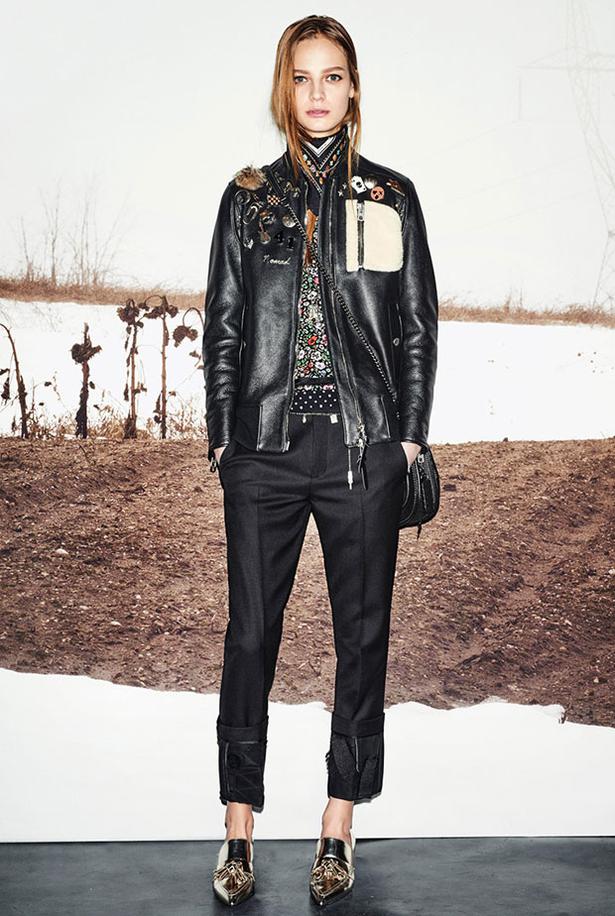 Saturday Aug. 15, 2015
With a surplus of choice and an over-supply of new deliveries in the retail fashion chains, it's becoming abundantly clear that though we may pore through the pages of magazines in search of the latest of fashion's holy grail, it's a lost cause.
The surfeit of styles available has us swamped. So at times like these, when fashion trends are more a mysterious miasma than a guiding light, my instinct is to look to the classics. It works.
Having been a fan from way back of the tough with the tender fashion philosophy, rifling through the cupboard the other day in an effort to keep warm, I picked out one of my old trusted and true staples.
A butter-soft black leather biker acquired in my days of Turkish residence — a country which anyone worth their style salt knows produces probably the best hides in the world. Like velvet to the touch — yet tough enough to last the distance — this jacket has got me through more "what to wear" moments than I care to disclose.
The black leather biker owes its fame not to a fashion designer per se but to a single stroke of genius from an outerwear manufacturer in New York who saw a gap in the market for providing cyclists with an efficient means to ward off the cold while speeding through the streets. His name was Irving Schott and his was the first leather cycle jacket with a zipper.
He called it The Perfecto after his favourite Cuban cigar: a perfect shield against the elements, it also allowed riders to lean into the wind without discomfort. But it did take a Harley-Davidson distributor to shoot the shape to stardom as it became the "must wear" for a new generation of motorcycle bikers in 1928.
It was originally in brown — black only made an appearance in the 1950s and any follower of the silver screen knows how that came about. Marlon Brando, donning a skull-and-crossbones-stamped Perfecto for the role of Johnny Strabler in The Wild One, turned something functional into a fashion phenomenon. The film, inspired by the California's 1947 Hollister riot, became a defining moment in biker jacket history.
It became the symbol of the era's subculture tribes — the greasers in America and the rockers in England. Worn as a badge of rebellion, the punk era was a spin-off with its emphasis on sexual and fetishist qualities — think The Sex Pistols.
Although Mr Schott's intentions may have been much more altruistic — all about the construction of a great jacket rather than the consequent bad-ass image that has given it a certain je ne sais quoi — there's no doubt it's the tough boy aura that makes it so appealing. And certainly the likes of James Dean, Bruce Springsteen and the Ramones subsequently sporting leather bikers can only have added to that magnetic pull.
Of course with such a cult appeal, the pathway from the highway to the runway was inevitable. And naturally it was the visionary Yves Saint Laurent whose haute couture interpretation caused ripples of delight among the spectators. But the fact Hedi Slimane has followed that tradition with his own variation speaks volumes. And Gaultier, Montana and Versace versions only substantiate its credibility.
With my own lurking liking for the tough/tender approach in mind it's no surprise to find Rei Kawakubo of Comme de Garcons put her own spin on it a while back in 2005 with her Biker/Ballerina collection. This combined black leather bikers with tulle and gingham: a perfect combination of the masculine and feminine with the added zip of underlying strength — a style statement that holds today.
My personal interpretations have seen me at the Furniture Design Awards in New York wearing a leather biker jacket, cashmere T-shirt and full silk skirt. I'm also rather partial to wearing a black lace camisole with full lace skirt topped by leather. But for day there's nothing better than a pair of 40s pleated wool crepe pants, a black cashmere polo neck, a big cashmere scarf and a black biker leather jacket.
Just make sure there's a zip!
Share this: