The Rise of Boutique Sleepwear
Sleeping is the new health trend, and designers are following suit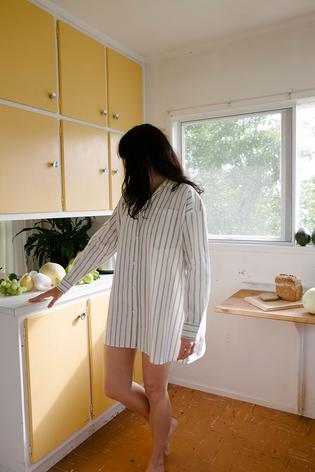 The latest wellbeing buzz for 2017? Joyful, blessed sleep. From Ariana Huffington's book The Sleep Revolution to Gwyneth Paltrow's championing of "clean sleeping", it is being claimed as the biggest health "trend" of the year.
An increasing number of boutique sleepwear and accessories is a happy by-product of this self-care, sleep-well boom, whether it's designer silk pyjamas for glamorously cocooning or luxurious silk pillowcases for snoozing.
For those who prefer simplicity to showy, check out new local sleepwear brand General Sleep by stylist and photographer Greta van der Star and Bailey Meredith, the business and operations manager at Kate Sylvester.
The friends have created practical and comfortable sleepwear; designed for getting the perfect seven or eight hours' sleep and stylish enough to pop to the dairy for a bottle of milk in.
READ: The Rise of Streetwear Pyjamas
The initial release features classic pyjamas, a cami-and-shorts set, and a 'Sunday' set of wide-leg pants and a boat-neck top. The sleep shirt ($250, pictured) is based on a combination of styles inspired by both the founders' mums.
The garments are all made from sustainably sourced, naturally dyed cotton-linen. This is woven on hand looms in India and designed to become softer the more they are worn and washed.
• General Sleep, from $195, from Tessuti, ph (09) 376 4802, and at Generalsleepstore.com
Share this: