Burberry's London Fashion Week Show a Celebration of Britishness
Instead of simply talking about its heritage, Burberry put it on display.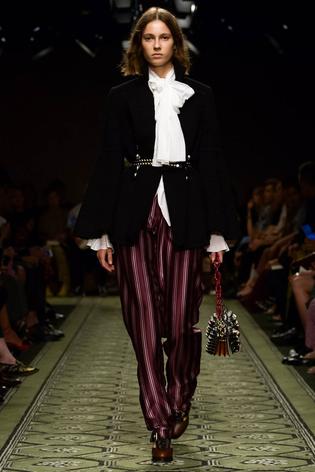 The message was not lost on the hundreds of guests at the Burberry London Fashion Week catwalk show today when they were greeted with glasses of sparkling wine rather than the champagne often offered.
It was Nyetimber, a superb (and pricy) English sparkling wine sometimes served by Queen Elizabeth II, rather than French champagne, as if to emphasise that the Burberry show would be a celebration of all things British, not an attempt to mimic the French or Italian approach to fashion.
Just as England's wine growers believe global warming will make the chalky soil of the South Downs rival the finest French vineyards, so the people of Burberry believe the brand can shine most brightly by emphasising its very British approach to style.
Instead of simply talking about its heritage, Burberry put it on display.
That's why there were busts of famous Brits from Shakespeare to Queen Victoria to Alfred Hitchcock on display in the lavishly decorated Soho venue used for the show, along with displays of historical sketches, luxury wallpapers used by the brand in the past, photographs of young Winston Churchill and even a Burberry trench coat dating back to 1920, still usable and in vogue today.
This veritable orgy of Britishness picked up pace when the show began with dozens of outfits based on fanciful variations of the famous trench coat that creative director Christopher Bailey believes to be at the heart of the brand's appeal. He calls the trench an article of clothing that transcends gender, which was of great use for a collection inspired by Virginia Woolf's novel Orlando, about a poet who changes gender to become a woman.
"I've always looked at the trench coat as something that is completely genderless," he said after the show. "Men wear it. Women wear it, children wear it. It goes from real classicism, a very conservative look, to very edgy fashion and modern styles. I always use the trench coat as my starting point for everything, and I just felt with this collection, because of the book Orlando, it all just seemed to come together."
A beautifully printed edition of the book was given to each guest to emphasise its role in the collection.
"I was looking for this idea of fluidity of gender, fluidity of travel, and I love the poetry in Orlando," Bailey said.
"Of course the book is one thing, then there's the film which takes you on this magical tour of different worlds, different periods, sexuality, the way that we see the world, and it just resonated with this collection, in terms of celebrating the beautiful crafts and historical techniques we used to make the clothes and the way we're using technology to communicate the ideas."
The Burberry show, often a fashion week highlight, benefited from the decision to move it out of a rather anodyne tent in Hyde Park into a central London location where its craftsmen and women could be shown at work, turning out one-of-a-kind pieces, and treasures from the brand's vaults could be displayed.
— AP
Share this: