Business of Fashion: Lingerie brand Rose & Thorne
A 'dream team' of successful businesswomen are determined to take their lingerie brand to the world. Rebecca Barry Hill meets the inspiring group behind Rose & Thorne.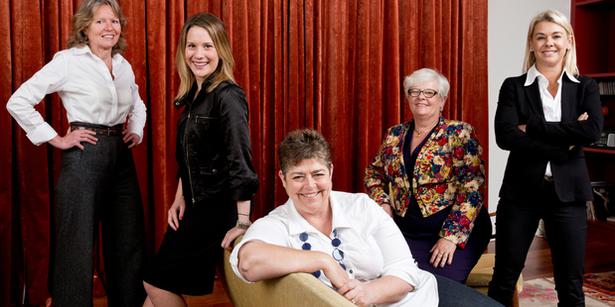 Wednesday Nov. 12, 2014
There are rules if you want to work at Rose & Thorne, the New Zealand lingerie brand poised to go global. "Must enjoy fine wine" and "have a sense of humour" are on the manifesto. But the most important is "don't be a dick".
"Culture is so important," says co-director Debra Hall. "The Rose & Thorne documents are the first ones I've ever seen that spell it out, that if you buy into the company, you buy into the culture. You also need bravery. You have to be brave to work in this company."
That's because lingerie is a highly competitive market. The local brand has just released its spring/summer collection, and it's up against big brands with big budgets and supermodel names.
"It's also a contained market, it's not growing like cellphones," adds Hall. "Unless we persuade men to wear bras."
Hall and her fellow board members are gathered at their HQ, the Ingenio offices in Ponsonby, where anyone within a 100m radius would be able to hear frequent outbursts of laughter.
Even so, this is a serious business, a phoenix risen from the ashes of Bendon. When the firm underwent restructuring in 2010 and the design work was sent to Australia, several staff, including head designer Sue Dunmore, lost their jobs.
That prompted former Bendon CEO Stefan Preston to launch an attractive new range of bras and knickers that would target the value end of the market. For co-founder Dunmore, that post-redundancy period turned out to be a godsend, giving her the time to canvass women for their thoughts on improving the product, and reigniting her passion for design.
"We want our bras on everyone's backs," says Dunmore, who has a soft British lilt with a no-nonsense air. "They're comfortable and affordable but they're not going to make you look like some boring granny."
Testament to that is their spring/summer collection, with bras that come in five sassily named shapes such as "Betty Boobs" and "Perky Power", available fromroseandthorne.com and The Warehouse for as little as $25. There's also a D-G range.
The brand now has its sights set on expanding offshore. This year, Rose & Thorne dipped a toe in the international market, launching in the Australian clothing store Autograph. Plus, there are also plans to launch a youth brand and a premium range.
Dunmore and Preston knew they couldn't do it alone so they took on a "dream team" of successful businesswomen as shareholder directors. Their CVs are formidable.
Debra Hall was South Africa's first female metallurgical engineer who has worked in the New Zealand marketing sector for more than 25 years, during which time she started, built up and sold her company. Then there's Sarah Paykel, the Kiwi entrepreneur who started Lush Cosmetics in Australasia and the UK, and who later went on to launch her own PR business.
Finally there's Morag McCay, part of the team behind Pret A Manger, the global fast health food chain; she has also held senior roles at Hilton, Avis and Campbell Foods. Rounding out the management team is marketing manager Mara Andrew, previously marketing head at L'Oreal.
The first time they met was at a formal board meeting but, at Preston's suggestion, they had dinner afterwards, where Dunmore regaled them with "endless funny stories about lingerie" says Paykel, none of which she's prepared to repeat today. Then they revelled in grilling one another about their lives, and uniting against the naysayers who tend to plague new ventures.
"I've had quite a few people question us: 'Out of New Zealand? A business like this? How much complexity? Why?'," says McCay. "In that sense it's helpful having Bendon because somebody's done it before. But this is a very different time and place, a different concept and we're wanting to do it a lot faster than they did."
It was her respect for the other minds on the team, and the "technical excellence" of the product that convinced her to get involved. Throughout her career she's learned deep insights into customers, she says, and what it takes to get ahead.
"You don't get there by accepting the status quo. I had a flashback, and could see it would be as good as [my previous experiences]. I knew I wanted to be part of building something that has true meaning."
It was just as much a no-brainer for Paykel. After having children and scaling back her PR business, her appetite for growing a new enterprise had returned.
"That peer-mentoring opportunity is hard to find, the further up the food chain you get," she says.
"It's hard for women in New Zealand to be able to work with their peers and learn from them. So it's really exciting."
Hall, who has about 10 start-ups to her name, had never met any of the women on the board; nor had she had much experience of working with so many women. They're better at reading subtext, she says, whereas men are much more direct. Regardless, she has certain criteria when it comes to deciding whether or not to get involved in a new project.
"I don't do well working with idiots," she says. Hence that "don't be a dick" rule.
"And with every start-up I ask myself, is this solving a problem that people care enough about to solve? When I worked as researcher, my area of specialty was finding out why people make the decisions they make. I can tell you why women wear the wrong-sized bra. It's a concept called satisficing.
We don't optimise our purchase decisions, we satisfice. That means it's good enough to not be worth the extra effort, the money and time required to be perfect. I know how to make people switch to different brands or products. So I bring that and my more recent experience with capital raising, selling my own business. We want to be the Xero of the goods market."
Andrew, the youngest at the table, knew Rose & Thorne presented a great opportunity to learn from the collective experience of her colleagues. Part of her background entailed getting people to communicate and understand brand messages.
"The difference with this business is that it's a real collaboration. Everyone around this table is very involved in projects, and interested in bringing ideas together, brainstorming as opposed to being set in their ways. And it's a very positive message we're trying to get out. It's about getting the right shapes and fit for everyday women. It's not hugely on the dress-up-for-your-man side."
For Dunmore, the whole experience has been an incredible learning curve. Even after working in the business for 25 years, starting her own brand has given her the chance to turn her thinking on her head, and to finally address some of her design bugbears.
"It's easy for me because it's a passion," she says. "I'm happiest when working because it's not work. Even during the most frustrating times, I'll go off and do something else. Like box for a little while."
McCay explains to Viva that by box, she means packing product rather than hitting a punching bag with gloves.
Dunmore: "It is with gloves! My trainer comes in when I phone him. That gets the frustration out."
Cue that laughter again.
Share this:
More Fashion / Features & Profiles