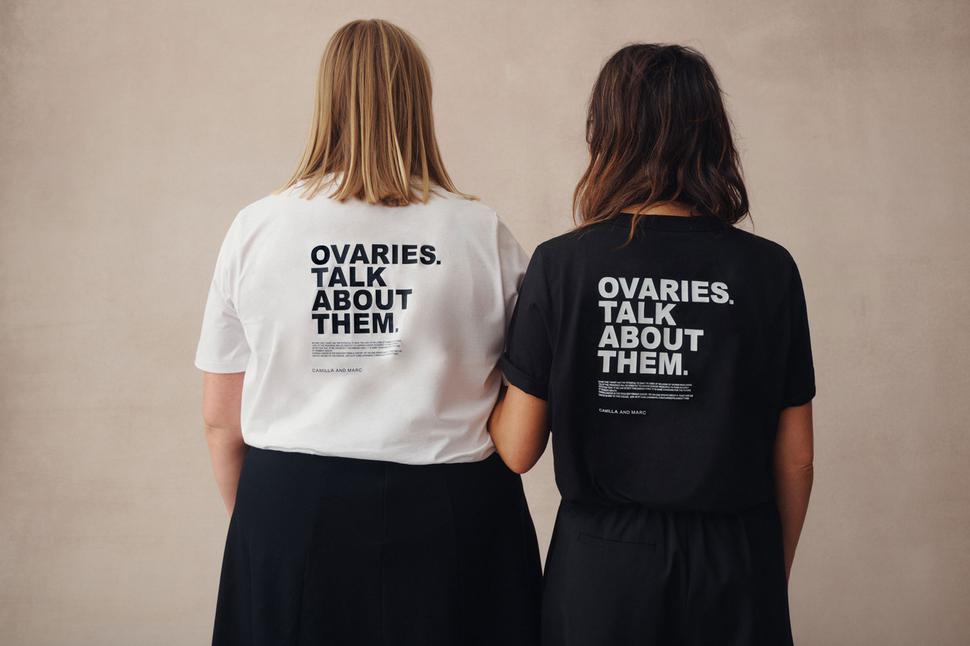 Camilla & Marc's Personal Pledge To Fight Ovarian Cancer
Powerhouse sibling designers Camilla Freeman-Topper and Marc Freeman are helping support efforts to thwart the deadliest female cancer
Monday April 12, 2021
"Ovaries. Talk about them." These are the words emblazoned across the back of a new T-shirt design from Sydney-based fashion label Camilla and Marc, based on its campaign to help with ovarian cancer research.
Out of the five gynaecological cancers — cervical, ovarian, uterine, vaginal, and vulvar — ovarian cancer has the highest death rate. 
The statistics are sobering too — with a mortality rate of 43 per cent, 75 per cent of women are diagnosed in stage 3 and 4, which makes the survival rate low.
The subject matter is one close to the hearts of the label's founders — brother and sister duo Camilla Freeman-Topper and Marc Freeman — who both lost their mother to ovarian cancer 27 years ago.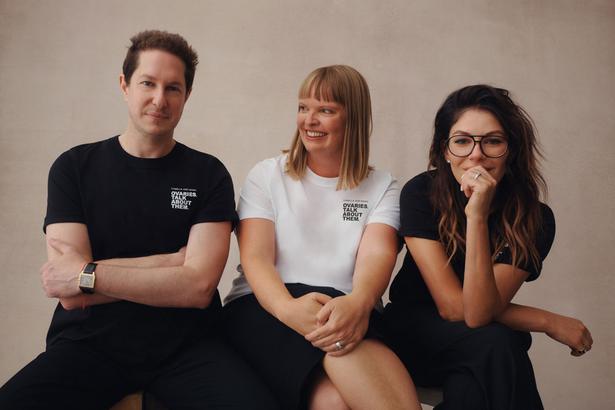 In New Zealand alone, 1 woman dies of ovarian cancer every 48 hours. In Australia, 3 women die from the disease everyday; and close to 300,000 women are diagnosed every year worldwide. 
Early detection can prove difficult too, with little warning signals and no early detection test, which is part of what makes the disease fateful. 
Inspired by the story of losing their mother Pam at such a young age — Marc was 13 and Camilla 11 — the pair first launched the "Ovaries. Talk About Them" campaign in 2020, with a five-year mission to dedicate sales from this unisex capsule line to much-needed research. 
"There is still no early diagnosis test for ovarian cancer almost 30 years after my mother's death, largely due to a lack of awareness and funding, which is just so hard to believe," says Camilla. 
"Ovarian cancer is the deadliest female cancer and is in dire need of attention. Over 300,000 women worldwide die annually from the disease, often because of a late diagnosis and that's simply not good enough. It's so difficult because we all want to be preventative and get checked but there's currently no way to do this."
"We are proud of what we have achieved to date, but there is much work to be done. In honour of our mother and all of those affected by this disease for 2021 we will launch a bold unisex campaign to get both women and men talking. If we can detect this disease early, it will be a game-changer for women's health."
Consisting of a hoodie and T-shirt, 100 per cent of proceeds from this special collection launching today will go directly to associate professor Caroline Ford and her team at the Ovarian Cancer Research Group, UNSW Medicine, raising vital funds for an early detection test.
The Camilla And Marc unisex limited-edition 'Ovaries. Talk About Them' hoodie, $210, and T-shirt, $115, are available from Camillaandmarc.com
For further information about ovarian cancer, and to find out how you can support its efforts, visit Nzgcf.org.nz. Visit the New Zealand Gynaecological Cancer Foundation to donate directly.
Share this: