Cara Delevingne Pens Powerful Essay On Happiness
And the other news you might have missed this week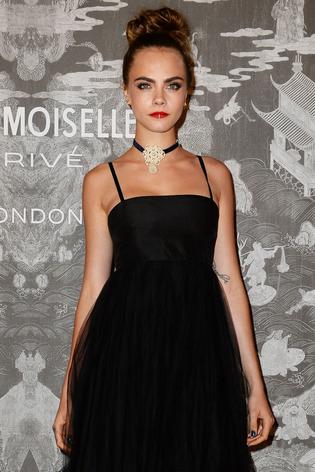 1. Cara Delevingne has written a short and powerful essay for Time about success, happiness and self-acceptance. The model-turned-actress opens up about starting her career in front of the camera at 16 and how the industry impacted her. Cara concludes the article with a powerful message saying: "After all, no matter how many people like you and like your work, it doesn't matter if you don't like yourself."
2. After stepping down from her role as creative director of American Vogue earlier this year, Grace Coddington is releasing a perfume in collaboration with Comme des Garcons. Coddington remains the creative director-at-large for the title, but now works on projects outside the publication.
3. An old story that began in 1983 is being revisited, with Lancome announcing a new collaboration with Isabella Rossellini — an iconic figure of cinema and the very first face of Lancome 33 years ago. This new pairing will see Rossellini sharing the secret of her happiness and her opinion on how to accomplish genuine beauty. 
4. Willow Smith, 15, has been named as the new face of Chanel. Smith announced the news on Instagram after the Chanel show at Paris Fashion Week. In her Instagram Smith thanked the Chanel team for "expanding the perceptions of 'beauty' by picking me…. I am honored." 
5. Designer Tommy Hilfiger is set to open his first hotel, following in the footsteps of fashion brands Versace, Armani and Bulgari. Hilfiger reportedly purchased the Raleigh Hotel in Florida for $70 million and plans to turn it into a smaller membership-based luxury hotel. 
6. Florence Welch will perform her How Beautiful tour dressed exclusively in Gucci. Welch, who has a free-spirited style, earlier this year became the face of the brand's jewellery and watch collection. The tour begins this month and runs through to July with shows in both the US and Europe.
Share this: