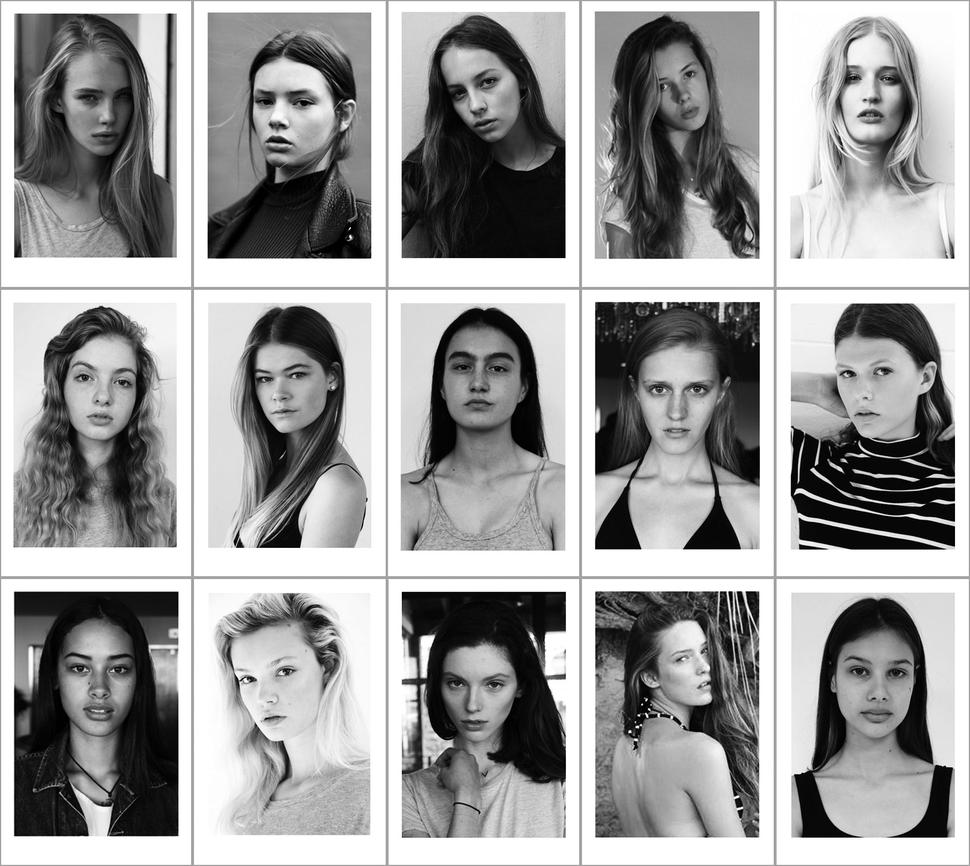 Casting Call: Models to Watch at NZFW 2015
The up-and-coming models to look out for at New Zealand Fashion Week
Friday Aug. 21, 2015
We're mere days away from Tuesday 25th August 2015, which will mark the start of New Zealand Fashion Week's 15th birthday. Oh, what a ride it's been! To celebrate 15 years of New Zealand fashion, we've compiled a list of 15 New Zealand models to keep an eye out for on the runway this time around.
Top row from left: 
1. Marnie (Unique)
Haven't met a single person that doesn't love Marnie's face. Enough said.
2. Daria (Red11)
Daria is also a newbie to NZFW and modelling as a whole, but the Paraparaumu-based teen has an undeniable beauty and standing at 5'11" we expect to see her dotted throughout the week.
3. Asena (62)
Asena has that perfect blend of interesting and beautiful, and at 5'10" she's got that runway height.
4. Tessa (Unique)
Tessa is one of New Zealand's best new(er) catwalk girls. She's quiet, yet confident - a killer combo.
5. Jade (Unique) 
Jade is a model who dabbled as a teen, took time off, and has come back firing. 2015 has been a pretty stellar year for her so far - expect to see more over the next few months.
READ: The modelling breakouts that went from NZFW to the international catwalks.
Middle row from left:
6. Kizzie (62)
Kizzie is personality plus. She's got the height, the 'cool' factor and is so bloody likeable. There's no way we won't see her face all over the runways next week.
7. Evelina (Clyne)
Evelina's very first fashion week was in New York last year, and she's been modelling in the Northern Hemisphere ever since. We're excited to have the edgy girl back in New Zealand and watch her NZFW debut.
8. Coco (62)
This will be Coco's first fashion week and according to her agency - this may be her year. She's fresh, she's cool and on the up.
9. Abby (Clyne)
Okay, so Abby isn't exactly a New Zealander, but after walking every Marr Factory show last week we had to include her as a one to look out for.
10. Bianca (Red 11)
Can't deny that face. People are calling her the baby Georgia Fowler. Let's see what she's got.
Bottom row from left:
11. Talea (Clyne)
This is Talea's first NZFW but being a baby in the game means nothing when you're 5'10" and you've got overseas agencies knocking down your door.
12. Juliette (Red 11)
Juliette is the complete package - face, body, height, personality. She's coming into this NZFW off the back of a great show season at MBFWA - definitely one to watch.
13. Katie (Clyne)
Katie's last NZFW was back in 2011. As a teenager she appeared on the cover of Vogue Australia, and modelled in Milan, Paris, New York and Tokyo. After a bit of time off to focus on her studies, she's back and looking better than ever. Excited for this one.
14. Shannon (RPD)
Shannon Cook is almost 6ft and signed to Ford NYC & Paris - what more needs to be said? She will be celebrating her 16th Birthday during NZ Fashion Week 2015.
15. Saskia (62)
This brunette beauty has shot up this last year and finally old enough to take on the NZFW runways. After proving herself at Marr Factory last week, we're confident you'll be seeing a lot more of her.
Check back next week for more of Katherine Lowe's coverage for our insider New Zealand Fashion Week section in association with Mercedes-Benz.
Share this: