Catching Up with Photographer Kerry Brown
Photographer Kerry Brown is behind some of NZ's most timeless images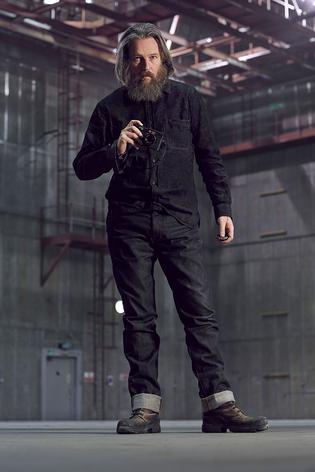 Two key Polynesian-focused events this month — the 24th Pasifika Festival and the 41st ASB Polyfest (formerly the Auckland Secondary Schools Maori and Pacific Islands Cultural Festival) — are barometers of how far commercialisation has superseded the intent of these creative events. Both were at their most popular during the mid to late 80s and early 90s, an era marked by strong Polynesian pride.
Suddenly, attention was on the creative industries where Pacific tradition merged with the realities of life in New Zealand, and became a catalyst for local artists, musicians, dancers and fashion designers to explore their creativity. It also illustrated the emergence of a Pacific pride not only confined to the sports field, where an already politically aware generation was still dealing with apartheid, nuclear testing and homosexual law reform. It offered up a unique capsule in time for New Zealand's pop culture history, embracing Pacific culture in a way that wasn't contrived.
Fashion brand Workshop was an instigator in that conversation through its early campaign imagery, which celebrated diversity in fashion and our unique place in the Pacific. Street-cast models mingled with friends and family from creative worlds, and this melting pot of faces that captured the zeitgeist was photographed by Kerry Brown.
The now ex-pat photographer, Bafta member and self-confessed culture-vulture — "I unwind by seeing as much music, dance, art as possible" — has been based in London for the past 17 years, and is now a sought-after film still photographer, racking up an impressive portfolio including Once Were Warriors, Prometheus, Brooklyn and the forthcoming Martin Scorsese film Silence.
Not bad for a self-taught photographer who dropped out of school at 15. A love of photography and skateboarding led Brown to capture the everyday scenes around him and people in their natural environment.
His New Zealand career was exemplary; a leading fashion photographer with a distinctive eye, and an award-winning music director. He directed iconic music videos including Why Does Love Do This to Me by The Exponents, Greenstone by Emma Paki and Melting Pot by When the Cat's Away. His Samoan foster family played a part in his upbringing and appreciation of Polynesian culture.
"There was definitely a change in attitude in fashion during this time. People forget we had New Zealand Vogue during the 60s, but it was always looking outwards," says the 53-year-old. "We looked around at faces that were around us. It was more about looking inwards rather than the received culture. Not wanting to be particularly 'Kiwi' but just using the landscape and the voices of those around us. It's so obvious now, but at the time it just happened organically."
GALLERY: See Kerry Brown's New Workshop Campaign
That same organic approach was the catalyst for the Workshop's new winter campaign, featuring friends and family of the brand — an update on a 1991 version. "Kerry was back on a fleeting trip, we caught up for dinner one night and we started talking," explains Workshop founder Chris Cherry.
"We talked about him taking some family portraits, then suddenly it evolved into this conversation about shooting the new campaign. We compiled a list and started making a few calls, and before we knew it we had at least 60 people involved! It really showcases the breadth and depth of the brand."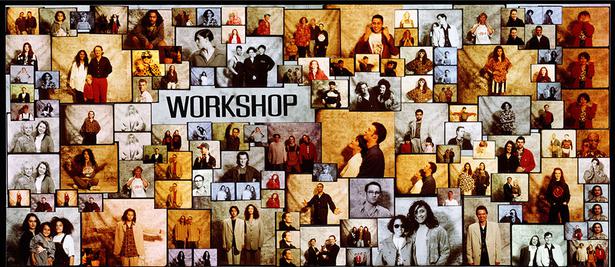 Kerry's influence on the local fashion and music scene during the 80s and 90s also includes his contribution to New Zealand's first fashion magazine, Cha Cha. During this time he worked closely with then-editor Ngila Dickson, who went on to become an Academy Award-winning costume designer.
Two of those featured are industry stalwarts and Black magazine founders Grant Fell (also former Headless Chickens bassist) and Rachael Churchward (who featured in the original 1991 campaign). Kerry's relationship with the couple goes back to their early days in publishing, shooting for their first magazine Planet. "The campaign is important to me as Workshop is literally part of my life.
I have been involved with Chris and Helen Cherry my entire career and they have been so supportive of our journey," says Churchward. "They are whanau to us. We have worn Workshop for over 20 years and that is saying something in the context of the world of fashion and brands these days."
Chris recalls a precursor to the 1991 campaign — the black and white catalogue for Street Life, one of his earlier brands that evolved into wife Helen's eponymous line, Helen Cherry. The Street Life catalogue from 1984 featured local creatives such as Ngila, actor George Henare, art critic Francis Pound (who's daughter Veronica features in the latest campaign) and Kerry's former wife, artist and "fashion activist" Rosanna Raymond, another important collaborator during this time.
Part-Samoan Rosanna was a key player in the development of the Pasifika Festival, which debuted in 1993, and she played an important part in advocating Polynesian models and fashion designers through her involvement with the Pacific Sisters collective, a group of artists who celebrated Pacific culture in the mainstream arena.
Her work in casting and producing a Workshop show that was part of Dame Pieter Stewart's Corban's Fashion Collections during the early 90s was a moment Chris remembers well. "Some people identified it as a landmark show.
Pieter let us do it our way with our own music and casting, and Rosanna helped us showcase a complete cross-section of Auckland's characters. One of them was young [actor] Rene Naufahu, who I first met perfectly dressed in grey flannel trousers and a blazer straight from the rugby club. Eight weeks later, he was on the catwalk of every show in town!"
Another key figure to emerge was artist and photographer Greg Semu, whose personal style exemplified the unique mix of Pacific styling with utilitarian separates that personified this time. "He was the hardest one to style in that first campaign," says Chris, "Nothing was cool enough for Greg! We started calling him Lord Semu. It was funny seeing him do that pose for the campaign with his arms outstretched; it became a sort of precursor to his Crucifixion art works."
Kerry later tapped Semu to work with him on the music video for In the Neighbourhood by hip-hop duo, Sisters Underground, a collaboration that documented life in suburban south Auckland. "Greg knew South Auckland well and so the two of us went out and shot a whole lot of footage," says Kerry, "We were literally just looking at what was around us and putting a frame around it."
WATCH: The Workshop Friends and Whanau campaign video from 1991 showcases the brand's eclectic mix of friends and highlights a key moment in New Zealand fashion.
These days Kerry has welcomed his brief return to shooting fashion through the new campaign — and catching up with friends and family back home. The Cherrys, who he is in constant touch with, often stay with him when they are in London, and his children Salvador (24) and Malia (20) often holiday with the family on Waiheke Island.
Such off-duty time is rare for Kerry, who has recently come off living in hotel rooms for the last six months working with the world's best directors, actors and film crews. "You feel like you are part of something special, working with people all at the top of their game. I get a kick out of that collective experience."
For Chris, having Kerry on board for the new campaign is an opportunity to share that history and collaborative friendship with a new generation of customers. "I guess what Kerry and what Workshop do sits both inside and outside fashion," he explains. "It's never really been just about the trend of the moment. In its day, this was very much fashion photography and what Kerry does is beautiful portraiture, as opposed to over-stylised fashion photography. For me that has always sat beautifully with our own aesthetic."
Share this: