Brand To Know: Cecilie Copenhagen
The power of Instagram has propelled the designs of Cecilie Copenhagen into the limelight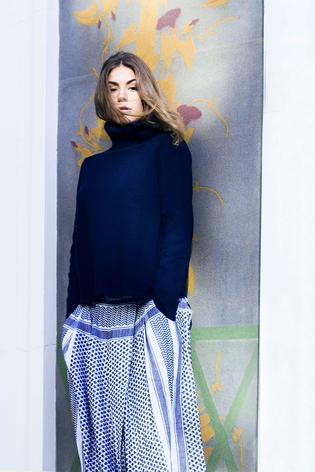 How do you create a fashion brand that everybody wants to wear? Just ask Cecilie Jorgensen. For the 22-year-old, it began one night in her last year of studying fashion at the Danish Fashion Design Academy, when she had nothing to wear. She hunted around her parents' garage, found two keffiyeh scarves of her mother's and sewed herself a top. Requests from friends for the top came flooding in and, soon after, the brand Cecilie Copenhagen was born. Recognisable for signature keffiyeh-inspired fabrics, the label is beloved by Instagram "It" girls and has become known for the ultimate summer outfit.
What key factors have helped make your brand so popular, so quickly?
Since the beginning I wanted Cecilie Copenhagen to be a brand, not just another clothing label. Something with identity and attitude. We kept that strategy when going abroad as we have been very picky with the retailers we are working with all across the globe. When you are a small start-up, you do not have that many opportunities marketing and branding-wise. You have to be smart. It was a big part of the early success.
How much of an impact has Instagram had on making your brand an international success?
A lot, definitely. It's a great platform to visually show your work or whatever you want to share with the possibility of also being able to send a message.
What tips would you give other young designers wanting to get their brands noticed?
Difficult question. I think the most important thing is to have a purpose with what you do. It is such a competitive industry and there will always be someone bigger, better or faster than you. But if you have a purpose and stay true to your ideas and thoughts, people will see it and pay attention to it.
Your ambitions for the future? 
To keep developing and stay true to the DNA for Cecilie Copenhagen - and to be happy with what I do.
Shop Cecilie Copenhagen:


Have you had any backlash from using the keffiyeh-inspired print?
Not really, no. A lot of positive reactions instead, for which I'm very grateful.
What are your main influences when it comes to your work?
No one in particular. Obviously, I have an eye open for what's going on in the fashion industry but for inspiration, I would like to travel to some of the world's big cities and just sit, observing the everyday life for people in New York, London, Paris or somewhere else. I find most of my inspiration in people.
How has living and growing up in Copenhagen influenced your brand's style?
I think perhaps the simple silhouettes that I have a lot of in my designs. Working with colours, I think we are quite different from most other Copenhagen or Scandinavian brands.
What have been your most memorable moments since launching?
It's impossible just to pick out one moment. I think it's all of it, the whole process. It's a journey to start up a business and even though some days are better than others, it's all worth it.
• Cecilie Copenhagen is available in New Zealand at Muse Boutique, ph (09) 520 2911.
Share this: