Politics is the Preoccupation at the CFDA Fashion Awards
This year's CFDAs, the Oscars of the fashion industry, will honour designers and activists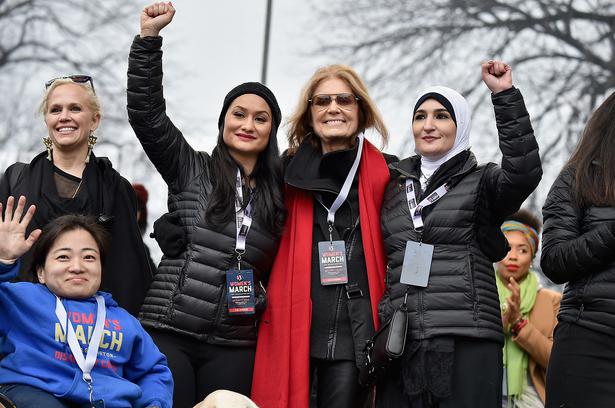 Tuesday June 6, 2017
Every year, Seventh Avenue honours its own when the Council of Fashion Designers of America hands out its annual awards in a sparkling ceremony celebrating the year's best clothing and accessory designers.
The gala dinner, happening again Monday night, has been described as the Oscars of the fashion industry - a shorthand that captures the esteem in which the awards are held by the fashion community as well as the self-congratulatory nature of the proceedings.
The CFDA awards typically do not have the white-hot star wattage of the Oscars, except for appearances over the years by "fashion icon" honorees such as Beyoncé and Rihanna and certain presenters, whom this year include Nicole Kidman, Kerry Washington, and Jon Bon Jovi; Seth Meyers will serve as host. Mostly, it's a night that puts the spotlight on the men and women who make fashion's magic possible: designers, makeup artists, editors and photographers.
Typically, it's a frothy evening. But this year, the occasion promises more social activism, cultural criticism and outright political commentary. That is by intent.
"I would say we've always been socially engaged," says Steven Kolb, president and CEO of the CFDA. After the holidays, he said, he had breakfast with the group's chairman, Diane von Furstenberg, and they discussed the recent election, which was a blow to many in the liberal-minded fashion community. "We're not a political organization, but we felt like we needed our work to expand from philanthropy to more civic responsibility."
GALLERY: See The Coolest Looks from Last Year's CFDA Awards
The results of that conversation are most evident in the group of honorees designated by the CFDA's board of directors. They include feminist pioneer Gloria Steinem, Planned Parenthood President Cecile Richards and singer-actress Janelle Monae, who agitated on behalf of Black Lives Matter during a performance at the Women's March on Washington.
The board wanted to "celebrate what happened [at the march] in Washington," Kolb says. The trio of women, who span three generations, "are powerful voices that resonated with the CFDA."
"This was a unanimous decision" of the board, he adds. "There was no question about it."
The last year has been a consciousness-raising one for the fashion industry. The CFDA and its 500-some members have weighed in on a host of politically contentious topics, ranging from women's health issues to immigration policy. During New York's fashion weeks in February, the CFDA sponsored an advocacy campaign, "Fashion Stands With Planned Parenthood," at the urging of designer Tracy Reese. Designer Willy Chavarria turned his runway presentation into dramatic stagecraft that drew attention to racial disparities in the criminal justice system. And many designers who are recent immigrants, or whose workrooms are filled with them, expressed their concerns over President Trump's fiery anti-immigrant rhetoric and his travel ban through their runway shows and the clothes themselves.
"I wanted to do as much as I could. With clothes, it feels a little bit silly, but it's my life. It's what I do," said designer Robert Geller after his February show, which included men wearing stylized face masks that referenced those worn by protesters. Geller, who was born in Germany, took his bows wearing a T-shirt inscribed with the word "immigrant."
READ: How Fashion is Getting Political
Most recently, the CFDA has turned its attention to immigration policy. In January, soon after Trump's inauguration, the trade group hosted two meetings to discuss ways to streamline the visa process, how to make it easier for international students to work in the domestic garment industry once they've completed their education and how to develop a path to legal status or citizenship for the many undocumented workers who have become essential to factories and sample houses. The CFDA, in partnership with FWD.US - a tech-community group that advocates for immigration reform - reported its findings in May and plans to present them to Washington legislators in the fall.
This year's dinner also marks the debut of the Swarovski Award for Positive Change. The crystal producer, which has worked with the CFDA for 16 years, established the prize to recognize social contributions beyond the runway. The first recipient is veteran designer Kenneth Cole, who merged his company's brand with social activism more than 30 years ago, turning a spotlight on AIDS, gun control, homelessness, the death penalty and women's health care, among other issues. "Nobody needs what we sell and that's very humbling," Cole says. "No one needs a white shirt, torn jeans, black shoes. But if I can connect them to what we do need, I can make what I sell important."
His advertising campaigns have been both provocative and cheeky, including lines such as, "We think women should have a choice when it comes to being pregnant. Barefoot is another story."
Despite the partisan dialogue surrounding the issues Cole has tackled, he says that his motives are not political. "We don't talk about political issues; we talk about social issues that have been politicized," Cole says. Today, however, it's difficult to untangle issues such as gun violence, the death penalty and abortion from the shouting, pontificating and name-calling that surround them. Over the years, Cole says, he knows he's turned off some customers. But he believes that "people who are open to a contemporary way of dressing, are open to a contemporary way of thinking."
Cole is not simply being honored for what his advertising has said, but also for what he has done - personally and through his brand. That includes serving as chairman of the board of The Foundation for AIDS Research (amFAR) and helping the organization expand its focus from the domestic AIDS crisis to the international one. And after the 2010 earthquake in Haiti, the company sponsored the construction of a new health care center in Cité Soleil, near Port-au-Prince.
In some ways, the greater fashion industry is beginning to embrace the kind of blunt outspokenness that has long defined Cole's brand. Designer Prabal Gurung, who worked to raise funds in support of victims of the 2015 earthquake in Nepal, where he grew up, has also been forthright about the role immigrants play in the fashion industry here.
READ: What It Was Like Covering the 2016 US Election
Designer Sophie Theallet waded directly into the political fray with an open letter encouraging her colleagues to distance themselves from First Lady Melania Trump as a statement of moral protest. Mara Hoffman asked the organizers of the Women's March to speak from her runway in February. And countless designers, models and retailers have participated in videos that advocate in support of immigration reform and women's rights.
Even the recipient of this year's fashion icon award speaks in some ways to the industry's broader concerns. Franca Sozzani, the former editor-in-chief of Vogue Italia who will be honored postumously, is best known for using fashion as a visual language to address complicated concerns such as environmental issues and racism - not for a style-setting trend. And with Seth Meyers hosting, more than a few pointed, political jokes are practically assured.
This year, the fashion awards are not so much about the clothes but about the culture that makes, sells and buys them.
- The Washington Post
Share this: