Why Chanel's Beach Show Proves It Remains The Same – It's The Customers That Change
A faux-beach runway show encourages you to take your Chanel casual. But it's still the same Chanel
Friday Oct. 5, 2018
Each season in recent memory, Chanel has transformed the Grand Palais into an elaborate facsimile of a real-world location that ostensibly announces the theme of the collection. But the reality is that the look of Chanel doesn't change significantly from one season to the next, from one year to another. Its consistency is its strength.
READ: Hedi Slimane's Debut Collection Has Blown Up Celine, But To What End?
The silhouette of the signature collarless jacket is tweaked to remain current. The colour palette shifts. One season, for example, is dominated by ethereal whites and dove greys, so the clothes are shown against the backdrop of a glacier — an actual hunk of ice that was shipped in for the occasion. The accessories come and go like expensive gimmicks, indulgent one-offs. The spaceship collection spawned a handbag shaped like a rocket. And so on.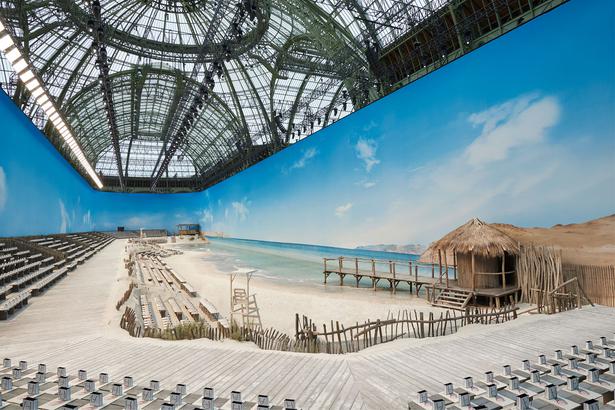 It's the customers who change over the years, from globe-trotting ladies who lunch, to Instagram-obsessed influencers, to black and brown hip-hop stars, to wealthy young Asians trailed by a phalanx of photographers and stylists who primp them in full view of the assembled crowd.
READ: Meet The Man Causing A Stir At Burberry
These shifting tribes illustrate how Chanel can live in so many diverse lives and its studious courting of new generations and constituencies. Chanel can be whatever you need it to be.
For spring 2019, the setting was a seaside resort. Little thatched-roof huts stood at either end of a sandy beach that had been constructed inside the Grand Palais. An enormous backdrop depicted a picture-perfect ocean. And actual waves gently lapped against the shore.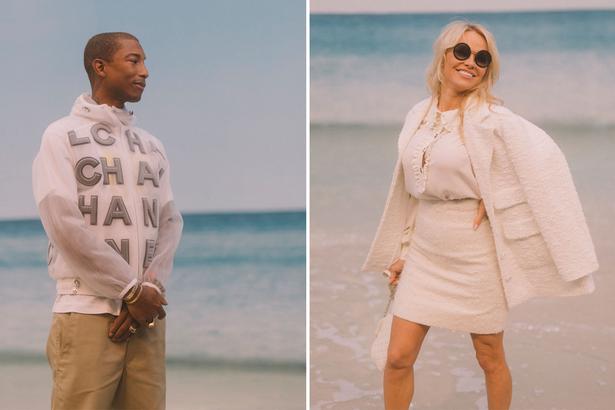 Indeed some guests arrived to find themselves gingerly hiking up tiny sand dunes to reach their seats, and others could well have ended up with water-logged stilettos if they wandered too far from theirs. And it was a cheeky stroke of humour to have former Baywatch star Pamela Anderson settled into the front row, along with regular Chanel bold-face guests such as Pharrell Williams.
READ: How Ralph Lauren Has Defined Fashion For 50 Years
The models emerged and paraded along the beach. They strolled with bare feet, some heading down the shore to splash in their Chanel finery. They wore straw hats with wide brims and carried their shoes in their hands, as if they'd just finished a casual waterside lunch and decided to have a stroll to take in the scenery.
They were not dressed down in throwaway sundresses. The shoes they were carrying were often rather dressy heels. The message was simply that Chanel can be part of a more informal, easygoing lifestyle. Chanel may be expensive, but it doesn't have to be treated as precious.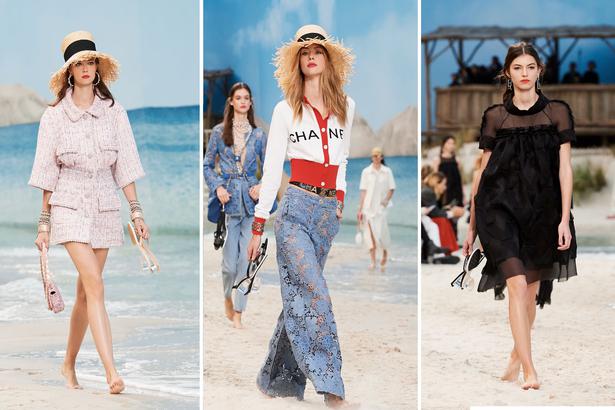 The palette was dominated by pastels. There were loose-fitting jackets and others with a wide band at the waist that gave them the look of a baseball jacket. There were pineapple prints and boxy straw bags that called to mind picnic baskets. Lacey dresses and trousers were the colour of washed denim. Lightweight dresses fluttered in the man-made breeze. A black baby-doll dress topped black bike shorts. (Yes, bike shorts. So sorry. I don't make the news; I just report it.)
READ: What Exactly Is Saint Laurent Saying About Female Sexuality & Empowerment Here?
This was a pretty Chanel collection, mostly because of its lightness and simplicity. There weren't a lot of complicated embellishments. Nothing especially overwrought. It was still fully, wholly, unquestionably Chanel. Only the setting had changed, and its customer base likely expanded.
Share this: