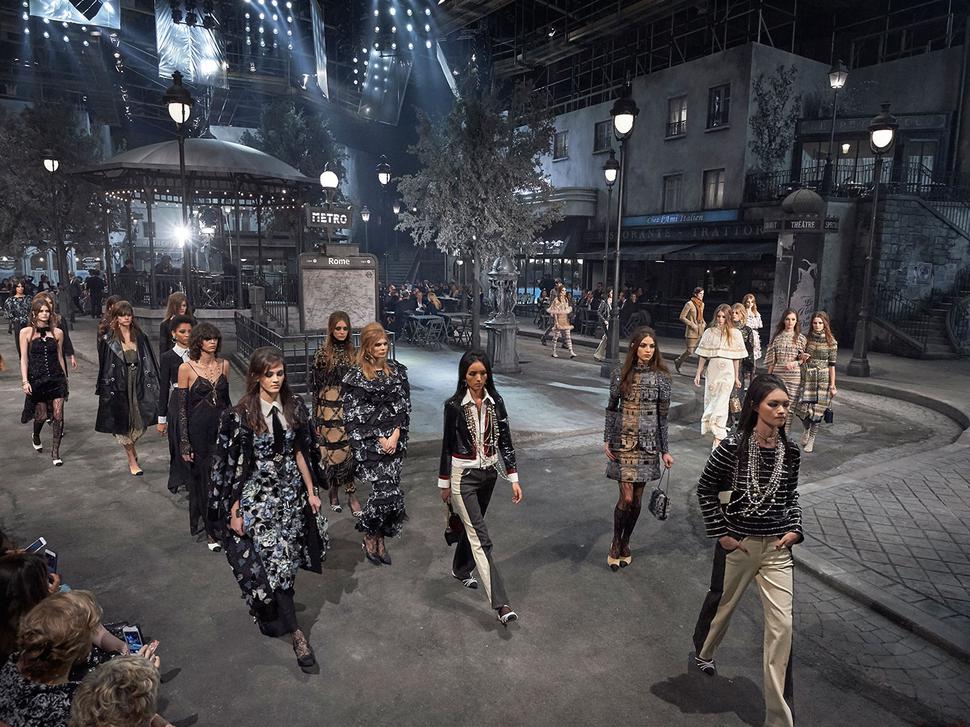 When Chanel Went to Rome
Chanel takes over the city with its latest blockbuster fashion show
Friday Dec. 11, 2015
How much? Increasingly the question asked of the super-shows (the ones that take place outside the regular fashion-show schedule, in locations beyond the usual fashion circuit of London, Paris and Milan) is: what did it cost? The answers are coyly evasive — which is odd in a world in which expenditure, on the part of customers anyway, is at least part of the thrill of buying a high-priced status symbol.
Last week, Chanel took its Metiers d'Art show to Rome. Chanel now mounts six major catwalk shows a year. The Metiers d'Art collection is the one that draws most heavily on the artisanal craft specialists Chanel has acquired over the years, from Scotland's Barrie cashmere to the embroideries of Lesage, in many cases saving them from commercial oblivion.
Jetting Team Chanel into Rome sounds relatively straightforward, compared with Louis Vuitton transporting its cruise collection to Palm Springs last May, or Chanel's own excursion to Seoul, also in May. But distance is not the sole measure of ambition.
The Rome show was elaborate, even by the new criteria of showmanship: 62 models, 17 hairdressers, 17 make-up artists, 800 guests. Many of them were flown in by the house, put up at five-star hotels and treated to private tours of the Vatican and "secret" Rome, before being transported to Cinecitta, the film studios that were built by Mussolini in 1937 as a riposte to Hollywood.
RUNWAY: Chanel Metiers d'Art Paris in Rome 2016
At its height, Cinecitta was called Hollywood on the Tiber. Ben-Hur was shot on its back-lot, which is still dominated by life-size replicas of Ancient Rome's architectural landmarks. In 2004 the somewhat cronky BBC/HBO collaboration Rome was also filmed here. In the early 60s, Burton and Taylor rampaged their way through Cleopatra at Cinecitta. Fellini worked on La Dolce Vita here. Zeffirelli made his Romeo and Juliet.
Never mind that these days, Grande Fratello (or Big Brother) is shot here. A dense cloak of glamour has settled over the place. Or it had, when Kristen Stewart, Rooney Mara and Princess Caroline, cigarette more or less a fixture between her fingers, mingled in the candle lit remains of the Forum.
What does any of this have to do with Chanel's core, Parisian identity? Quite a lot. In the early 60s, the period from which this collection freely drew, a number of Cinecitta's most numinous stars — Romy Schneider, Jeanne Moreau, Anouk Aimee, French women all — were dressed by Chanel in their Italian films, as was Monica Vitti. Unlike most of today's directors, Antonioni, Visconti and Fellini weren't afraid to shoot their leading ladies in the height of fashion.
Chanel forged a friendship with Visconti and regularly visited Rome. When Visconti decided to transform the ingenue Romy Schneider into a sophisticated woman, he took her to Chanel.
This time, Chanel brought Paris to Rome. The facsimile of a dark Parisian street that Chanel constructed on the sound-set of Teatro 5 took six weeks to complete. What are the chances, by the way, of Fellini's favourite shed sharing the same digit as Chanel's, and the world's, most famous perfume?
The cross pollination of Paris and Cinecitta proved fertile. The slightly mussed up version of Chanel's 16th arrondissement maven we saw on Tuesday night exuded a new, earthy sexuality as she walked what was clearly intended to signal the walk of shame. Ever so slightly sleazy in her black patent pea-coats, lace trimmed slip dresses, slim leather skirts and haute-trashy looking backless stilettos (Lagerfeld's least favourite style of shoe, apparently) she looked far less prim than Lagerfeld's last rendition of a Sixties bourgeoise — in Chanel's Brasserie Gabrielle show in March. This Chanel sex-kitten looked as though she might draw blood.
WATCH: Chanel Metiers d'Art Paris in Rome 2016
As for the original question — it must have cost millions. "Chanel is not a house that indiscriminately throws money around," Chanel's President of Fashion, Bruno Pavlovsky was at pains to tell me this week. "Each time we put on a show we see a sales spike. It may be the next day, with customers calling a boutique to put their name on the waiting list for something they saw on the catwalk. It could be two months later, when a teenager buys a Chanel lipstick. The point is, Chanel has so many more customers these days, buying into it at different levels. As a brand we have to find ways to speak to them all while keeping on message".
Ten years ago smart money was on technology wiping out live fashion shows. Technically "advanced" designers such as Viktor & Rolf and Helmut Lang experimented with digital transmissions. In reality, social media, especially Instagram, has made the fashion show more of a global event than ever, which means brands will continue to do them.
Chanel's most digitally shared event of all time was, says Pavlovsky, the Autumn/Winter 2014 show set in a Chanel "supermarket" — where the set was filled with bespoke Chanel products, such as doormats superimposed with double Cs and tins of "Little Black Tea" — and a score of other clever allusions to aspects of Coco Chanel's long and colourful life.
All of which underscores what a once-in-a-century figurehead Chanel was — not just a genuinely groundbreaking designer, but one who travelled widely (Dallas, tick, Seoul, tick, Edinburgh, obviously), and tapped into the cultural zeitgeist of every decade she lived through. No wonder it's proving so hard to find designers to fill the empty seats at Dior, Lanvin et al. There aren't enough Cocos to go round.

— The Daily Telegraph
Share this: