Chanel's pregnant Kiwi bride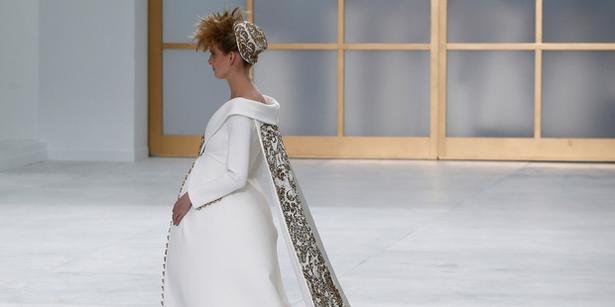 Wednesday July 9, 2014
Ashleigh Good, New Zealand's most successful international model, closed the Chanel Haute Couture show in Paris yesterday while six months pregnant.
Good, who has become part of the Chanel family as well as designer Karl Lagerfeld's muse, is due with a little girl at the end of September. Closing the show as the traditional couture bride, she wore an elegant custom wedding gown, before kissing Lagerfeld on the cheek.
She later posted a photo on Instagram, thanking the designer and those working at the fashion house. "Today was so special for me and my little girl! An absolutely beautiful show and always proud to be part of it."
Her New York agency, Ford Models, wrote on their blog, "It's a rare thing for a designer to become so enamoured with a model that they'll build a show finale around them, but that's exactly what Karl Lagerfeld did."
Good's local agent, Rose Packard-Dube of RPD Models, says Lagerfeld was happy and supportive when Good told him the news. She is equally proud as it is another first for Good, who only began modelling in 2012. Last year Good closed her first Chanel couture show, walking the runway with model Kati Nescher as same-sex brides.
The English-born model was raised in Auckland and discovered on the North Shore, walking her first show for French fashion house Givenchy. She has walked for every top designer, and appeared in campaigns for Prada and Chanel.
Share this: