Young Chef to Watch: Alok Vasanth
New head chef of Cassia and S. Pellegrino Young Chef competitor, Alok Vasanth, is worth keeping an eye on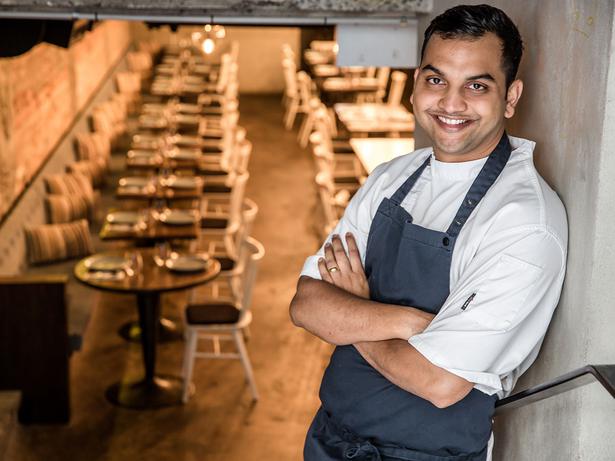 Wednesday March 1, 2017
India isn't just in Alok Vasanth's blood, it's in his soul. Cassia's new head chef was born in Southern Hyderabad, moved to New Zealand at 11 then returned at 20 to learn as much as he could about Indian cooking and his roots.
"It was a real eye-opener," says the 28-year-old. For four years he travelled the country, working at small restaurants serving just 50 people a night, to diners feeding 500.
Whereas Kiwis are most familiar with Indian dishes of chicken, lamb and occasionally goat, in India Alok worked with everything from quail to partridge, wild hog pork to rabbit and pigeon.
In the desert country of Rajasthan, he discovered the locals' use of caper berries, shrubs and game meat; in Lachna, an ancient take on sous vide, and in Bangalore, seafood stuffed into tender coconuts and cooked in the fire. When he wasn't working, studying or eating, he ran pop-up restaurants, enlisting chefs who specialised in regional cuisines.
No wonder then that Cassia (and Sidart) owner Sid Sahrawat has embraced his protege's ideas. Alok's pork vindaloo, with a tangy apple cider vinegar kick, was inspired by a dish he learnt in Goa. His beef short rib comes with a traditional spinach and coriander sauce from northern Kashmir. He's also introduced a quail dish, the breast cooked pink, legs confit and deep fried, with pickled onion rings and a beet-apple chutney.
READ: Young Chef to Watch: David Bach
"I always knew my goal was to come back and work with a great chef like Sid . . . I'd been following him since he was head chef at The Grove. It's quite cool, seeing how ancient techniques can be used, looking at how to execute traditional flavours and dishes in a refined, modern way."
It helps that Alok already had some credible experience down under, having worked for Peter Gordon at Dine and Kermadec under Peter Thornley before he took off on his travels. He also spent time in Melbourne, working at the modern Indian restaurant Tonka under Adam D'Sylva, and The Roving Marrow with New Zealand chef Hayden McMillan.
Stepping into the Cassia role following the departure of former head chef Lesley Chandra, who moved to London late last year, Alok says he's particularly enjoying the opportunity to introduce Kiwis to new flavours and regional dishes.
"You go to old Indian restaurants and they do the same curries, with the same meat cuts, in the same style. They're too scared to introduce game meats or different cuts. That's why I like Cassia. This menu has quail, duck, pork, beef, chicken, scampi . . . We try to cover as many perspectives and regions as we can."
READ: Young Chef to Watch: Matheus Mahandog
At home, however, it's a different story. Rather than cooking Indian, Alok prefers to widen his palate; he and his wife also eat out at least once a week, trialling everything from Middle Eastern to Afghani to barbecue. All of which continues to educate and inspire him.
"I'm quite passionate about food and hoping one day to open my own really high-calibre restaurant where I can execute all my ideas."
• Chefs around the world, aged 30 or under, with at least one year's work experience, are invited to compete with a signature dish that will be tasted by a jury of seven world-renowned chefs who will ultimately crown the S.Pellegrino Young Chef 2018. Applications are open from February 1 to April 30, 2017. Entries can be submitted at Sanpellegrino.com
Share this: