Young Chef to Watch: David Bach
The recent explosion of new restaurants in Auckland has been great for S. Pellegrino Young Chef competitor David Bach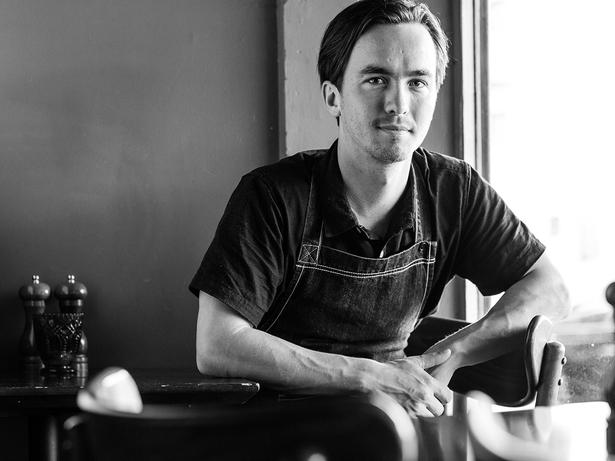 Wednesday Feb. 1, 2017
David Bach figured a career in cooking would lead to travel and adventure — he soon found it gave him a whole lot more.
"I get bored quickly in my personal life but cooking is the one thing, after seven years, that makes me feel worse than when I started," laughs the new head chef at Grey Lynn bistro Siostra. "I'm constantly discovering things. That's what I love about it. It's lifelong learning."
The 25-year-old gained invaluable early experience under Jason Horwood at the Eden Cloakroom, then headed to British Colombia to work as a chef at a ski resort. When he came home he worked at the Commons and Everybody's under Nick Honeyman.
READ: Young Chef to Watch: Alok Vasanth
"I realised cooking could turn from just a job to a passion. I fell in love with it there."
Realising he had a lot more to learn, he found work experience in Paris at Le Chateaubriand, widely considered among the top restaurants in the world, then interned for four weeks at Bones under noted Australian chef James Henry.
He then moved to London where he scored a 70-hours-a-week job at Lyle's, a high-end restaurant in St John, specialising in modern British fare. From there he sought out experience at Japanese udon restaurant Koya, where he learnt to make dashi and cook on the robata grill.
But it's at Siostra, owned by sisters Esther and Beki Lamb, where he's making his mark. David took over the head chef title from Beki when she moved to Marlborough to run a holiday motor camp.
David's menu focuses on the fresh, clean European flavours the neighbourhood bistro is known for, while borrowing from his London experience, incorporating the slow-grilling techniques and offal dishes he learned at Lyle's: sweetbreads crumbed in ciabatta, scotch on the bone with anchovy chili butter; larger cuts of meat for sharing plates.
READ: Young Chef to Watch: Matheus Mahandog
He's also playing around with pasta, making tortellini, pappardelle and tagliatelle, and exploring where to get the best produce, recently discovering a great tomato supplier in West Auckland, and fisheries in Leigh.
Inspired by Marco Pierre White, the "rock 'n' roll chef", who glamorised cooking in the 80s, Fergus Henderson who popularised the nose-to-tail eating philosophy, and Rene Redzepi, who kick-started the Nordic food movement, David says he'd like to spend another couple of years working under a great chef if the opportunity arises, but in the meantime, he says, "you can teach yourself a lot about food".
"I've always pushed myself. I like to learn everything and be the best straight away. It has fast-tracked my career a bit."
He's also keen to attract younger diners to Siostra. On Tuesdays he runs a gourmet burger night, serving classic American cheeseburgers alongside creative varieties: fish burgers spiced with Moroccan pickles, chicken karaage burgers, pulled lamb with feta and onion rings. Like all ambitious chefs, he hopes one day to open his own restaurant, but for now, he's content to keep learning while making produce-driven, simple food done well.
READ: The Secret Behind the Kimcheese Burger at Tiger Burger
"James Lowe from Lyle's had a very clear philosophy: focus on two or three flavours and texture. I personally don't like 12, 15 components. I'd rather play up the dish's natural beauty."
• Chefs around the world, aged 30 or under, with at least one year's work experience, are invited to compete with a signature dish that will be tasted by a jury of seven world-renowned chefs who will ultimately crown the S.Pellegrino Young Chef 2018. Applications are open from February 1 to April 30, 2017. Entries can be submitted at Sanpellegrino.com
Share this: