Young Chef to Watch: Matheus Mahandog
Meet the head chef of Ceremony, Matheus Mahandog, a S. Pellegrino Young Chef competitor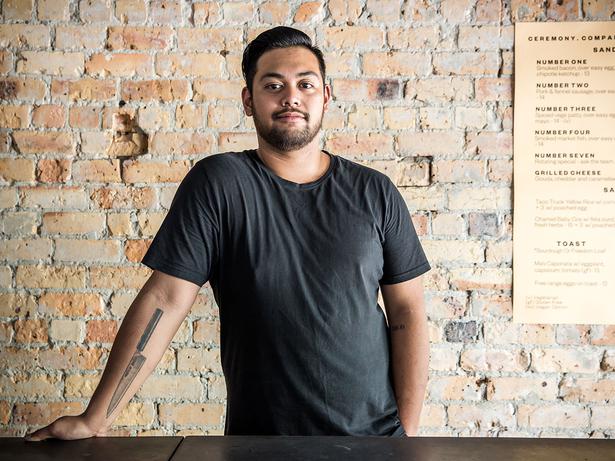 Wednesday March 1, 2017
He makes sandwiches — but not as you know them. Ceremony head chef Matheus Mahandog's brioche creations will put your ham-and-lettuce stodge to shame. Think smoked-pork sausage with a celeriac remoulade, gouda, fried collard greens and a jalapeno-and-shallot salsa. The 22-year-old is proof you don't have to chase the fine-dining dream to make a name for your cooking skills.
Which isn't to say he hasn't worked in high-end kitchens. After a stint at Regatta in Takapuna under Richard Highnam (now at The Tasting Shed), he interned for a month at Attica in Melbourne, where he learned the ins and outs of "extreme French dining" then returned home, where he worked briefly at the French Cafe.
But he knew he'd rather work somewhere relaxed, where he'd get to interact with customers. Ceremony, the Grafton cafe run by muso Connor Nestor and coffee fanatic Charles Williams, fit the bill.
READ: Young Chef to Watch:David Bach
"It's still quite challenging," he says. "Not as much as fine-dining but I still use my training, applying it to foods that aren't as fussy. It's about work ethic, being able to work cleanly, preparing food the best way possible, respecting produce or meat and finding the best seasonal vegetables."
Speaking of vegetables, he's a little obsessed right now. Alongside the cafe's famous sammies are creative salads, including Matheus' charred baby cos number, the greens slightly cooked to impart a smoky flavour, with feta curd, tomatoes, pumpkin and herbs.
Or his whole roasted cauliflower with tahini dressing, pomegranate and pinenuts. When he's not concocting mayonnaises, ketchups or jams or serving up sharing style breakfasts, he writes the cafe blog, taking a lighthearted look at some of the latest flavours and techniques he's using. Outside of work he schools himself online, getting inspiration from other chefs.
READ: Young Chef to Watch: Alok Vasanth
He also cooks for family and friends as often as he can. For the carnivores, a five-course nose-to-tail degustation based on a whole pig; for the vegos, an eight-course vegetable tasting menu.
The Filipino chef has a rich culinary background to draw on, his home country's cuisine a melting pot of influences from Spanish to Chinese and Indian. "My grandma was an awesome cook, she was always in the kitchen. Mum was as well. Filipinos don't go out as much as Kiwis, there's a lot of home cooking."
When it comes to his own home cooking, he likes to make broths using pork ribs and vegetables stewed for hours; a rich, homely broth served on rice. Eventually he'd love to open his own restaurant, one with an open kitchen and sharing plates. "So it's a bit more like going to a bar. For me it's about the joy of being able to make food for other people. I love how food brings people together."
• Chefs around the world, aged 30 or under, with at least one year's work experience, are invited to compete with a signature dish that will be tasted by a jury of seven world-renowned chefs who will ultimately crown the S.Pellegrino Young Chef 2018. Applications are open from February 1 to April 30, 2017. Entries can be submitted at Sanpellegrino.com
Share this: