Meet China & Rain Katayanagi, The Dynamic Twins Who Belong On Your Radar
Dan Ahwa meets a dynamic duo influencing the next generation through music, fashion and social media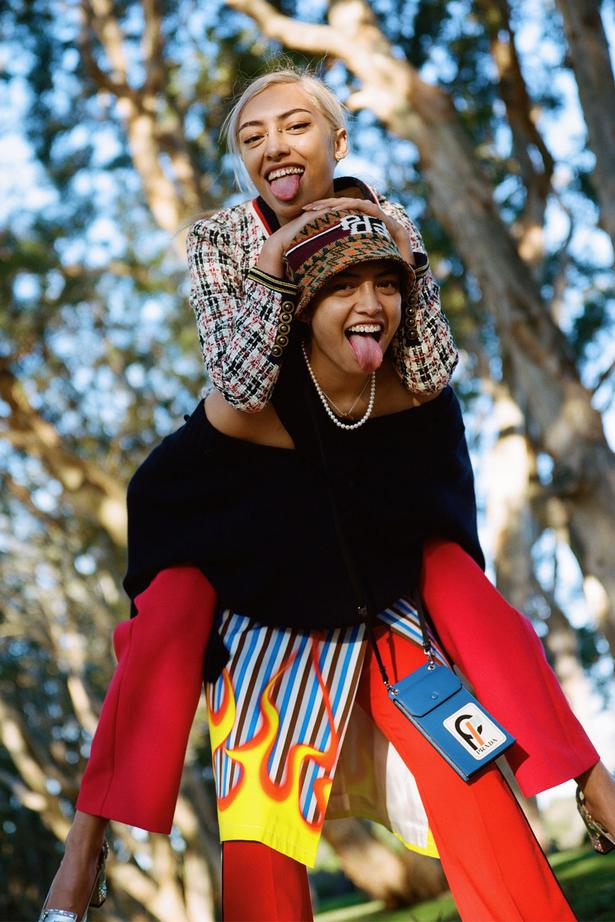 Wednesday July 11, 2018
Heads turned when twins China and Rain Katayanagi stepped out into a sea of cookie-cutter wannabe fashion influencers dressed to the nines outside Sydney's Carriageworks Arts Centre, the home of Mercedes-Benz Australian Fashion Week in April.
China had offset her peroxide mane with a leather bandeau top and pants, accessorised with tiny sunglasses a la Trinity from The Matrix; sister Rain wore a reflective metallic silver coat topped with a black beret — both looked equal parts confident and intimidating.
Their week played out like a debutante ball of sorts; only this time their introduction into society was infiltrating the notoriously exclusive Australian fashion industry, and instead of ball gowns, they wore Wynn Hamlyn, Jimmy D, Stolen Girlfriends Club, Karen Walker and Huffer.
Apart from attending shows and being introduced to designers during the week, they worked on several shoots (including this one shot at Centennial Park) and played DJ sets to packed venues.
Their takeover of Sydney Fashion Week was a success. Brands showed interest in working with these exciting new faces from New Zealand, Vogue street-style photographers snapped their looks and PR agencies were at their beck and call.
READ: Styling Tricks To Steal From Couture Week Street Style
In a time when millennials are being derided for being self-centred and somewhat socially inept, the 21-year-old twins are a beacon of light to their fans and peers, showing that influence can mean much more when you have a point of difference.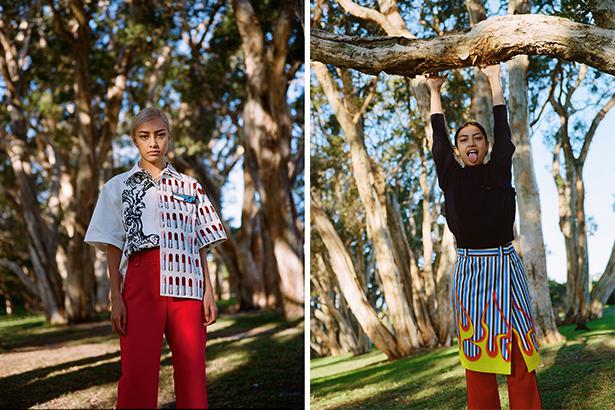 The twins' bold style and natural confidence strikes a chord.
"My whole school life I thought being cool was fitting in and being like everyone else," Rain says. "Then after a while, it got so exhausting and I just gave up. Then it hit me that being cool is just being yourself. I wish I listened to my parents when they told me that."
READ: Fashion Mood: How To Wear Gen Z Yellow
China agrees: "Cool to me means being confident. The struggle for the younger generation right now is that people aren't always going to be open-minded. People should listen to the kids. They are the future."
Photographed by Sydney-based photographer Chloe Nour for Viva and Cool Pretty Cool, a website created by Sydney-based Kiwi stylist Chloe Hill to celebrate modelling's new and interesting faces, the twins, who embrace New Zealand and their Maori, Samoan, Niuean, and Tongan heritage, are excited about what the future holds.
How would you describe each other in one sentence?
China: Rain is ahead of her time.
Rain: You just have to get to know her. Her personality and humour are indescribable.
Best thing about being a twin?
China: Having someone there with you 24/7 and sharing.
Rain: Sharing.
. . . and the worst?
China: Having someone there with you 24/7 and sharing.
Rain: Sharing.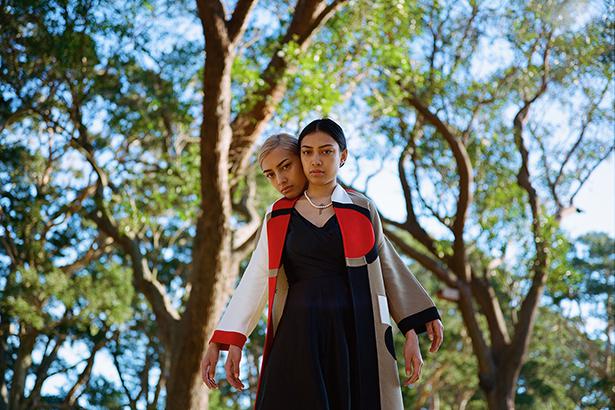 What's been your most memorable DJ set?
China: The first club gig because all our friends showed up. It just got super lit.
Rain: A club night we did at 1885 in April.
Top three songs on rotation for you currently?
China: Digital Bath by Deftones, Golden Trunks by Arctic Monkeys, Paranoid by Kanye West.
Rain: Paranoid by Kanye West, She Lives In My Lap by Outkast, Japan by Famous Dex.
Where would you take someone visiting Auckland for the first time to eat, drink, shop, dance and people watch?
China: We'd go to Little Easy to eat, Roxy for drinks, K Rd to shop and 1885 to dance.
Rain: I'd take them to one of our DJ sets.
READ: Meet Shay Minhinnick, The Auckland-Based Creative Doing Fashion Her Own Way
What does your ideal day in Auckland look like?
China: Sleep all day, party all night.
Rain: Sunny day, good food and good company.
What's been your favourite modelling job to work on?
China: The whole of Sydney Fashion Week.
Rain: This is a hard question because every modelling job we've done has been lit, it's always fun, and never stressful. But probably our first runway for Huffer. That was a game changer for us both.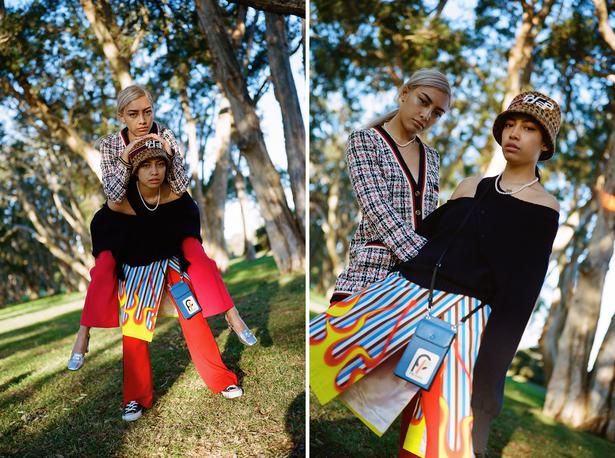 What are you most curious about in life?
China: Life itself.
Rain: Where we end up.
What is your relationship with fashion?
China: I use fashion to show individuality and to show you can literally wear whatever you want.
Rain: I use fashion to show what kind of person I am. That kind of doesn't make sense but my style attracts people like me.
READ: Get To Know Instagram Influencer Zara McKenzie
Who are your personal style icons or people whose style you admire?
China: My fashion inspiration comes from bomb-ass women and music artists from the 90s.
Rain: My style changes. I usually go from old skater dude to Bella Hadid street style real quick. So I take inspiration from everyone, especially Kanye.
What advice do you have for other young women out there looking to become DJs?
China: Practise, practise, practise. Learn from other DJs and most importantly be humble.
Rain: Just sort out your gear and practise. Always study your music.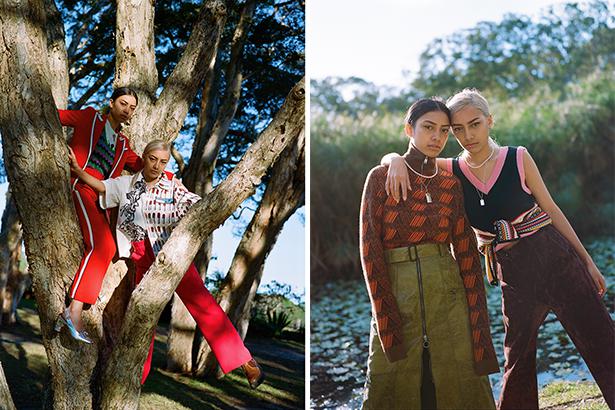 • See more at Cool Pretty Cool
Share this: