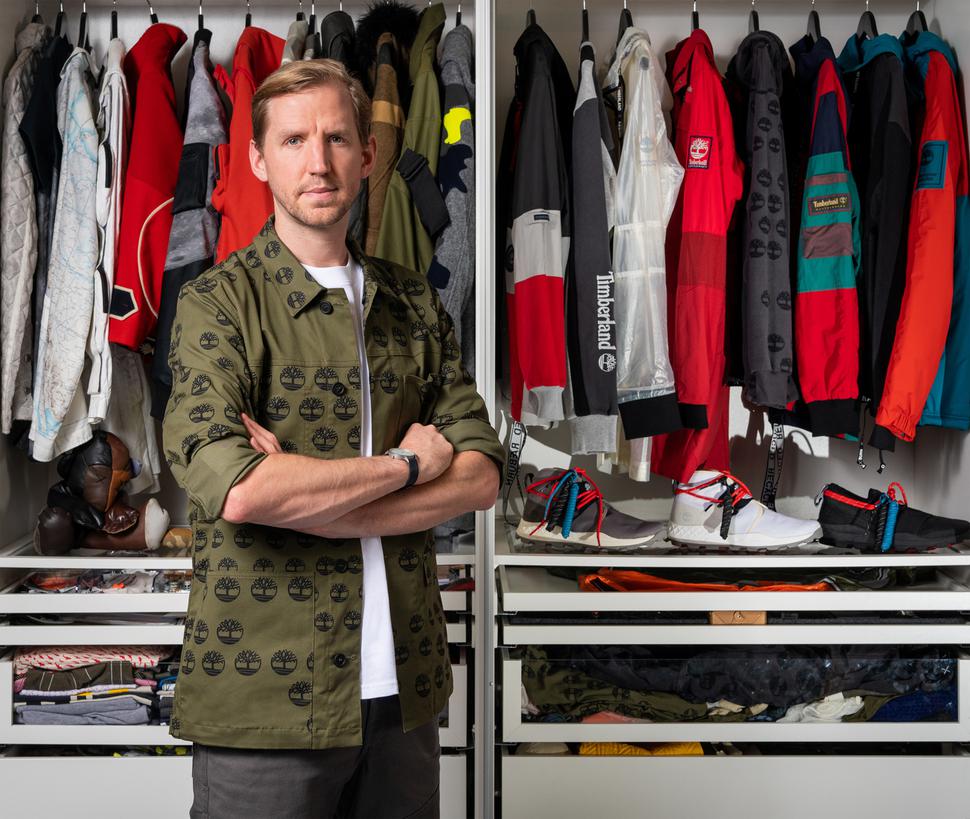 How Sustainable Fashion Leader Christopher Raeburn Is Transforming The Outdoor Apparel Industry
The Timberland creative director and founder of fashion studio Raeburn, shares his passion for an iconic heritage brand and how he's putting his expertise in sustainability to good use
Tuesday Oct. 6, 2020
As a sustainable fashion pioneer, Christopher Raeburn's influence on reducing waste in fashion has been evident over the years - reworking surplus textiles and fashioning them into new products to cherish forever, through his own brand Raeburn - and since 2018 - with American outdoorwear giant Timberland as its global creative director.
The brand's recent commitment includes teaming up with research organisation The Savoury Institute to build a regenerative leather supply chain that will, in time, serve the wider apparel industry.
"The environment today is in a degraded state," says the 38-year-old. "As a fashion brand, we are part of the problem, and we need to be part of the solution. One way we can do that is by sourcing natural materials, including leather, from regenerative farms and ranches.
We're incredibly excited to be introducing our very first boot made with regenerative leather this fall. Regenerative practices enable the land to pull carbon out of the atmosphere and efficiently store it in the ground - rebuilding the structure of the soil and leading to healthy, hydrated, fertile ground - and ultimately, net positive impacts for the land and the farmers.
Savory Institute is instrumental in measuring those impacts. This isn't just about Timberland - we're working to build a supply chain that will serve brands across our industry. To truly begin to restore our environment, it will take a collective effort."
READ: Levi's Has Released Its Most Sustainable Product Ever
Christopher also recently teamed up with online marketplace Depop, to launch his own shop to sell a series of build-your-own hat kits from the safety of your own home; and just last week, Timberland released its unique collaboration with luxury shoe brand Jimmy Choo.
Founded in 1952, the storied heritage brand has become a go-to for outdoor wear apparel and footwear over the years, and Christopher's addition to the brand has seen the sustainable fashion leader bring his modern way of thinking for a new eco-conscious fashion consumer. 
Speaking from London, Christopher speaks of how this year has also changed the way he works.
"I rarely have a "typical" day; each seems to be incredibly varied but to generalize I'll normally cycle to the studio (a trip that takes me from South London to East across Tower Bridge) and then I'll try to get as hands-on in terms of the design and creative process as possible," he says.
"I might be building out a creative concept or a new project but getting onto sewing machines, experimenting and working with materials is key to my process. Of course more recently I've been travelling less but the great news is that with Timberland this hasn't stopped us from designing and developing a host of new projects and products digitally."
How has life been for you and your teams during this period? 
It's wonderful to have the opportunity to connect with your readers. The first thing to acknowledge is how seriously all at Timberland take Covid-19.  It's been a challenging time but I've been so proud of how the teams have been able to adapt quickly in order to keep creativity flowing. It's been so inspiring to see the incredible spirit of collaboration across our design teams who are located in Stratham, USA and Stabio, Switzerland and how these unique times have allowed us to innovate in a host of new ways. 
What have been some of the key challenges you have faced and how have you overcome these obstacles as a business operating in such a pivotal time in world history?
From a business perspective, one of the biggest challenges facing not just Timberland but most retailers was the temporary closure of stores and quick pivot to digital.  Luckily for us, 'Digital First' was already one of our top global strategic priorities, so we were able to quickly adjust and mobilize to engage with our community in the digital space.
READ: Why The Pacific Climate Warriors Are Fighting For Climate Action In The Pacific
I've also already touched upon the challenges of working together in entirely new ways, through virtual meetings, closets-turned-home offices, etc.  Ultimately, while we're all eager to get back together in person, I think there will be some positive outcomes that will carry into the future.
As a pioneer in sustainable practice in the fashion industry, can you pinpoint the time or moment where you felt like this was something you wanted to focus on as a designer?
I wouldn't say there was one specific moment but more an evolution; I have two older brothers and grew up in the South East of England - there was a spirit of adventure and our parents really brought us up in a pragmatic manner with a focus on "make do and mend." As kids, we were always repairing things, and also understanding the value of functional, quality items.
When I went onto my studies at the Royal College of Art and then started my own business those values never left me; I really want to make high-quality products in the most responsible way possible. What's given me such pride is that my role at Timberland has allowed me to bring all those learnings to a truly global company; the result is the opportunity to make a positive difference at scale. 
The pandemic has been a big focus for everyone at the moment – how have you as a sustainable pioneer ensured the fight for things like climate change and being conscious consumers does not fall by the wayside? How do you keep that messaging a priority in a time like now?
As should be the case, the health and safety of our employees and communities has been our top priority during the pandemic. At the same time, we need to care for our planet – perhaps now more than ever. Timberland has a steadfast commitment to create responsible products, stronger communities and a greener world. These are not fleeting commitments but built into the fabric of our brand and culture. Over the past several months, we've seen how nature can restore itself when given a chance to rest. Now is not the time to pull back; now is the time to push forward.
READ: Has Tackling The Pandemic Meant Dropping The Ball On Plastic Pollution?
The Timberland brand has so much history and scale to it – how much of its history have you drawn on for inspiration while at the same time, moving it forward? 
Timberland's heritage of craftsmanship, utility and responsible innovation has been a massive inspiration to me. I vividly recall the launch of the Timberland Earthkeepers boot back in 2007 - I was shocked that a big global brand like Timberland would take such a progressive step, and that really stuck with me. Now we have this creative vision we worked on together – bringing together our passion for nature with the energy of fashion to create something progressive and new in the market. That's what inspires me every day…we can really push the boundaries of responsible innovation and design, scale it up, and stretch where Timberland goes as a brand. 
What are some of your favourite textiles to work with and why - in relation to what you do at Timberland?
Personally speaking, I'm so excited about the materials developments we're working on around natural performance; particularly in footwear. We're working on some truly innovative bio-based developments that will be real game-changers not just for us at Timberland but also for the industry as a whole. As a company, we're always so aware of our impact and working on innovations to mitigate those impacts is always a big motivation. 
New Zealand has always been a nation that has put the environment at the forefront of the agenda, from our nuclear-free stance from the early 1980s to our global-thinking fashion designers including Kowtow, Maggie Marilyn and All Birds to name a few. How do the ideals of Timberland reflect these values for New Zealanders in particular? 
First let me just say, I love New Zealand!  And this one seems pretty simple to me. At its core, New Zealand stands up for nature. Protecting it. Restoring it. Enjoying it.  At Timberland, we often say, "a greener future is a better future." 
This has been part of our ethos for decades - whether it's making our products responsibly or creating urban green spaces or planting millions of trees around the world (we've actually planted 10.7 million to date and committed to 50 million more by 2025). So I'd say we're pretty well aligned on that.
We're also a very outdoorsy nation – can you talk about some of the outdoor pursuits that you love to do?
Yes, indeed you guys have a beautiful country to get outdoors! Aside from cycling, I'm a keen runner and when possible I'm into the mountains to truly get back to nature. Having grown up in the countryside I've always had a keen appreciation of the outdoors and as a business, we have so many folks who truly embody our creative vision; that passion for nature is more important than ever.
What does the latter half of 2020 look like for you and what can we look forward to with Timberland in 2021?
At a brand level, we will continue to build upon our three core pillars: better products, stronger communities and a greener world. Personally, I'm incredibly excited about the launch of our autumn/winter 2020 collections, as it's the first full season since I took on the global creative director role.
As we look to Spring 2021, we'll be introducing some new eco-innovations with bio-based and other natural materials, and of course we'll continue our progress with regenerative. We'll have to do this again next year so I can share all the new news!
Share this: