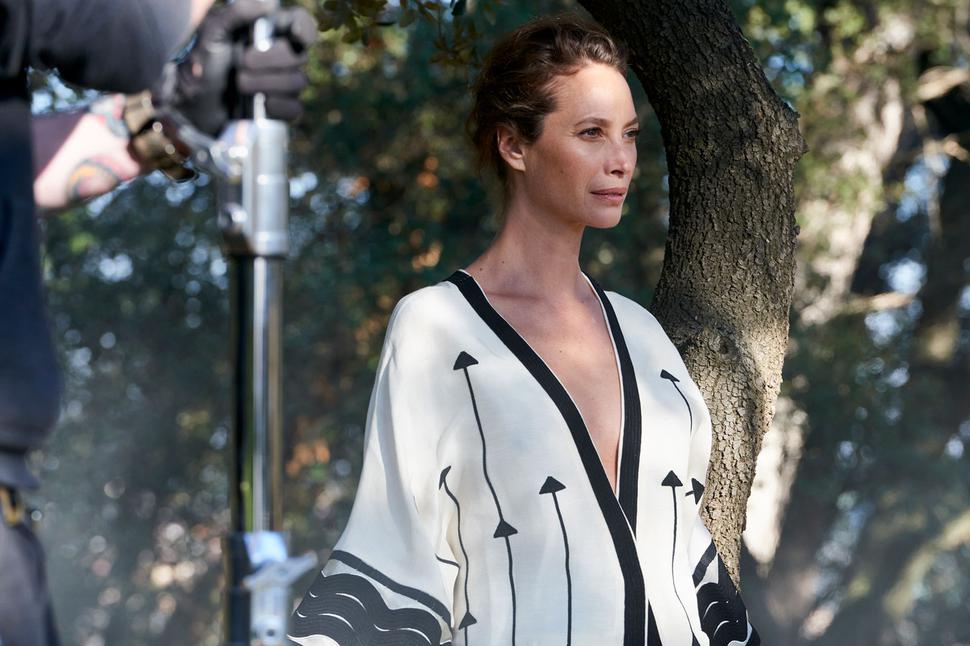 Supermodel Christy Turlington Burns On Working With H&M, Femininity & Sustainability
Fashion and sustainability are no longer contradictory, says the star of H&M's campaign
Wednesday April 11, 2018
H&M's seventh Conscious Exclusive womenswear collection launches in stores next week (April 19) and introduces two new sustainable materials.
The first is a recycled silver product used to make jewellery, and the second is Econyl, comprised of 100 per cent regenerated nylon fibre from fishnets and other nylon waste. Let's take a moment to appreciate those sacrificial fishnet stockings, shall we?
The new range was inspired by the home of Swedish artists Karin and Carl Larsson, which was bursting with handcrafted tapestries and intricate needlework — translated by H&M into floral jacquards, abstract embroideries and bold prints.
We chatted to the campaign's leading lady Christy Turlington Burns about working with H&M on the shoot.
What are your thoughts about working with H&M on the Conscious Exclusive campaign?
I'm thrilled to be part of the H&M Conscious Exclusive campaign. Ever since I learned about this collection I've been really impressed by what it stands for and the designs are equally appealing.Fashion and sustainability is no longer a contradiction in terms, especially when a company such as H&M invests a lot of time and effort to find innovative materials and processes that can make the garments more sustainable.
READ: Zoe Kravitz on Style, Diversity & Her Latest Role
I was really impressed by the fact that a lot of the fabrics had been basically created from scratch in order to incorporate sustainable fibres.The floral metallic jacquards, for example, are made mostly from recycled polyester, but it looks, feels and moves like a more traditional jacquard. And that kind of dedication to crafting the pieces is felt throughout the whole collection.
What was the most memorable or fun moment from the shoot?
I love working with Mikael Jansson, the photographer of the print campaign because his images always exude femininity and strength. The campaign was shot at a beautiful location with incredible light that complemented the collection beautifully.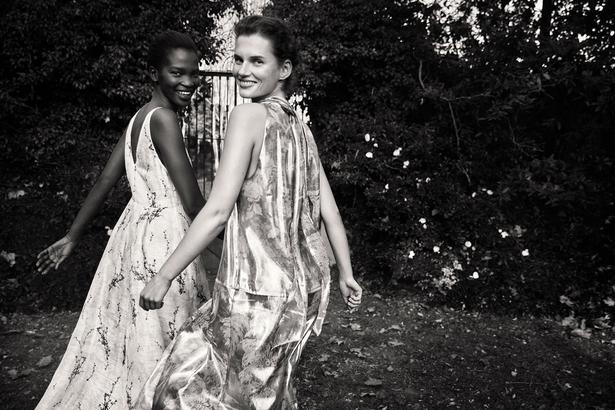 What were your three favourite pieces?
The dark blue-grey lace dress in Econyl. The off-white robe with black embroidery is also gorgeous and very glamorous in a laidback way. I also loved the green long-sleeved floral dress with the fabric-covered buttons because it's so effortless.
What's really great about this collection is you can wear it anywhere and feel both glamorous and relaxed at the same time. Every piece works well with daily life, whether that is a day at home or an evening out.
If you had to choose one piece to hand down to your children, which one would it be and why?
The floral metallic jacquard ballgown is so pretty and classic. I mean, look how stunning it is, the silhouette is just so flattering! And the recycled silver tulip accessories, they're so delicate and timeless.
How would you define powerful femininity?
When I think of strong women I admire, they are equal parts feminine and powerful. Confidence and conviction are really important qualities too. You love to travel and have had the opportunity to visit an amazing array of places around the world. What have these experiences taught you about environmental issues in particular?
READ: Charli Howard Opens up About the Modelling Industry
I think what has struck me the most when I've been travelling is not only the fragility of the planet we live on, but also how vulnerable so many people around the world are in the face of environmental issues. The two are really intertwined and the impact is huge but there are measures we can take towards cleaning up the planet that can make a difference.
What are your thoughts on fashion's role in a sustainable and conscious future?
I believe that fashion can and must play a large role in a sustainable and conscious future. I think re-using and recycling is an important initiative across fashion and it's really inspiring to see such fashion-forward designs being made from recycled materials.
At H&M, for instance, they are providing more sustainable choices for people around the world, and helping to lift these materials to scale and create demand for further innovation. That's really exciting.
•  H&M Conscious Exclusive is in stores from 19 April
Share this: