Cindy Sherman reinvents Louis Vuitton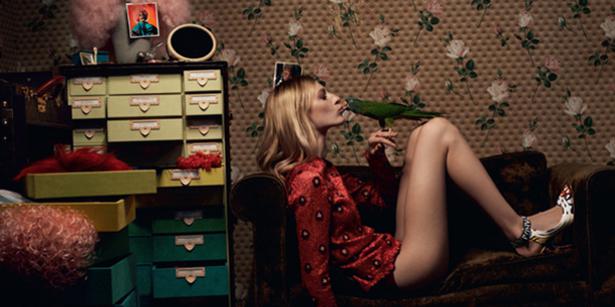 Wednesday Oct. 1, 2014
Given complete creative licence, how would some of the world's most iconic creatives reimagine Louis Vuitton luggage?
Karl Lagerfeld went with an entire punching-bag suite - including a trunk with punching bag, suitcase with gloves and mat, and three different-sized handbags; Christian Louboutin a fabulous shopping trolley and bag for only the best Sunday markets, and Marc Newson a shearling-trimmed backpack.
Cindy Sherman, renowned image and film-maker, created a dream-worthy "studio in a trunk" and messenger bag. Inspired by her studio filing cabinets and the idea of travelling for work, the trunk boasts labelled compartments (in the artist's own handwriting) for essentials in her line of work such as fake teeth, facial hair and scar tissue/skin (Sherman points out these could just as easily be used to hold underwear and T-shirts), bizarre twists on the vintage travel sticker and an interior colour palette inspired by her pet parrot.
The six collaborations - Rei Kawakubo of Comme des Garcons and Frank Gehry also designed bags - are in honour of Louis Vuitton's Celebrating Monogram project, recreating the iconic logo, designed in 1896 by Louis Vuitton's son, Georges Vuitton.
CINDY SHERMAN ON HER MONOGRAM PROJECT
Yes, it is true; I just really wanted the trunk myself! I guess when Louis Vuitton initially talked to me about the project I was in Paris; I am renting an apartment there now. At first I thought I just don't have time to do any new projects. Then I thought about my apartment, and realised I did need a decent place to do my makeup. Originally, I thought it would be something like an old-fashioned vanity case that I could travel with. Then Louis Vuitton came back to me with the suggestion of a trunk - which was way more than I initially thought, but I just said "Yes!"
The trunk is just so personal to me; I have handwritten labels for all of the compartments: fake eyeballs, fake teeth... Who else is going to use those? Fake nails, fake eyelashes... I do have filing cabinets in my studio with all of this stuff in them. I tried to copy the categories I already have: small jewellery, pearly stuff, hair accessories, lips, noses, wigs... Of course, anybody could put his or her underwear or t-shirts inside instead.
I was asked about the color scheme; what was my favourite color? It was then I thought about my parrot. My parrot is this sort of iridescent green and there are all of these other colours when he spreads his wings; this became the color scheme for the interior. I thought it would be nice to have a reminder of him in Paris.
Every whim of an idea is in there! I thought it would be really nice if the outside of the trunk looked old, like it had travelled around the world with all of these stickers on the Monogram. We decided to use some of my images for the stickers, but to push them and make them more bizarre. I loved the direction of this... All of it was just so much fun to do!
With Louis Vuitton, I talked about all of the other things inside the trunk that could be pulled out and used. In the end the vanity case was incorporated - it is a small suitcase that can be removed from the top. Everything was so conscientiously designed, even down to my height - I sat on the little stool and it was checked where my eyes would be in the mirror.
It was then I said, "How about a camera bag?" I shoot when I am on the road; I have been shooting backgrounds for some of my more recent work, these become digitally inserted into final pieces. That idea became the separate messenger bag.
The trunk could be a mini-traveling studio and I liked that option. It certainly will be a lot easier now to contemplate that idea - I have never really traveled for work. This way it will be great, it means I can have an extra camera in Paris and duplicates of props-with the trunk it means theoretically I can even take other little trips.
I have made functional things before in my work, but the trunk is the first non-photographic project I have ever done. I imagine that a Saudi Arabian princess might use it. I would love if Madonna or Lady Gaga might consider it - or it might come in useful for a drag queen! RuPaul or Justin Vivian Bond, he deserves one.
Read about Sherman's inspirations below, and see the photo shoot here:
Share this:
More Fashion / The Latest