The Secret to Collette Dinnigan's Success
As she prepares to host a glamorous event at Cape Kidnappers, Australian fashion designer Collette Dinnigan tells how her unconventional upbringing gave her an unflappable attitude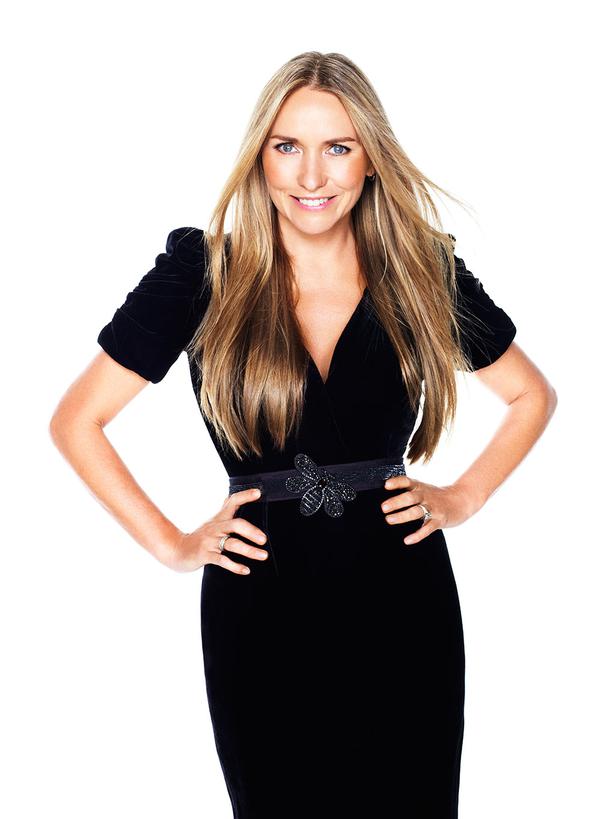 Tuesday Nov. 3, 2015
Hanging out with seals on an island in the Indian Ocean, rationing food and water, negotiating 18-metre swells and kelp-tangled waters ... It might not sound like the typical blueprint for a star fashion designer's career. But, as Collette Dinnigan explains, her childhood years sailing on a yacht from South Africa where she was born, to New Zealand, where her family settled, groomed her for success.
"You learn to become independent, you have to be very responsible when you're on the water," Collette explains, from Sydney.
"It keeps you very close to family being in such a confined space. You develop a real sense of adventure. It was a bohemian lifestyle that has given me the courage to not be scared of losing or doing things, to keep moving, make decisions and not be scared to change. When you're not located in one place, you learn that anything is possible."
That modus operandi has propelled the designer from her early days as one of Australia's first fashion exporters, to the first Aussie designer to launch a ready-to-wear collection on the runways of Paris, to an estimated net worth of NZ$22 million.
Until she scaled back her business in 2013, she produced up to nine collections a year, including high-end bridal and evening wear, and put on two annual shows in Paris. Now 50, she's the subject of Unlaced, a major retrospective of her 25-year career at Sydney's Powerhouse Museum. She's also a published author who will promote her new autobiography Obsessive Creative at a special event at Cape Kidnappers on December 5.
The whole family is going, including 9-year-old daughter Estella, 2-year-old son Hunter and hotelier husband (and Hunter's dad), Bradley Cocks.
"Everyone told me 'you should write a book', and I never intended to do it. I've always been more pictorial but it just evolved."
The weekend is a chance for guests to hear stories from Collette's prolific career, exotic tales from her frequent trips to India and Europe, and to gain insight into her tenacious work ethic. Ever since she can remember she's been creative — like her Irish yachtie father and English textile designer mother. But she'd rather call herself passionate than ambitious.
She made her breakthrough early, opening her first store in Paddington before boldly cracking the US market through Barneys in New York. Negotiating the competitive world of US retail came down to being "organised and efficient. It was tough in the beginning in Australia because obviously I was trying to make a business out of what I was doing. It's about wanting something to happen rather than hoping it might. You try everything."
Collette's ultra-feminine clothes hit the mark straight away. Celebrities were among her earliest customers, Cindy Crawford one of the first to buy her lingerie. Taylor Swift, Leighton Meester, Kristen Bell, Miranda Kerr, Dita Von Teese and the Duchess of Cambridge have all been snapped in her floaty, lacy, sparkly gowns. But, despite her success, she wasn't always confident in her talent. "Oh no, not at all. I'd always question it."
She also discovered that one of the most difficult parts of running a business isn't just fighting to get a foot in the door, but later, managing the emotional needs of staff. She suspects they find her perfectionist streak and attention to detail a "pain in the arse". But if there's one thing she's never questioned, it's her instincts, and her refusal to settle.
Perhaps this explains her fruitless search to find someone to take on the management share of the business when she downsized, resulting in the closing of her boutiques in Sydney, Melbourne and London. Despite the Aussie media speculating on whether finanical reasons were to blame, she has always maintained her primary motivation was to free up time to spend with her family.
"I've done so much and it's so intense that, unless you can give it absolutely everything, no one ends up winning. Now I'm able to control my travel schedule by not having to be away for school holidays. Although I'm working very hard I have much more control of my time."
That doesn't mean she's not famously busy. She still designs for her diffusion and lingerie lines, and children's label, Collette Dinnigan Enfant, and caused a stampede last month when she released Young Hearts, a competitively priced children's line at supermarket chain Aldi. (The range sold out within days). She has also moved into interiors, recently redecorating the luxurious Bannisters By the Sea hotel on the NSW south coast.
Before Unlaced opened, she worked five days a week on it, directing and producing a catwalk show, curating and filming 120 outfits. Tellingly for this ultra-organised businesswoman, she spends a good deal of time raving about the benefits of a cyber storage system she's now using. She's also renovating her home — "changing the pool and moving everything," she says. No biggie.
That sense of being practical and resourceful (and a tad nonchalant) is a Kiwi thing, she says. Until her father passed away last year he was living in St Mary's Bay and Collette would visit once a year, so her ties to New Zealand are still strong.
"I spent a lot of time in the Bay of Plenty and on Waiheke Island, I went to art school in Wellington. So I'm really a Kiwi but I've spent the last 20 years living in Australia. I have a New Zealand passport. I guess I'm half-half now."
Yes, you read that correctly. Perhaps it's high time we claimed Collette Dinnigan — rightfully — as our own.

• The Farm at Cape Kidnappers, Hawkes Bay is offering a special package on December 4 and 5 to celebrate Collette Dinnigan's new book, Obsessive Creative. This includes suite accommodation for two people (double or twin), pre-dinner drinks and canapes, gourmet dinner, breakfast and attendance at the book launch (which includes a Q+A between Collette and Viva editor Amanda Linnell), a spa treatment per person, complimentary upgrade (subject to availability) and late checkout. $3100 + 15 per cent GST per couple. For reservations at The Farm at Cape Kidnappers phone (06) 875 1900 or email reservations@capekidnappers.com
Share this: