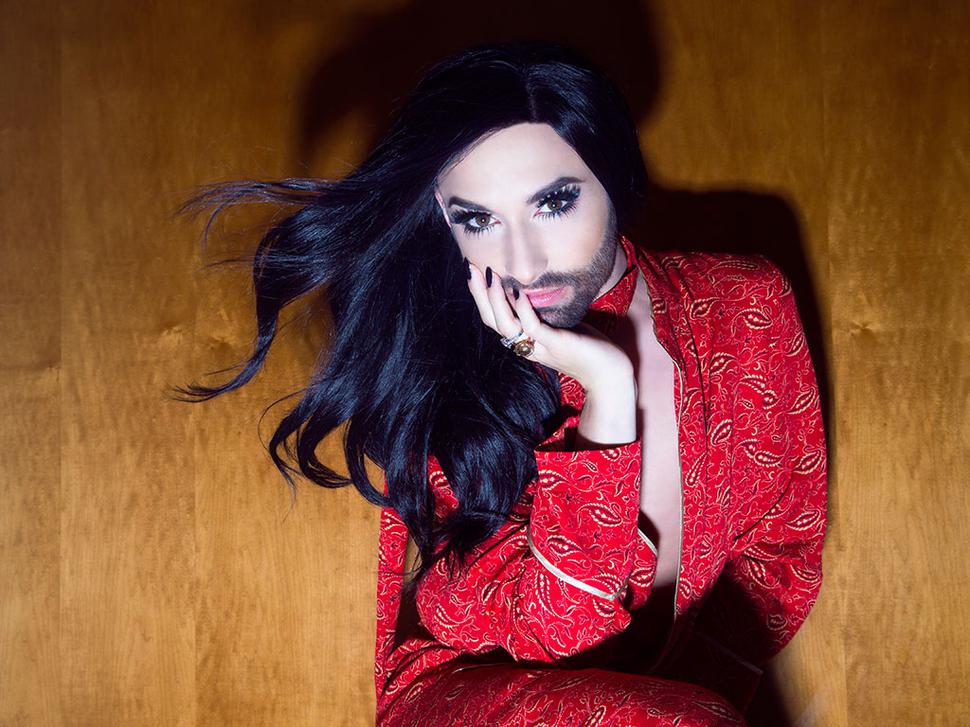 Glamour Ambassador
Eurovision Song Contest star Conchita Wurst is the new darling of fashion and at the forefront of the gender diversity conversation
Wednesday May 20, 2015
The gender debate is a hot topic right now, with gender-fluid fashion on the runway at Prada, J.W. Anderson and Gucci, Miley Cyrus discussing her frustrations at traditional definitions of femininity and masculinity, and Bruce Jenner revealing that he identifies as a woman.
And of course there is Conchita Wurst, the bearded singing sensation and drag artist who won last year's Eurovision Song Contest and has become a global ambassador for diversity and the LGBT community.
In Melbourne earlier this month, a self-assured and very funny Conchita spoke to us from her hotel room, hours before jumping on a 24-hour flight home to Vienna. "Eurovision is around the corner and somebody needs to rehearse, and that somebody is me."
This week the 26-year-old will take to the stage in her home country of Austria to open this year's singing contest. With an audience of 100 million to 125 million worldwide, it is the most-watched non-sporting event in the world. All eyes will be on Conchita and her haute couture dress, when she belts out Rise Like a Phoenix, the song that won her last year's contest.
Her win garnered criticism from Eastern European conservatives, including Vladimir Putin. She has since become a figurehead in the conversation around diversity and gender identity in politics, pop culture and fashion. "A sort of bearded Beyonce", as transgender rights activist Paris Lees wrote in the Guardian last year. "An ambassador for diversity, and a beacon of light — no doubt — to our queer cousins on the continent."
Fashion has also fallen for Conchita. Jean Paul Gaultier, one of her favourite designers, chose her to close his haute couture show last year, and she was photographed by Karl Lagerfeld alongside top New Zealand model Ashleigh Good for Carine Roitfeld's influential magazine CR Fashion Book.
Good recalls the shoot, as she was then just shy of seven months' pregnant and it was before she closed the Chanel couture show as the pregnant bride. "[Conchita] had the most beautifully manicured hands I've ever seen. It seems strange how unweird it was to be doing a shoot with a pregnant model and a bearded lady. Karl and Carine love individuality so they were so excited to celebrate our differences by dressing us in the same looks to show how differently we carried them."
Conchita has her own distinct style. She tottered into the Viva shoot in a lime green pencil dress and sky high Louboutin heels, and helped style herself, keeping on her own selection of bold jewellery and ensuring correct placement of belts. "Me and my stylist Tom, we prefer me not breathing," she says, laughing, explaining that her Vienna-based stylist loves defining her waistline. Conchita's signature beauty look is very graphic — pale skin and nude lips starkly contrasted with her black wig, heavy lashes, and of course, the beard that has become her defining look.
However influential Conchita is and what she and the beard represent, she doesn't really see herself as a role model. "It's flattering when people refer to me as some kind of inspiration or something like that but at the end of the day I don't really feel comfortable with it. I'm basically myself and I'm not perfect, I just try to do what I think is right," she says in her sweet voice with a strong Austrian accent.
WATCH Conchita sing at the 2014 Eurovision Song Contest:
The 5ft 7in singer, who wears a women's dress size 6, grew up in a small Austrian village as Tom Neuwirth who, from as young as 4, preferred to wear dresses. Conchita's mother Helga has often told how he would insist on going to school wearing a dress, and she would wait for him at the door to come back outside because she was afraid the children would tease him and he would want to change. "But I wouldn't come out, because I was so self-confident. I was like whatever, I am wearing a skirt. Let's just play," explains Conchita, who went on to study fashion design.
In the end she chose a career in music over fashion but says, "I'm obsessed with it, it's important for me to express myself and show my mood."
She always investigates how a garment has been sewn together before putting it on: "I turn it inside out and look how it is made." There isn't really a brand or label she says she wouldn't wear, but if she is ever in doubt she will always choose a dress from her style icon Victoria Beckham's fashion line.
"She's just so flawless and elegant and always on the safe side with her fashion — you know I love that simplicity of the craft and tailoring that's beautiful."
Conchita describes her gender identity as shifting between a man and woman — "two hearts beating in my chest" — one being Tom and the other Conchita. As Conchita, she describes herself as a drag queen, and is careful to note the differences between drag artists and transgender people. Now her profile has grown, she admits the time spent as Conchita versus Tom has changed.
"Definitely after winning Eurovision my appearance is more as Conchita, but it's very balanced. I have many meetings and things to do where I don't dress up in full drag, and I really feel that I have enough of both sides."
Conchita Wurst came about in 2011 when Tom was creating a new look for his role as a burlesque host; developing a name, persona and signature look. "I was standing there with a beard and I thought, oh that looks nice and I don't have to shave, which I hate! So on one hand it's a style decision and on the other it's just way more convenient not to shave."
The beard takes about two minutes for Conchita to groom, and the secret to getting the perfect beard is filling in imperfections with eyeshadow. "Any man can have it if they spend the time," she says matter-of-factly. The rest of her makeup takes about an hour and she prefers Kim Kardashian-style contouring, heavy eye-makeup and bold lashes to complement her beard.
Conchita says the beard has helped her get a bigger point across, using it as a statement and catalyst for discussion about terms like "different" and "normal, as well as a means to bring the message to the world in an unmistakable way. "Even in the small burlesque community where you might think everybody is open-minded and very liberal, some people gave me the side-eye."
Comments and sideways glances don't bother Conchita as they did when she was growing up as a gay boy who loved to sing. Asked if all the attention has been positive, she quickly responds with a steely yes. "Because I made the decision years ago not to focus on negativity especially when it's about me. If there is negativity towards the LBGT community of course I do care, but if it's just me receiving negativity I couldn't care less."
It's that attitude that saw Conchita invited to sing at the UN in Vienna last year, meeting with United Nations Secretary-General Ban Ki-Moon, who had earlier called her Eurovision win an "electrifying moment of human rights education".
"Conchita is promoting respect for diversity.She confounds people's preconceived ideas of gender and sexuality, and she appeals to them to accept her as she is. That is a powerful message," he said at the event.
So is gender a trend? Of course not, but it has become more visible and mainstream thanks to public figures like Conchita.
Jean Paul Gaultier told Viva he cast her as his couture bride last year because, "I think that her message of tolerance and acceptance is very important today, and she is also such a fashion icon". He says he cannot talk for the rest of the fashion industry, but gender is something he has been interested in and has been exploring for more than 30 years.
"I have put men in skirts since 1984, my show was called 'Male Object'. Since the beginning of my career I wanted to show women can be strong and men can have a soft side."
Conchita says she doesn't blame people for not fully understanding gender issues, especially if they have never been surrounded by the conversation. She is grateful for shows like Transparent, with Jeffrey Tambor winning a Golden Globe award this year for his performance as a transgender parent, and to Bruce Jenner for sharing his personal struggles with gender identity — and that now, more than ever, people are talking about gender differences.
"I wouldn't dare call it a trend," she explains passionately, "I think it's a huge movement because these issues have always been important — they just haven't been discussed at a mainstream level."

• Conchita's debut album is released on May 22, and her autobiography Being Conchita - We Are Unstoppable, was released last week. Eurovision 2015 begins today.
Share this: