The Conscious Dresser: Dr Margo Barton
The head of Otago Polytechnic's fashion school loves to support local designers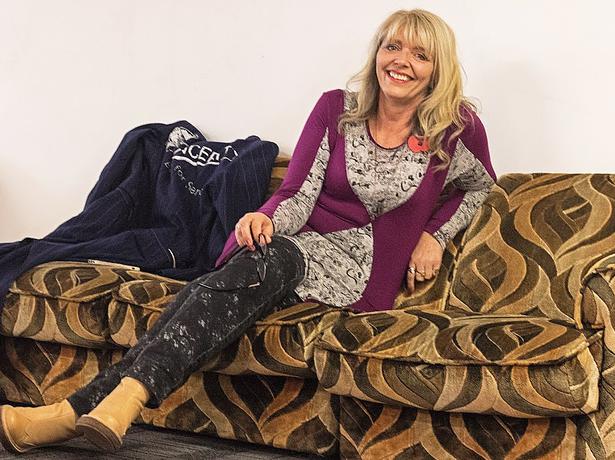 Wednesday April 22, 2015
Each day this week, in the lead up to Fashion Revolution Day this Friday, April 24, we are profiling women who dress with intent. Today, we chat to Otago Polytechnic's Dr Margo Barton.
Barton takes the "buy local" message to heart. Rather than simply supporting New Zealand made, she endeavours to wear as much Dunedin fashion as possible. As academic leader of Otago Polytechnic's Fashion at the School of Design, and a member of the iD Dunedin fashion committee since 1999, she knows the local fashion scene inside out, and loves to support her graduates. She tells us more below.
Do you have a philosophy on dressing?
Yes I do, while I am conscious of fashion trends, I prefer an individual look and will create looks that mix up vintage with designer wear and high street basics. I only like to wear natural fibres as they function the best, last the longest, and feel the best when being worn.
Do you think it is important to dress meaningfully?
It is to me, but people have different motivations in their choice of clothes. Meaningfulness for me is to try to only buy clothes that will last the test of time and that I know have been produced in an ethical way. When I buy locally designed and made pieces I really love knowing who the seamstress or tailor was on some of the shorter run pieces. For example, wearing one of my recent graduates Marc Jun's black one shoulder dress that I purchased at the Otago Polytechnic Pop-Up Shop, it's great to know that I am wearing something that he designed and made.
Why do you think supporting people who make their clothes is important?
These designers are so passionate about their craft that if we don't support them in any way we can, be it purchasing a $20 scarf from a designer sale to a $600 dress, then they won't be able to continue in business and the economic effect of that could be job losses for the people who support that designer, from the fabric supplier to the courier who brings the fabric, to the seamstress and the retailer. Many people are affected positively and negatively by our decision to purchase their wares.
Have you always been interested in supporting local designers?
Yes, I have. I know how hard it is to start up a fashion business, and I have to admit that in Dunedin is even harder than in other areas of New Zealand.
Why do you like to wear vintage and locally designed pieces?
I feel most like me, and am most comfortable in a look that is often best achieved via curating a mix of vintage, local or independent design talent and high street basics. I always invest in at least one new Dunedin designer garment which I wear and wear and wear, then put away and wear again years after. And more and more I am also buying a lot of Dunedin designer clothes second hand, usually via clothes swaps and designer recycle boutiques or sample sales. I find that not only are the locally made designs beautiful, they are really well made from great natural fabrics, so they will last for years, and can be layered up to create different looks for our interesting Dunedin weather.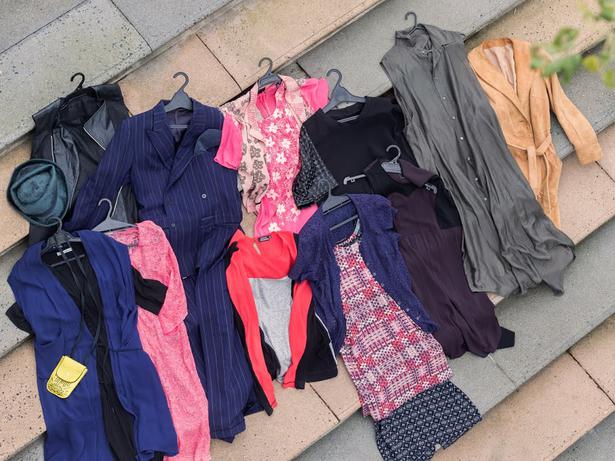 Tell us about some of your favourite pieces
I absolutely love all of my Nom*d dresses. One of my favourites was purchased in 1998, and I still wear it often. It's easy to wear, can dress up or down, has a quirky edge, travels well and is black. The only improvement that could be made with that dress is if it was navy. My most favourite piece of all time is a Nom*d also, you can see it pictured in the photos here: a long navy pinstripe coat made from a vintage Hallenstein's suit which is printed with a vintage clothing label — sincerity — on the back. If I could only keep one piece of clothing, it would be that one. I also love my Carlson, Company of Strangers, Charmaine Reveley and vintage dresses, I love dresses!
Where do you purchase your second hand clothes?
Most of my second hand finds are purchased at a twice yearly fashion swap in Dunedin. That is my main shopping time, and I save up and also try to swap some of my clothes as well to mitigate the damage I can do to my purse. Although, as you may have gathered, I don't sell as much as I could as I hold onto clothes for a long time. I will often wear them again years later, or give them to one of my daughters. I also absolutely love op and vintage shops, especially the Presbyterian Support Op Shop and the Hospice Op Shop where I have purchased some amazing 1970s pieces recently, like the tan suede trench I am currently loving which was designed and made in Dunedin by Mooney's Furriers. I buy a lot out of season, I am looking for unique fabrics usually, and I do alter or recut these. I will sometimes sell and buy on Trade Me. I love sample sales too, and recently iD Dunedin Fashion Week had its iD Designer Sale, I confess I purchased some great pieces there too!
Is the choice to buy second hand for affordability?
Yes, it is affordability; I do buy some new clothes every season, but can only buy limited new designer wear. Because I love to wear certain designer's clothes all the time, I know if I relieve a person swapping their clothes of their Carlson coat for example, they will go buy another one. So in fact me buying second hand is also helping the designer sell more new clothes!
Do you teach sustainable philosophies at Otago Polytechnic?
Otago Polytechnic has sustainability as one of our strategic frameworks; we are committed to not only educating future sustainable practitioners, but also operating sustainably and assisting our communities to understand this as well. We even have a Centre for Sustainable Practice which offers courses in sustainable practice, and we are presently developing a suite of postgraduate design programmes, all with focus on sustainable practice. Simply, caring for our environment and our people is the right thing to do if we want any kind of future, so it is a no-brainer.
At the same time, we also make sure students have a very good grasp of commercial realities, while developing their own identities as designers. So we don't just talk about sustainability as a theory, but are very focused on how to bring this to life in the real world. I am always so inspired by the creativity and passion our students bring to these issues.
Have you done anything for Fashion Revolution Day?
Yes, I went to last year's Dunedin event which was held by fashion activist Senorita AweSUMO — Fiona Clements, a graduate of Otago Polytechnic. This year she has gained traction and thankfully Fashion Revolution Day takes place during iD Dunedin Fashion Week. To bring attention to textile waste, Fiona has created a hand woven cloak from discarded t-shirts which is worn by the Robbie Burns statue in the Dunedin's Octagon. Fiona, along with two fashion lecturers from Otago Polytechnic's School of Design — Tracy Kennedy and Simon Swale — is hosting a panel discussion on ethics and fashion at the Dunedin Public Art Gallery on Friday April 24 at 2pm.
Share this: