Constance Cummings' New Jewellery Line
Vintage jewellery expert Constance Cummings of Love & Object on celebrating success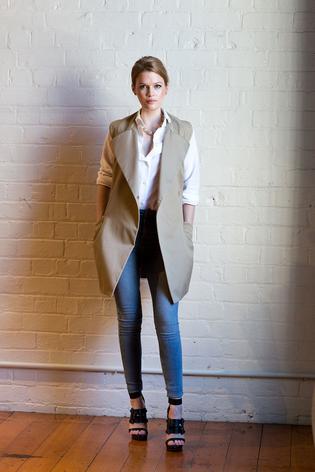 As the year draws to a close, it's important to look back and mark even its smallest successes and achievements. For Constance Cummings, the glamorous owner of vintage jewellery online store Love & Object, there is a lot to celebrate.
She recently launched her new jewellery line, Olympia, and became engaged to her partner Edward von Dadelszen — who also happened to launch his own fashion brand, E.von Dadelszen, this year.
Constance has also been chosen as one of five New Zealanders to be honoured at the Moet & Chandon "The Now" party in Auckland on Thursday night, alongside the likes of fashion designer Georgia Currie, of Georgia Alice, and CleanPaleo's Art Green.
Here, she looks back on her year that was, and gives us a sneak peek at what she'll be wearing to mark the occasion.
What have you been celebrating this year?
It's been a big year: Love & Object turned three, we launched Olympia, my partner launched his brand E.von Dadelszen and we got engaged.
Why did you decide to launch Olympia?
It's been a dream for years and always our intention to add our own line to L&O, but we needed first to build a recognisable look and a firm ethos for the brand.
This year we decided it was the right time to take a leap of faith.
What are your first memories of jewellery?
My dad [a retired jeweller] selecting and designing jewels for my mum. She used to wear a pair of stunning black pearl earrings when I was a toddler and I always loved them. Dad redesigned them into a cocktail ring and a pendant I inherited for my birthday this year.
READ Body + Balance: Constance Cummings of Love and Object
What influenced your first Olympia collection?
Ancient Roman jewels and Renaissance art, in particular Sandro Botticelli's The Birth of Venus and The Three Graces. My studies in classics and art history were [the collection's] foundation.
How often will you release a new collection?
At this stage we'll release a new Olympia collection every six months. I began working on the moodboard for the next collection a month ago and I'll be revisiting museums in Milan and Florence in January to see their ancient jewellery archives.
What sets Olympia apart from other local jewellery brands?
Our jewels are both contemporary but heavily influenced by the past, so I guess we're creating modern vintage jewels. Our jewellery-making process is quite unique — a combination of hand-done design work and the ancient lost-wax casting technique. Then we add gemstones that were frequently used in jewellery dating back to 1AD. Plus, the collection is limited in production so it's fairly exclusive.
If you could dress anyone in your jewellery, who would that be?
Carine Roitfeld. I've been obsessed with Carine's work ever since I purchased my first copy of Paris Vogue as a teen and her style has served as inspiration for our womenswear debut for E. von Dadelszen. She doesn't wear a lot of jewellery, however, so I'd be very lucky!
Who are your role models?
People who use their vocation and influence to shed light on a cause they are passionate about. Two people who come to mind are National Geographic photographer and marine biologist Paul Nicklen, who uses his talent behind the camera to ignite conversation around the future of our planet.
And Doutzen Kroes, who started the #KnotOnMyPlanet campaign to raise awareness about the plight of elephants in the wild. I'm big on animal and environmental conservation, it is something that's stuck with me since my studies in sustainability at uni.
When did you first realise that you wanted to make a career out of jewellery?
After uni, when I realised that I wanted to do something other than being an art specialist. I was very passionate about bringing a sustainable jewellery option to the market because I was so sick of seeing mass-produced cheap jewels flooding the internet. I always had a love affair with things from the past and I wanted to flip the dusty relic connotations of vintage jewellery on its head, give it some sex appeal and make it fresh and desirable.
How do you like to celebrate success?
With my closest friends and loved ones. There's nothing better than celebrating with the people who will always support you, no matter what.
What will your red-carpet look be like for the Moet 'The Now' party?
I will be wearing the "Cosima" dress by E.von Dadelszen, Olympia by L&O earrings, a vintage cuff by Christian Lacroix, some favourite heels by either Giuseppe Zanotti or Lanvin, and a vintage clutch from L&O. Makeup wise, probably a statement red lip and dewy base. I'll do the base at home and will probably have to finish the rest in the Uber, because I always lose track of time.
Share this: