Behind the Costumes in Beauty and the Beast
Academy Award-winning costume designer Jacqueline Durran shares the inspiration behind the costumes in Disney's new Beauty and the Beast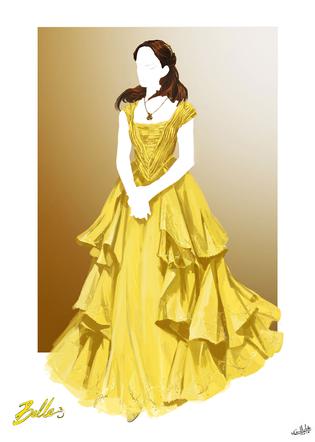 With an impressive list of film credentials behind her, including Pride & Prejudice, Atonement, Mr. Turner and Anna Karenina, British costume designer Jacqueline Durran explains how she created sustainable costumes and dyed metres of silk organza yellow for her latest movie Beauty and the Beast, a live-action remake of Disney's 1991 animated film starring Emma Watson and Dan Stevens.
When did you first begin working on the film?
I started working about 18 weeks before shooting was scheduled to begin, as we needed to begin working on the physical costumes for the Beast. At that time it was unclear as to whether the Beast would be a prosthetic Beast or a CG Beast. They ended up creating a CG Beast for which our department made real three-dimensional costumes for each stage in his story. The visual effects department then scanned our physical costumes and used them as the core costumes for their work.
How was it designing costumes for a fairy tale world?
Working on a fairy tale gives you a licence to interpret a past period without having to stick to a specific year. [Director] Bill Condon was quite clear that he wanted the story to be set in the mid-18th century, which was great for us because you then end up with the best of both worlds: You have the basis of the historical period but you're not tied to historical accuracy.
One of the unique aspects of the production was having the 1991 animation to work from. The actors and the director and the design departments are trying to bring the two together so you end up with something that references the animated film but moves it forward as well.
WIN: A Beauty and the Beast Inspired Gown by Tanya Carlson
Did you factor in the film's numerous musical numbers when designing the costumes?
We didn't actually. At the beginning we thought that doing a musical meant it would be a singing, dancing, performance musical, but the choreographer Anthony Van Laast staged the dance numbers in a way that was much more gentle.
It was more about choreographing movement and the way people moved through a scene rather than big performance numbers. So in that case it did not affect the costumes.
The one exception were the debutante dresses which all had to be adapted for the dance numbers as some of the choreographed steps involved the dancers putting their arms above their heads, which isn't possible in an 18th century dress – they could have had further adaptations as in rehearsal the dance evolved and became much faster than we anticipated.
Can you talk about Belle's costumes? Were there any themes and/or colour palettes you adhered to?
Belle's costumes are broadly based on those from the animated film, so in a sense we were reinterpreting the animation. The first time the audience sees Belle she is in the village wearing a blue dress which is an homage to the one she wears in the animated film, but now she has bloomers, an apron, pockets and a bodice (not a corset).
We didn't want her to be a delicate princess but an active heroine, which is why her costume was designed with pockets where she could place books and things she might need and she was wearing boots, not delicate shoes, so she could run around the village. This Belle is very practical…she's an inventor. She is always thinking of ways to improve the village.
We were also establishing an idea of regional France but in the context of a fairy tale in the 18th French regional costumes, historically, are quite eccentric with a lot of unusual hat shapes and quirky regional details like coats with multiple skirts and dresses with aprons. We found a set of bright, colorful block prints at LACMA in Los Angeles which gave us an 18th century view of all the regional costumes of France.
They were absolutely beautiful, and they became our core reference for the crowd and ensemble costumes which establish the geographical location and life that we were creating in central France. It was fun to see the looks evolve and this scene turned out to be my favorite reference to one of the most iconic scenes from the animated film.
The yellow dress was always going to be yellow in this film…my aim was always to reinterpret the original costumes, flesh them out a bit and give them texture, but the starting point for Belle especially was the animation. We ended up creating a simple dress, because what was most important was the movement of the dress.
It was a very soft structure built up by with meters and meters of silk organza dyed yellow and cut broadly in a circular shape, so that it emphasized her movement. And, because there is a point in the story when Garderobe sprinkles Belle's dress with gold taken from the ceiling of her bedroom in the castle, we printed gold leaf onto the dress as well.
The design on the gown Belle wears at the end of the film once the spell has been lifted is taken from an original 18th century apron with a woven silk pattern I bought when I was a student. We found an artist in England who took the floral motif from that pattern and turned it into a painted design.
The design was then hand painted on canvas and enlarged and printed digitally. The expectations for all of Belle's costumes were quite high, but we ended up with some beautiful dresses that reference the animated film but are still unique to this film.
Tell us about the sustainable costumes.
Belle doesn't have that many costumes in the film, but there is a scene half-way through the film referred to as the montage sequence where she changes costumes a few times, and we decided to challenge ourselves to make costumes from entirely ethical and sustainable sources and to be rigorously sustainable in the methods we used in our construction and dyeing departments.
We didn't really know how to go about it first, but we contacted Eco Age for a set of criteria which we could adhere to. We learned how to dye with natural dyes and what kind of threads to use when sewing and what kind of trimming to use. The shoes were remade from sustainable leather. Everyone had to look at what they were doing and examine what materials we were using and find a way to make every single stage as ethical and sustainable as possible.
What can you tell us about Dan Stevens' costumes for the Prince?
For the prologue when he is still a Prince, Dan wears a crazy 18th century costume covered with embroidery and Swarovski crystals. It is actually an idea taken from historical fact - it turns out that it was not unusual for the coats of rich aristocrats to be covered in jewels. Swarovski provided us with thousands of crystals, and if you look closely you can see the coat has a wild boar, a dragon and a lion which are taken directly from the Prince's family crest and incorporated into the embroidery.
For the celebration at the end of the film there is a lot of joy and movement and action. It takes place in a castle in France and you have a sense that it is summer and it is obviously a joyful occasion, so it just seemed right that the Prince would be in blue to balance out Belle's floral dress. That was always the plan, even before we decided to have the crowd dressed all in black and white, which forces the audience to focus on Belle and the Beast/Prince even more.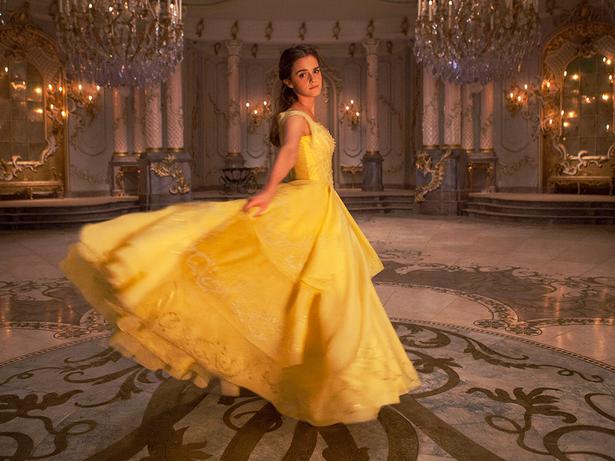 Emma Watson as Belle in Beauty and the Beast. Picture / Supplied

Talk about costumes for the other characters like Gaston (Luke Evans), Maurice (Kevin Kline),  the castle staff and the debutantes.
Colour-wise, Gaston's costumes are based on the animated film, and his color is red. We dressed him as if he was a military figure or someone with aspirations to be in the military. We played with different interpretations of his look, but the foundation is definitely 18th century military in style. His leather coat for the castle attack and fight with the Beast is an interpretation of an 18th century coat but is in no way historically accurate.

Once Kevin Kline arrived and we began talking about his character, Maurice, it was decided that at his core, he is an artist. He's ended up, for whatever reason, living in a small village in central France and has a Bohemian air, which became one of the primary reasons he is dressed the way he is. He wears an indigo French work smock and blue coat with a block-printed waistcoat.

For the castle's staff, the art department designed each of the household objects they are transformed into and we then took elements from their designs and applied them to the costumes. In some cases it was more of an inspiration, but in other instances it was literally borrowing.

With Mrs. Potts, we used the cream base of the teapot for the cream base of Mrs. Potts' short gown and the leaf print on the short gown is taken from the leaf print on the teapot. It was a sort of back and forth relationship, but it was one of the best working relationships I've ever had with a production design team.

In the scene when the objects transform back into humans, there are elements in those costumes from the objects as well, so for instance, Garderobe's shoes have an ornate gold panel added to them so that they directly reference the foot of the wardrobe.

The Prince's ball was quite a challenge, logistically, because Bill Condon wanted quite a large number of debutantes for the scene. We had to look for any 18th century white dresses in existence in any costume houses in Europe. It turned out there were not many, or at least that were nice enough for the royalty of

The world gathered in this French court to please the King, so we undertook the making of 60 white debutante dresses. The style of the 18th century dresses did not differ structurally but needed variety in the way they were trimmed – and they have a lot of trim!  - so the real work was inventing different trims for these 60 dresses.

As the opening scene of the movie it immediately establishes an energy and a vitality in the 18th century setting and made it clear that this was a vain and debauched Prince.

• Beauty and the Beast is in cinemas from March 30.

WIN: A bespoke, modern version of Belle's iconic yellow dress, custom-made by New Zealand designer Tanya Carlson (valued at $2000) and a double pass to see the film.

Share this: