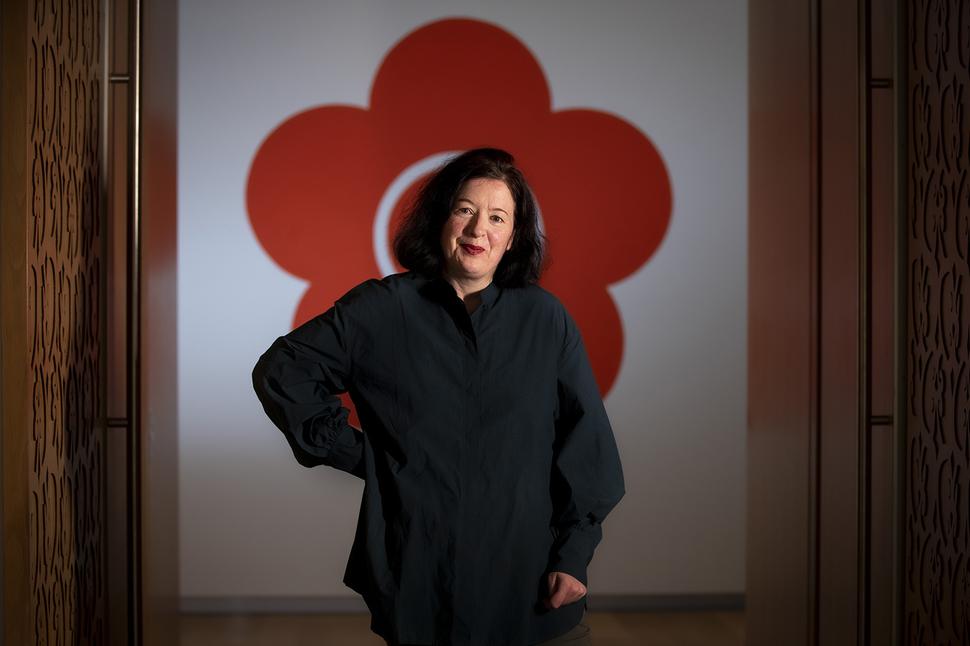 Curator Sophie Matthiesson On Mary Quant & The Return Of The Youthquake
The New Zealand-based curator of 'Mary Quant: Fashion Revolutionary' tells Rebecca Barry Hill why the designer made such an impact here
Wednesday Dec. 8, 2021
There was a time when Mary Quant's fashion caused outrage on the streets of London.
"We've got photographs of toffee-nosed men and women, offended, rapping the windows of the Mary Quant shops with their umbrellas," says Dr Sophie Matthiesson, the New Zealand-based curator of Mary Quant: Fashion Revolutionary, which launches at the Auckland Art Gallery this Friday. "It would have been a really exciting time."
The fashion designer's daring take on womenswear (miniskirts, hotpants and coloured tights included) was not only popular but accessible, colliding with the outpouring of art, music and film that encapsulates the swinging 60s.
Quant's freeing designs also represented women's liberation from traditional home-maker roles.
"She captures a moment and a mood of optimism and rule-breaking and fun. People did not want to be like their mothers," says Sophie, who joined the gallery in 2020 as senior curator of international art following a similar role at the National Gallery of Victoria Melbourne.
Mary Quant: Fashion Revolutionary originated in London last year at the Victoria and Albert Museum (V&A), where it was curated by Jenny Lister and Stephanie Wood. Whereas Covid forced much of the exhibition online, the Auckland Art Gallery's hosting of the show couldn't have come at a better time.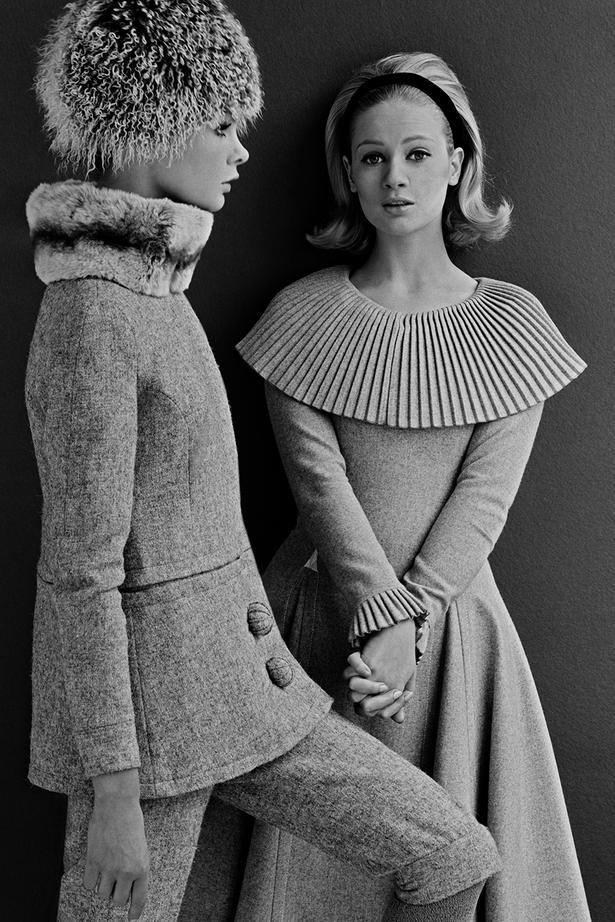 Just as Mary Quant herself shucked off the restrictions of the 1950s with pop and art-inspired abandon, Aucklanders are now (finally!) free to enjoy the large number of events surrounding the exhibition.
From talks and workshops to a free vintage festival and DJ'd Friday night late sessions, the gallery hopes to tap into the spirit of the times, transforming its typical hush-hush setting into something more relaxed and dynamic.
So just how much of an impact did the British designer with the chic Vidal Sassoon bob have in New Zealand? To answer that you only need look at photographs of New Zealand women in the late 60s, says Sophie.
"They've got Quant written all over them. The clean lines, the short dresses, the cropped hair, the pale lipstick. There was a mood of real freedom and excitement and that was exactly what Kiwis and Australians flocked to London to see. She was an "It" girl, and by the early 70s she was going global."
READ: How Visionary Fashion Rebel Mary Quant Changed The Lives Of Women
Enter another facet of Quantism the exhibition explores: her entrepreneurial savvy. Through partnerships with the likes of Butterick, anyone with a sewing machine and a Mary Quant pattern could whip up their own mod outfit, each designed with different markets in mind, along with the designer's cosmetics ranges so you could pull off the whole look.
"You didn't have to be rich," says Sophie of her widespread appeal. "If you were an ordinary person in a remote part of Australia or New Zealand or Canada, you and your daughter could have Mary Quant designs. So that was inspired. It was incredibly liberating for women around the world."
Before the V&A show, a call went out to Quant fans to provide rare garments and memorabilia, the resulting collated pieces winding up on display. These pieces have toured the globe, allowing visitors from Bendigo, Australia, and Dundee in Scotland the opportunity to revisit the hedonistic changes taking place from 1955 to 1975. Each time it shows, the exhibition is tailored not only to its local audience but to the building it's hosted in.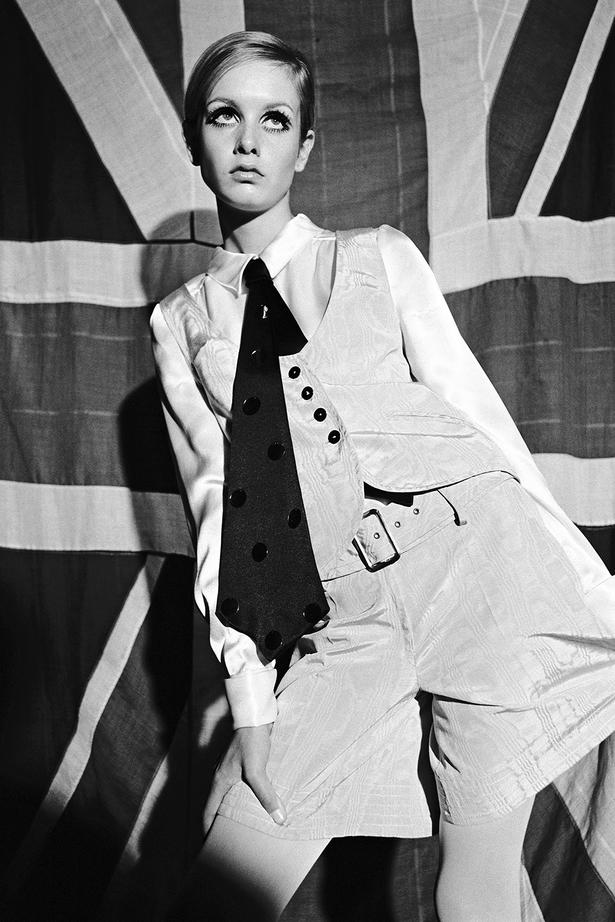 From the Auckland Art Gallery's level-one show entrance, visitors can follow the Mary Quant daisy logo and take a chronological journey through her designs. Along with mannequins displaying her playful looks, large-scale black and white street photography from London and New York makes up a large part of the exhibition.
As for the now-91-year-old's social leanings, although she wasn't a self-described feminist, by establishing a business on her own terms, she proved to be a leading figure in the movement, however reluctant, says Sophie.
READ: How Manuscript Curator Nina Finigan Makes It Work
"Each of the different phases of her designs has its own psychology," she explains. "There's a lot of humour in the show — gender-bending, fun names, cheeky takes on men's fashion. It shows that women are playfully subverting a man's world. Some of the clothes make fun of 'the banker' or 'the toff', women having fun with men's roles. It's women saying, 'We're here and we're here to stay'."
The show will also include a nostalgic home scene complete with mother and child, alongside pop culture references, including the Beatles and the Rolling Stones, both regulars to Quant's restaurant-bar attached to her first shop, Bazaar, which also attracted screen stars from Jean Shrimpton to Julie Christie, George Segal and Michael Caine.
"It must have been an amazing thing to be surrounded by that glamour after the dreariness of World War II," Sophie muses. "Things moved on so fast."
'Mary Quant: Fashion Revolutionary' runs at the Auckland Art Gallery from December 10, 2021, until March 13, 2022. Visit Aucklandartgallery.com for 'Mary Quant: Fashion Revolutionary' tickets and event line-up. 
Share this: