Modelling Sensation Damaris Goddrie
Dutch beauty Damaris Goddrie on what it's like to be modelling's new kid on the block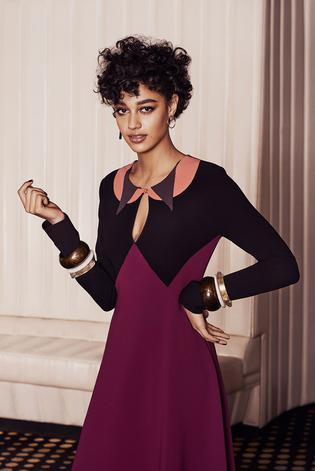 Bee-stung lips, honey-hued skin and an unruly head of black hair are just some of the physical characteristics that make rising Dutch modelling sensation Damaris Goddrie one of the most in demand faces right now. Aside from her unique look, she's a free spirited 18-year-old with a passion for art and music and has an easy going nature that the fashion industry has embraced since her debut into professional modelling in 2014.
She has been photographed by Steven Meisel for Italian Vogue and walked for the likes of Prada, Versace and Missoni during the most recent fashion week circuits, and features in Ellery's latest pre-fall lookbook.
It's a world away from her hometown of The Hague in The Netherlands, but for Damaris, it's all about taking it in her stride. "My family is quite proud of what I've achieved so far with modelling, despite the fact they miss me a lot. My friends think it's really cool, but they really don't have a sense of what being a model really is," she explains.
"I guess you never do until you become one yourself. Modelling is a chance to be free from work until you're 70 and focus on the more important aspects of life. How could you not take a shot at that? It's given me the opportunity to grow personally and I figure out what I want to do with my life."
Along with landing a major campaign with American leather goods brand Coach for its Fall 2016 campaign, also lensed by Meisel, Damaris was recently in Melbourne to front Mimco's 20th anniversary campaign. The Australian accessories brand, led by creative director Cathryn Wills, has taken on notable models in recent years from Ajak Deng, Soo Joo Park and New Zealander Holly Rose Emery.
"It was great to work with such a talented group of creative people. I love the story behind the campaign as I can really identify with the woman they're portraying, she's into art like me, and the upcoming collection is beautiful," explains Damaris of her experience. "Sadly I didn't have enough time to see a lot of Australia but next time I must definitely return and as I'd love to see all of the animals that are unique to the country."
The rising star's trajectory would not be without one of her most notable bookings, featuring as the Pre-Fall 2015 look book model for Irish designer J.W Anderson. Damaris' turn here cemented her as a model chameleon, achieving that seamless connection between model and fashion where the clothes look like they were plucked straight out of her own closet.
A model of the moment wearing the designs from a designer of the moment resulted in an even more convincing case for fashion's collective embrace of individuality. "I just try to be myself. Besides that I always try to give some positive energy to the team on set. It eases the team when things may not be going to plan. I love that process of working with a lot of creative wonderful people who are all passionate about their own fields of expertise."
Damaris' arrival onto the modelling scene comes at a time where casting directors have made an effort to showcase and present more ethnic diversity; the last two seasons have been a particular highlight for models from all backgrounds, including Moroccan/Egyptian model Iman Hammam, Dominican Lineisy Montero, Japanese Mona Matsuoka and Angolan newcomer Amilina Estevao.
Damaris hopes it sets a standard for the industry moving forward. "I think this is very important as mixed ethnicity is only going to become more present in our world. We need models that people can relate to and identify with."

CHIT CHAT WITH DAMARIS
The best piece of advice ever given to me ... "Don't be so harsh on yourself. A lot of people have given me that advice haha!"
I'm currently reading ... "Howl, Kaddish and Other Poems by Allen Ginsberg."
I can't leave home without ... "A little list that's always in my wallet and has very helpful things written on it whenever I feel anxious or down."
My last music download … "I haven't downloaded music in ages! The most recent artist I discovered was Buck Tick."
My beauty routine is … "Wash my face with water and soap, brush my teeth and pop on some rosebud balm."
My advice for aspiring models … "It's a cliche but be true to yourself no matter how scary that might be."
Favourite food ... "Rice and lentils with an egg on top that my mom makes."
If you were visiting The Hague ... "I would take you to the seaside resort Scheveningen. There's a bar called the Piano Bar with live music, it's so much fun."
My secret talent ... "Is salsa dancing. I started learning salsa when I was born! It's just a great way to blow off steam. You're having fun you're not focused on anything else but the rhythm you're moving to."
Follow Damaris on Instagram @damarisgodderie

Kate Sylvester dress available to pre-order $499. Mimco earrings, $129, and bangle set $129.
Photographer: Christian Blanchard. Fashion Editor: Dan Ahwa. Hair and makeup: Nigel Stanislaus.
Share this: