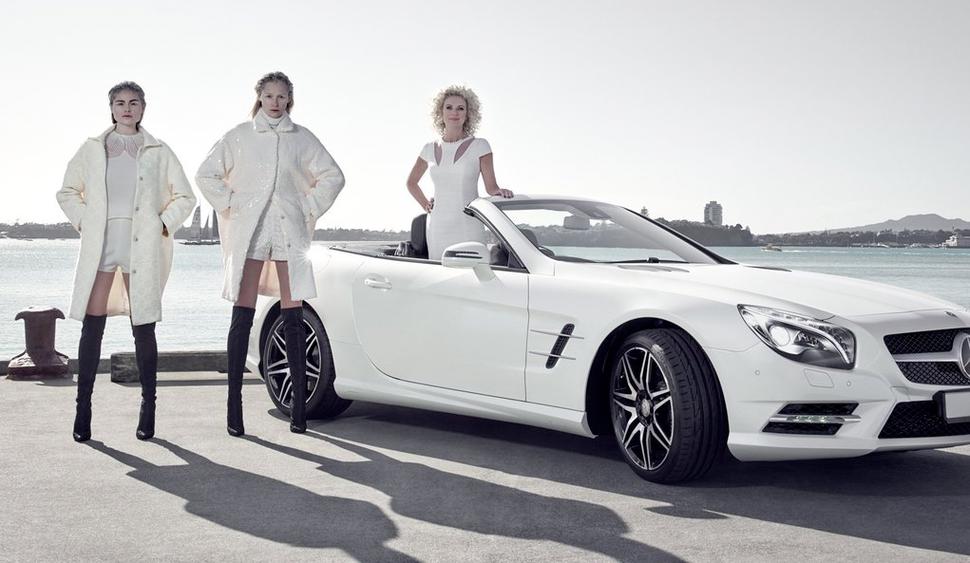 Dame Trelise Cooper's prestigious new accolade
Dame Trelise Cooper is the recipient of the Mercedes-Benz Presents international accolade. She talks to Rebecca Barry Hill.
Tuesday Sept. 30, 2014
Who knew Dame Trelise Cooper likes to go clubbing? When the New Zealand designer isn't tending the garden at her French chateau, admiring the butterflies hovering over the lavender or fossicking for treasures at the markets, she's hitting Europe's hottest beach clubs. By boat, of course. St Tropez is a favourite.
"If you're in that area, you must go to Club 55," says a relaxed and chatty Cooper on the phone from her second home in the Dordogne area.
This year, she and husband Jack went to Spain, first to Mallorca, then Ibiza, where they enjoyed a six-hour lunch, lounging on big sofa beds, surrounded by bronzed bikini-clad bodies and a saxophonist and violinist playing over the DJ's set. "I'd always thought, oh it's a party place and all of that, but the landscape in the islands is absolutely beautiful and I just adored the music," she says. "It was some of the coolest I've ever listened to, really on the edge of high fashion."
For Cooper, the getaway is a chance to revel in the atmosphere, people-watch and gain inspiration to create.
For the rest of her European sojourn, she spends an idyllic few weeks at the former boulangerie she and Jack are renovating in the South of France, living a life that conjures up images of Eddie and Patsy in their biggest, most fabulous hats. Best of all, she says, is that when she goes into the village, sans makeup, no one knows who she is.
"Just the way I like it. It's old-fashioned and simple and beautiful and getting back to that very natural, authentic kind of life. It totally recharges me. I come back on fire."
Cooper's Fashion Week shows are always a highlight, the clothes texturally adventurous and feminine. But this year's show is special. The designer has been named the first New Zealand recipient of the Mercedes-Benz Presents accolade, a prestigious and lucrative global sponsorship deal.
Previous recipients include Carolina Herrera, Monique L'Huillier, Herve Leger by Max Azria, Badgley Mischka, Derek Lam, Narciso Rodriguez, Mara Hoffman, Naeem Khan, and, in Australia, Carla Zampatti.
For Cooper, who's been an ambassador for the car brand since she took to the Fashion Week runways in 2002, it's like a big promotion. "I'm thrilled and delighted. I feel very much that their brand is in sync with mine, and they do have a global programme."
If the stylish association and injection of finance will take her shows to an elaborate new level, Cooper isn't letting on. But she will say her autumn/winter 2015 collections are cleaner in design. We can expect a winter palette, without those punches of colour she's renowned for.
There will always be the party dresses - the frou-frou her customers expect - but Cooper's designs have simplified over the years. She does the designing for all four of her lines.
There's Trelise Cooper, synonymous with glamour, Cooper, her diffusion range, Board Room, for business and Coop, the younger, more relaxed line.
"I don't have a problem switching between them when designing. If I'm doing Board Room I'll have that hat firmly on, and I'm thinking about that woman and what she needs. How she'll use that garment. It has my total focus. I have a young team and they're great. They take the idea and fabric ideas I come up with, and put them into work."
That means that even when she's on holiday, she'll get up to 50 emails a day. "Do I like the button like this? The hem this way?"
Her clothes are not especially inspired by French chic. The villagers' clothes are more casual than the unbelievably stylish garments of Paris. But she is hugely inspired by the landscape, the patina on everything that indicates its age.
Every weekend she goes into the village for the markets, admiring the china and plates. Recently she came home with some "wonderful" old hats for €3 ($4.70) and an 1840 glass dome she was too scared to clean in case she removed any of its essence. That cost a little more.
"It's my favourite thing to do because you see things you never see in New Zealand, things others don't want any more. But you can buy something amazing for a euro and take home an absolutely gorgeous piece of French history. I like going to the food markets, for beautiful flowers and produce. It's authentically a farm-to-table experience.
"Inspiration is magical. There's a mystery to it. It's a kind of maceration of all these ideas. Whenever I come here I bring all these fashion magazines, but I never look at them.
"It's a complete break, other than the emails, and I never think about fashion. I'm just absorbing everything else."
Share this: