Dan Ahwa's London Eye
Fashion editor Dan Ahwa reports from the Topshop Unique show at London Fashion Week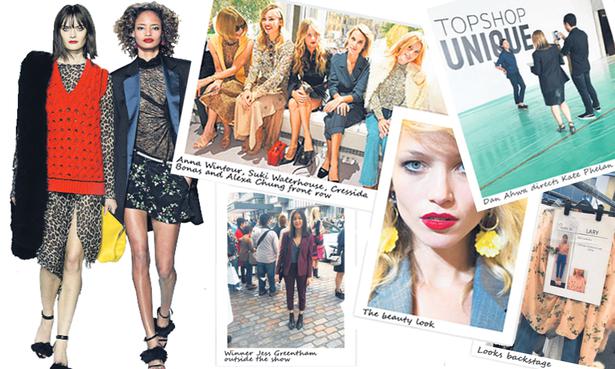 Wednesday Sept. 30, 2015
A young Neneh Cherry lookalike in the form of model Imaan Hammam opened the spring/summer 2016 Topshop Unique show, complete with sideswept corkscrew curls and punkish red lips courtesy of key makeup artist Hannah Murray.
These were Brit girls with a devil-may-care streak reinforced by off-kilter styling from Beth Fenton, who draped languid jackets off the shoulder with mismatched flashes of chandelier earrings and oversized purses. The chiffon tea dresses imprinted with strawberries from English porcelain stalwarts Wedgwood worn with summer furs and fur trimmed stilettos offered up a riotous mix of accessories that could have been plucked straight out of the wardrobes of either Miss Havisham or Miss Hannigan from Annie.
Showcased at London's Queen Elizabeth II Conference Centre in Westminster on a sunny Sunday afternoon, across the road from the majestic Westminster Abbey with its melodic church bells and fluttering Union Jack flags at full mast, you couldn't get more British than this.
See every look from the Topshop Unique at London fashion week here
As guests filtered through to the venue they were greeted by a picnic spread of strawberries and club sandwiches, before making their way upstairs to the show space fitted out with white benches and plush lavender carpet. The venue space with its mixture of 50s Bauhaus and hints of brutalist architecture is a polarising space, considered by some Londoners as one of the ugliest buildings in the city. Perfect then for a collection based around that mish mash of bad taste and insouciant Brit style.
"The collection is a continuation of that idea of our English rose from fall, but for the summer time. Right now we're feeling this shift from minimalism and a real embrace of embellishment and individuality," says creative director Kate Phelan. "The idea of defining what is considered good taste and bad taste is also something we've looked at for this season."
Her clout as one of the world's leading fashion editors has helped redefine the Topshop brand in an already competitive market. "I'm excited about what we do and seeing how that idea of British style works for different markets, including New Zealand."
Stand-out pieces included the chiffon dresses with the Wedgwood prints, two of the most memorable from the brand's archive — Wild Strawberry and Jasperware — complete with plunging deep V-necks and fluttering sleeves. These were delicate tea dresses that evoke genteel days sipping Pimm's on the terrace. Cable-knit vests were another highlight, along with razor sharp pinstripe suiting, worn with the type of free-spirited attitude defined by Brit muses, from front row style icons Alexa Chung, Suki Waterhouse and Jourdan Dunn to classic British figures such as Princess Diana, Marianne Faithfull and Charlotte Rampling.
As the New Zealand winner of the Topshop London Experience, 21-year-old Whitecliffe College student Jessica Greentham was flown over for the show and hosted by Viva, with a $1000 shopping spree to spend at the iconic Oxford Circus Topshop store along with her best friend, Morgan Harrison. "The Topshop Experience was amazing — especially as this is my first time travelling to Europe. Attending the Topshop Unique show would definitely have to be a highlight, as well as seeing Anna Wintour and Alexa Chung around the venue. I'm also in my final year of studying fashion, so this has been such an incredible trip. "Morgan and I even managed to pop over to Paris for the day, which was fun since we got to explore that city, too."
For Jess, the chance to see the show front row and first-hand in London gave her an even closer insight into what British style really means. "I love the tailoring aspect and how everyone just looks so polished. There's always some preppy element to an outfit, whether that be a shirt, a blazer or a tailored coat as reflected in this collection," explains Jess. "I also really liked the overall styling of the collection and the combinations of the different fabric prints and textures."
Viva fashion editor Dan Ahwa was a guest of Topshop.
Share this:
More Fashion / Features & Profiles