Show Report: Kate Sylvester at MBFWA
Viva fashion editor Dan Ahwa reports from the front row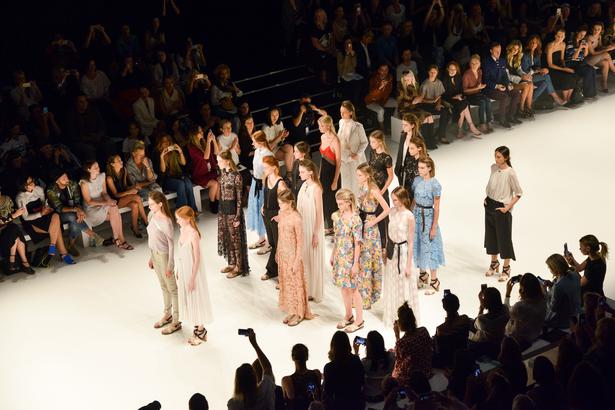 Thursday April 16, 2015
The need for hope and beauty in the midst of war and turmoil is perhaps one of the most poignant messages from much loved Shakespearean tragedy Romeo and Juliet.
It's a theme that played out well for the Kate Sylvester show at MBFWA, and while fashion shows aren't going to save the world, for a moment it provided some respite from everyday strife, whether it was from breaking news or the jostling young things scrambling to get their outfits photographed outside the Carriageworks complex in Sydney. A gentle collection inspired by a tragic love story, reminding us all that the romantics and the poets of the world can still cut through the daily deluge of chaos and cynicism. It's a welcome message for these challenging times, and perfectly summed up by Sylvester's instructions for her swaggering Romeo and radiant Juliet models backstage:
You are madly in love
You are doomed to die
But you are so beautiful
And so cool
That you do not give a damn.
Entitled 'Romeo 4 Juliet', the collection drew inspiration from the portrayal of star crossed lovers in two significant film interpretations of the story; Franco Zeffirelli's version from 1968 and Baz Luhrmann's pop cultural update from 1996 staring a very young Leonardo DiCaprio and Claire Danes. 
Elements of youth, rebellion and romance portrayed by each of these film's key characters filtered through the overall collection. From the casting that included pre-raphaelite red-heads and emerging New Zealand models Tessa White Parsons and Juliette Perkins and Natarhsa Orsman, to the subtle nuances in styling from one of Australia's most prolific and celebrated stylists Naomi Smith, the show had a languid pace that gave time to reflect on each look. Smith's light touch worked particularly well with the collection's romantic spirit, right down to the addition of fine jewellery and delicate hair clips in some of the models hair created by MNPT Jewellery.
Sylvester's partner and creative collaborator Wayne Conway dreamt up the scaffolding backdrop to the runway, described in the show notes as evoking 'a deconstructed medieval castle or modern day trellis for our erstwhile Romeo to scale.' Conway and Sylvester's shows read like a back catalogue of greatest hits, and after celebrating a 21 years in business last year, this was another seamless show that displayed the kind of quiet confidence gained when you have time and experience on your side.
Standout looks included the 'Juliet' looks of floor length lace gowns in white and caramel and delicate slip dresses. Just got out bed pyjama style shirts and billowing renaissance style blouses that nod to Zeffirelli's Juliet reinforced a louche attitude. That Medieval principessa figure provided the prefect contrast to some of the stronger 'Romeo' looks of clean-cut suiting, tough leather pants and a floral silk version of Leo's Hawaiian shirt from Luhrmann's adaptation. 
It's a range that will be a hit with Sylvester's customer base of intelligent and modern women who are drawn to her distinctive brand of casual luxury, along with steadfast Australian retailers who were there in full support - no doubt looking forward to seeing those clothes on the shop floor come next season.
See every look from the show here.
Hair: Richard Kavanagh for Redken. Hair was bad boy quiffs for Romeo and cascading locks pinned back with hair clips created by MNPT Jewellery for Juliet.
Makeup: Naomi McFadden for M.A.C. Glowing skin and just kissed lips. Romeo's wore an X tattoo under one eye.
Soundtrack:
Psysum feat. Spooky Black – Blind  
Jamie xx – Gosh  
Future Island – Seasons 
Perfume Genius – Queen 
Borns – Electric
Share this: