Meet the Team: Dan Ahwa, Fashion Editor
Meet Dan Ahwa, who will be on the ground at New Zealand Fashion Week 2016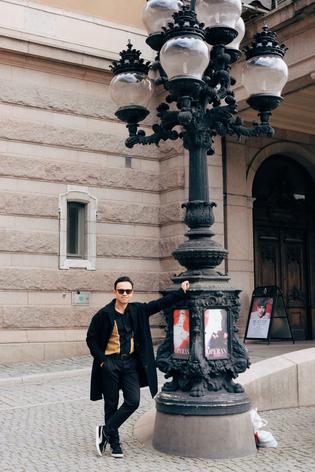 What do you do at Viva?
My role is fashion editor of Viva and Canvas magazines, so I'm across the fashion content for both titles every week from print, social, digital and events. Every day is different for me. Some days I'll be preparing for and styling a photo shoot whether its fashion, a sittings shoot with a personality, a still life of product or a show for one of our events. It may be working alongside marketing and advertising to create sponsored content for an advertiser. It may be writing profiles and interviewing people of interest to the Viva readers across art, film, fashion; from emerging designers to CEOs. It's a varied role and has evolved from what it used to be. You need to be adaptable and embrace all aspects of the magazine across all of its platforms. There are plenty of meetings and emails and a lot of hustling going on behind the scenes.
Where were you before Viva?
Freelancing as a stylist and writer for various publications, Viva and Canvas included.
What will you be doing at Fashion Week 2016?
There will be various content to work on for the wider Herald, Viva, viva.co.nz, our Viva Daily paper during the week. And of course plenty of digital and social coverage leading up to, during and post fashion week. It's a good opportunity to support the younger designers showing. I'll also be styling the presentations from Salasai and Twenty-seven Names.
What's the best part about Fashion Week?
The best part of fashion week is for me styling and working on a show with a designer and creative teams backstage, and seeing their faces after it's done. The sense of relief and months of hard work in getting that message out there is a special experience. Another highlight is attending a special show that can render you speechless (like Kate Sylvester in 2014, Zambesi 2005, 2007, Cybele 2005, Miss Crabb 2006, Lonely Hearts 2008).
And the worst?
People staring at their phones during a show. It's disrespectful. 
What's your favourite fashion week collection to date?
Too many. Kate Sylvester's Stop Your Sobbing (2005), Art Groupie (2008) and Tartt (2014) are all great collections and the shows were the best shows I've seen from fashion week. I also loved working on Salasai Sacrificial Grace (2010) showcased at the Hilton. For me that show was beautiful along with the collection. Zambesi's retrospective show (2009) was also very emotional. The soundtrack included Dolly Parton singing Stairway to Heaven, and it was great seeing some memorable pieces from the brand's extensive archive, all of it super timeless.
How did you get your start in the industry?
I assisted a stylist in the UK when I was living there in 2002-2003. I came back home and assisted a couple of other stylists and photographers, learnt the ropes and just worked my way from there. I also studied journalism and art history, so being able to write with an opinion allows for more versatility.
Favourite part of your job?
Travelling. There's been some amazing opportunities to see the world and It's the best way to keep being inspired and motivated.
I also love executing something you can be proud of, whether its a creative shoot or the most commercial advertorial; the process is important from start to finish and having a team that can work together and achieve the results you set out to achieve is still exciting for me. Working with a team who are smart and can think critically is also the best way to keep being inspired and moving forward.
Least favourite part of your job?
The perception from other people about what a fashion editor is or should be. People can often be patronising if they have a preconceived idea of what people in fashion are like, and it's a problem to deal with when you're nothing like the stereotype. Unfortunately, it's part of the territory so I've learnt to deal with it.
What's your second career option?
A landscaper. I enjoy being outdoors and working with my hands.
What are you favourite websites/magazines/news sources outside of Viva?
I like reading The New York Times' T Magazine or WSJ Magazine when I can get my hands on a copy or just visiting the websites. I buy W magazine as it focuses heavily on the arts and I love art. I also love Tatler. I think it has the perfect sense of humour and doesn't take itself too seriously which I think many magazines try and fail to do, especially here in New Zealand. I read Fantastic Man every now and then. I love Holiday magazine and Travel Almanac as I enjoy reading travel features. I read the Travel section of the NZ Herald every Tuesday. I buy Architectural Digest too because not only is it a good read, but the photography is incredible and I like good pictures. Business of Fashion is also a good way to keep informed and it has regular newsletters to keep me up to date; Twitter is a great source for news, and I'm often reading The Huffington Post and The Guardian online.
What's your weirdest party trick?
Nothing weird, but am really great at sitting by the snacks all night and not moving.
Share this: