Why David Jones Ambassador Jesinta Franklin is Glowing
Sydney-based model and David Jones ambassador Jesinta Franklin on contentment, working hard and Balenciaga sock boots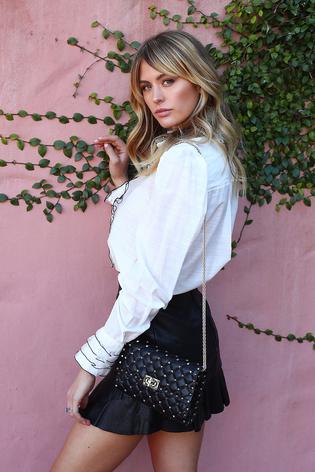 Jesinta Franklin describes her approach to happiness as an "inside job" and she's certainly doing something right. There's luminosity to the 26-year-old as she sits wearing a white towelling robe on a plush couch inside a pink stucco villa in Sydney's Rose Bay.
It sounds like a cliche, but she really is glowing. And not in a too-much-highlighter way, but as a woman who is strong and calm.
For the third year in a row, she's about to walk in David Jones' biannual collections launch show. She's a major drawcard, alongside fellow David Jones ambassador Jessica Gomes and big name Australian models Shanina Shaik and Bridget Malcolm.
In an era where modelling kudos is increasingly garnered by building a "personal brand", Jesinta's success is built on a mental commitment to boxing, dreaming big and kindness — her rock-hard six-pack proof of this.
How would you describe your career trajectory?
I've enjoyed it, I've worked really hard. I feel like it's gone in stages and every year it has gotten better, and I've been able to achieve more things and more goals.
You've been walking for David Jones since 2015 — do you have a favourite show memory?
My first swimwear show was my favourite, and the finale for that 2015 show. It was all of us girls and Jason [Dundas] and it was an amazing moment to walk out while Daniel Johns was singing.
Who are some of your favourite designers at the moment?
I've been a big fan of Zulu and Zephyr for many years, and it's amazing that they're now stocked in-store at DJs. I love P.E Nation for activewear, I've got a heap of their stuff. It's really wearable and you don't have to just wear it to the gym.
READ: What Makes a Cult Fashion Item?
It looks cool if you wear it out to lunch or to a meeting. I also love Zimmerman — they're doing great things on an international level which is really exciting. Ellery, Dion Lee, Christopher Esber, Balenciaga, I love too. Plus, a little bit of Dolce & Gabbana — I love the loud prints that they have this season.
If you had to pick an absolute favourite piece in your wardrobe at the moment, what would it be?
My Balenciaga sock boots. I've worn them so much the toe is starting to wear off. I didn't think I would wear them that much. They go with everything: tailored pants, jeans, a cool skirt, a dress.
I also really love a Bianca Spender burnt orange velvet suit from last season. I always like to do the show before I go in and top up my wardrobe so I know exactly what I want. So that will be my job next week, an all-new wardrobe for spring/summer.
What does beauty mean to you?
If I had to think of someone who was really beautiful, it's going to sound so cliche, but they would always have an inner beauty. There aren't all these physical attributes that add up to make one beautiful person: it's confidence, an inner happiness and contentment.
A really beautiful woman is content within herself, doesn't compare herself to others, and just rocks what she has. It's about letting yourself shine.
READ: Rachel Hunter Shares Her Wellbeing Secrets
How do you approach happiness?
I posted a quote on Instagram the other day, actually, that happiness is an inside job. Whenever I find I am feeling unhappy or insecure within myself, it's usually because I'm comparing myself to others or trying to be something that I'm not.
When I'm my happiest is when I'm being myself, when I'm with my friends and my family, my husband. Nothing contrived, just being genuine and authentic. I was having a big conversation with my mum the other day, because I was having one of those days.
She said to me, all you can control in life is your reaction and your behaviour, you can't control anyone else. You can't be like anyone else. So just be you and be in control of what you can control and don't worry about anything else. I needed that, thanks Mum!
READ: 7 Things That Will Bring You Happiness
What is your favourite form of exercise?
Boxing, 100 per cent. I just love how empowered it makes me feel, and how strong. I love the sweat and I love the challenge and I love that it's an actual sport.
I'm learning how to do something, it's not like squatting or lunging or running. I'm learning an actual technique, and no matter how much you learn, there's always more to learn and you can always get better.
If you could wake up anywhere in the world, where would it be?
Usually just next to my husband is good. But next to my husband in Bora Bora would be great.
Share a sentiment that you live by.
Dream big, be kind to yourself and to others.
• The Spring/Summer 2017 collections, including brands such as Aje (pictured), Maggie Marilyn and Camilla and Marc, are now at David Jones Wellington, 165-177 Lambton Quay. Ph (04) 912 0700.
Share this: