Karlie Kloss Opens the David Jones Show in Sydney
Supermodel Karlie Kloss was in town to showcase the latest looks from Australian department store David Jones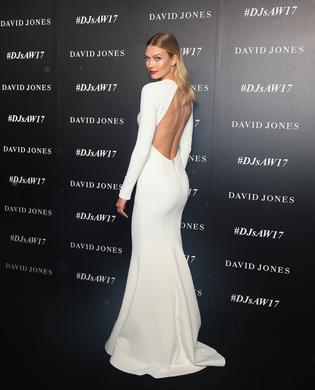 To the sounds of Grace Jones' Walking in the Rain, international model Karlie Kloss took to the runway in Sydney last night for the launch of department store Sydney's David Jones AW17 campaign.
Appropriately entitled 'Live Outside the Seasons', it cleverly embraces the ever-changing weather we experience in the Southern Hemisphere and our need to adapt to dress for four seasons in one day.
GALLERY: See Who Was at The Show
And that's exactly what the who's who of Sydney's fashion world had to contend with on a mid-summer's night. The heavens opened as the glamorous set arrived for cocktails in the square in front of the grandeur of St Mary's Cathedral, huddled under a sea of David Jones umbrellas. It could almost have been scripted.
From here the crowd moved into the elegant clear marquee where the sounds of thunder and lightning - this time as part of the soundtrack - added to the drama of the night. The bells tolled and all eyes were on the dynamic runway show which saw Karlie - the face of the David Jones campaign - walk alongside store ambassadors Jessica Gomes, Jason Dundas and former Miss Universe Jesinta Franklin.
READ: Jessica Gomes' Beauty Routine
With more than 190 looks - including for the first time a bridal segment - the show was fast-paced, highlighting the store's exclusive range of local and international designers - including Zimmermann, Lover, Romance Was Born and Dion Lee through to the likes of Valentino, Balenciaga, Chloe and Versace.
Two new designers for the store include MacGraw - who opened the show - and Kiwi Karen Walker with her new collection Babou's Revenge.
The key trends to look for? Unexpected leather, luxe denim, loud floral prints, fire-engine red, and a glamorous 70s vibe - especially for evening with luxe gold and plenty of velvet.
For men its all about mismatched suits - playing with colour and texture, anoraks and bomber jackets, and the relaxed Normcore look lives on with relaxed-fit chinos and loose crew neck tops all in muted colours.
Share this: