Show Reports: Day One of New Zealand Fashion Week
Read how the Choose Wool, New Generation and Andrea Moore shows played out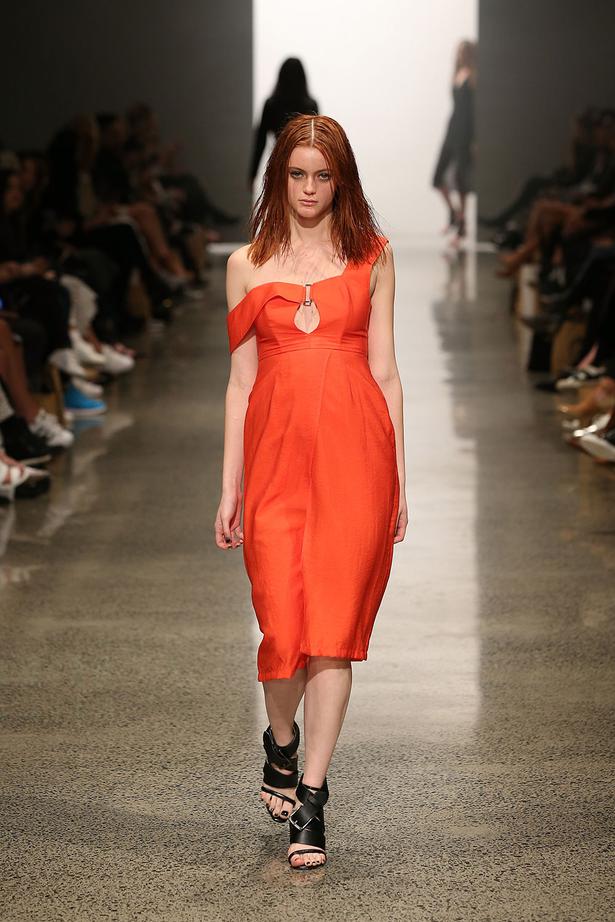 Tuesday Aug. 25, 2015
ANDREA MOORE
By Rosie Kelway
Who: Andrea Moore, showcasing 44 looks from her autumn/winter 2016 collection titled The Poem – backed up with five from her diffusion line I Am, with a colourful, print heavy collection titled Walking Tall.
What: Her mainline collection explored Japanese culture and was inspired by Andrea's time spent living in Japan in the early 90s. The I Am collection took inspiration from the jungle.
We liked: Epileptics beware. The collection opened to a healthy dose of strobe lighting, followed by gold confetti falling from the ceiling as models strutted down the runway wearing a vibrant mash up of colours. There was a great pace, and energy to the show. 
Not so much: We counted more than 10 different prints in the main collection and although we care for a good print, there were a tad too many to make the collection seem cohesive. And while the use of faux fur as appose to real was much appreciated, this did seem a little deja vu as we recall seeing very similar striped fake fur designs this time last year.
Beauty note: Gold was the theme that ran through the makeup. Some of the models had painted on gold eyebrows and lips and gold slicked back hair, others had gold Japanese symbols painted on to their bodies.
Sell-out piece: As always, the standout garments in her collection were the coats. 
 
NEW GENERATION
By Anna Lee
Who: The first of two New Generation shows this year at NZFW, showcasing the work from fledgling fashion designers Slaeve, Third Form and Jordan Holliday.
We liked: Currently studying architecture, Ezekiel Crawford of Slaeve's take on the sport to street trend will be a hit with sneaker loving fans. The androgynous streetwear collection featured colour blocked denim pieces paired with cozy grey hoodies, raw hems, neoprene jogger pants and waterproof hooded jackets. An almost unrecognisable Frida Kahlo print proved to be an unexpected feature, setting Slaeve apart from other monochromatic streetwear brands that currently flood the market.
Not so much... Button up playsuits for men Jordan Holliday? Interesting...
Beauty note: Beauty was kept minimal throughout both Third Form and Slaeve's collections, so it was nice to see Jordan Holliday take a risk with gutsy smeared white face-paint over the eyes resembling a mask, further emphasising the "world's most organised gang" theme that ran throughout the collection.
Sell out piece: Third Form's soft and buttery looking leather wrap jacket epitomised the pared back collection, which included leather pieced little black dresses and strong silhouettes by former Shakuhachi designer Merryn Kelly. I need it. You need it.
 
CHOOSE WOOL
by Zoe Walker 
Who: Established and emerging designers Liz Mitchell, Wynn Hamlyn, Hailwood, French83, Carlson, Twenty-seven Names and Sabatini, showcasing wool garments - in what will be the strongest group show of the week.
What: The eight designers came together for Choose Wool, a show and initiative of stylist Anna Caselberg to "celebrate NZ's overachieving natural fibre". The project is in support of the global campaign for wool, launched by The Prince of Wales in 2010. Given our local industry's connection to the yarn, it's surprising a show like this hasn't  shown before at NZFW. "It's the most brilliant fibre in the world, and it's natural and sustainable and beautiful looking - and feeling! It's just so seductive really," Caselberg explained after the show.
We liked… seeing some of NZ fashion's stalwarts make their return to the NZ Fashion Week runway after several years, including Liz Mitchell, Carlson and Sabatini. Each lent a polished, mature feel to the show, and while they may not garner as much hype and press as other brands showing this week, they are just as important to the local industry. Younger labels were also a highlight, with French83's menswear providing a welcome chance of pace, as did Wynn Hamlyn's take on bandage dressing. He is a designer to watch.
Some context: Wool has been in the spotlight recently, with Stella McCartney announcing that she had cut ties with Argentinean wool supplier Ovis 21 following a PETA video spotlighting inhumane treatment of lambs at their ranch. The source of wool - and all fabrics - is something all designers and consumers should be thinking about this week. "Our big companies here, NZ Merino, have big controls put in place, as to how to treat sheep. We are right ahead of the game here with that," said Caselberg, "That sustainability thing is part of what you get when you work with and buy wool."
DMONIC INTENT
By Rosie Kelway 
Who: Dmonic Intent
What: Dmonic Intent was part of the New Generation show last year and this year presented with a solo show alongside streetwear label Syre in the tent. Dmonic Intent is designed by three sisters and the initial inspiration for their autumn winter 2016 collection "Habit" was the their mother's marae, explained designer Maxine Woolridge backstage after the show.
"We were actually at our nan's unveiling and we were told by a priest that we were different from our family and we had to go in and check out this certain carving. We went in and it was an alien and he said we were different from our family and that marae is actually wear Bishop Pompeii is from; he brought the Catholic faith to New Zealand. So it's all based around Catholic nuns and religion, but also a bit of alien futuristic things and a Japanese influence because that side of the family has Japanese ancestry."
Standout garment: Hot glue gun necklaces and bodices that were layered over and over again then spray-painted gold and silver.
Music: Heavy metal tunes from A Perfect Circle and Marilyn Manson.
Beauty: Makeup was strong, created by M.A.C. – eyes ringed in red with a dark shade of lipstick painted on just the middle of the lips. Hair was plaited down the back with teased hair coming out the sides. Most models wore large hats, inspired by those you would see a priest wearing. Maxine said they wanted the beauty look to be dark. "We didn't want anything beautiful – we wanted slightly scary and kind of dark, not a normal day look."
Customers they are appealing to: "Anyone with attitude, we don't have a target age – it all comes down to a personality, anyone who dares to be different."
Standout garments: Silver tops made out of upholstery fabric.
View more of our insider New Zealand Fashion Week coverage in association with Mercedes-Benz.

Share this: