Deadly Ponies Collaborates with French Jewellery Brand Atelier Paulin
The two brands have collaborated from opposite sides of the world to create a bracelet, clothing pin and wool felt hat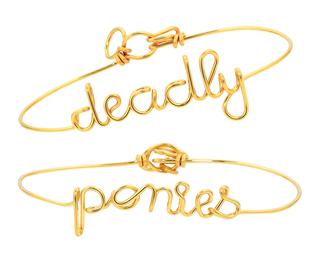 Just when we'd reached collaboration saturation point comes this cool new project from Deadly Ponies and French jewellery brand Atelier Paulin. The two brands have collaborated from opposite sides of the world to create a bracelet, clothing pin and wool felt hat with pin adornment using Atelier Paulin's signature threaded metal words.
Each piece is hand tooled in Paris by Atelier Paulin's team of four, using sterling silver, 14ct gold or 18ct gold plate.
Stocked at Paris icons including Colette, Merci, Le Bon Marche and the Louvre, Atelier Paulin has also collaborated with French leather glove house Causse Gantier (owned by Chanel) and is now working on a project with a French Champagne house.
Anne-Sophie Baillet and Matthias Lavaux launched the brand in 2014 - here, Sophie answers a few questions about their latest collaboration:
What was it about Deadly Ponies that made you say yes to doing a collaboration?
Liam wrote me a beautiful letter, I was so proud that he had heard about Atelier Paulin all the way from New Zealand. I'm very excited about meeting people and discovering their know-how. Deadly Ponies is a beautiful fashion house … I love the bags.
Are there any client requests that stand out?
A woman who lost many friends in a bar after the Paris terrorist attack last year asked us to make "carillon" bracelets for friends who survived, to remember and feel their pain. Carillon was one of the bars where it happened. Another friend of mine asked for "epousemoi" (marryme). I will let you guess what it was for. Each bracelet or fibula has a story. People express their emotions through our creations.
What do you love most about what you do?
Meeting people and making them happy! I like the idea that our jewellery holds a special meaning for them.
• From $195, visit deadlyponies.com
Share this: