Why Designer Christian Siriano Knows One Size Does Not Fit All
The fashion designer has been a leader in promoting design for women of diverse shapes, sizes and ages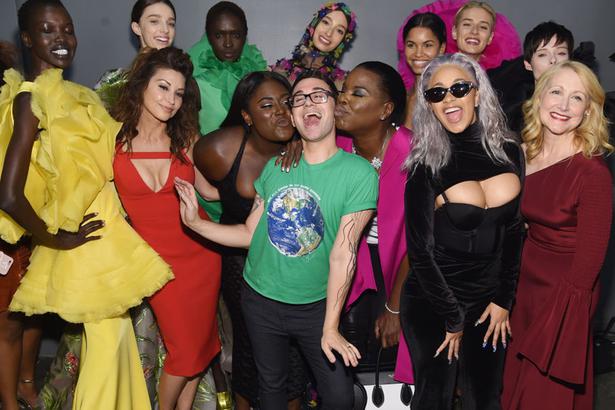 Saturday Oct. 28, 2017
If there's one thing that annoys high-end fashion designer Christian Siriano, it's this.
"I hate hearing from anyone ever saying, 'Oh you only make clothes for models, that's so annoying,' because it just never, never is the case," Siriano said Monday at The Washington Post in an interview with Pulitzer Prize-winning fashion critic Robin Givhan. "Our top selling size is probably a 12," adding that his brand goes up to a size 26.
READ: Meet Celebrity Favourite Christian Siriano
Siriano, 31, won season four of the fashion reality show Project Runway in his early 20's.
Now, nearly 10 years later, he has a developed a reputation in the industry for embracing women of all shapes and sizes, which was on display during last year's New York Fashion Week.
"When we chose to put girls on the runway of different sizes, that was because it was the first season that the model agencies existed," Siriano said. "It was so exciting that now there were model agencies that were having girls of different shapes and different sizes, sending them on castings."
Siriano said he is urging bigger fashion designers to follow his lead.
"We sell in Moda Operandi, which if you don't know what it is, it's a beautiful luxury site that does pre-trunk shows for designer collections.
READ: Christian Siriano's Plus-Size Designs
We got them to change their algorithm online to go up to a size 24," Sirano said. "But think about this: Neiman Marcus, Saks, Farfetch, they don't go above a size 16. You can't click a drop down to go higher than that, which is crazy."
But Siriano acknowledged the hurdles designers and companies face with "size inclusivity," and noted that "a lot of us are working on getting the retailers involved as well."
During Monday's interview, Siriano recalled the memorable moment when comedian and Saturday Night Live cast member Leslie Jones tweeted about not being able to find a designer to create a red-carpet dress for her at the premiere of Ghostbusters.
"It was such an easy thing. And it was nothing. I didn't even respond with words. I just responded with a little hello thing," Siriano said, adding, "I wanted to lend a helping hand."
Siriano designed a red gown with off-the-shoulder straps for Jones at the premiere.
"I wanted people to understand, Leslie has a beautiful body also. She's different, she's very tall, and she's broad, but has a gorgeous and amazing figure that I felt like needed to be embraced for her night," Siriano said.
It was a sensibility that, he said, started as a kid, growing up the brother of a size 2 ballet dancer sister, and the son of a size 14-to-16 mother.
"That was just my life," Siriano said. "That's why I embrace it."
— The Washington Post
Share this: