Dior Designer Causes a Stir at Paris Fashion Week
Dior's artistic director Maria Grazia Chiuri makes a bold statement with T-shirts emblazoned with feminist phrase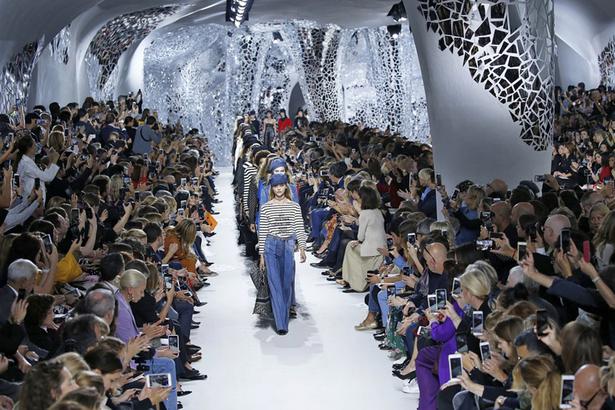 Thursday Sept. 28, 2017
It was mid-afternoon and the woman posing for the cameras as she arrived at the Dior spring 2018 runway show was dressed in a dove grey, tulle evening gown sprinkled with rhinestones. It was a lovely gown. Far lovelier, in fact, than most of what would soon come down the runway. And yet ...
Hey, lady, why are you wearing an evening gown in the middle of the day? Why doesn't anyone else seem to think this is strange?
The shows here have begun with all of their usual quirks, traditions and utter illogic. The clients and ambassadors of the house arrive decked out in the brand's products. They wear evening gowns to lunchtime shows, fall clothes despite continued summertime temperatures, hobbling shoes despite the need to actually ambulate. The celebrities tumble in - welcome, Naomi Watts! - looking perfectly polished and primped in their Dior finery because they love it so. Because they have been dressed by the house. Because they get this stuff for free. And so what's not to love?
The runway season got underway here with the usual mix of creativity and commerce, impracticality and salesmanship. And an awareness that this somehow all fits into the greater culture. But how?
READ: Inside the Magnificient Dior Exhibition in Melbourne
The Dior show was set under a large tent in the gardens of the Musee Rodin. The inspiration for designer Maria Grazia Chiuri was the French artist Niki de Saint Phalle, known for her monumental sculptures and strange, bulbous creatures. De Saint Phalle had a troubled, painful childhood and was considered an "outsider" artist.
From her debut at the storied fashion shows, Chiuri has defined herself as a bit of an outsider storming an institution. She is a feminist designer, a woman sensitive to her rarefied position as one of the few female creative directors at the top of the fashion pyramid, and well aware of the impact that her work has on the way in which women define themselves and the way in which they are seen by others. Chiuri is a breakthrough. She understands this.
READ: What to Know About Dior's New Artistic Director, Maria Grazia Chiuri
For her first show, she quoted from the Nigerian author Chimamanda Ngozi Adichie's essay "We should all be feminists." She even emblazoned T-shirts with that phrase.
So it was not surprising that guests would arrive Tuesday to find a copy of historian Linda Nochlin's 1971 art history essay, "Why Have There Been No Great Female Artists?" on their seat. In her treatise, Nochlin didn't try to catalogue overlooked or undervalued female artists but instead poked at the patriarchy by questioning the parameters that define "great" and "art."
"Art is not a free, autonomous activity of a super-endowed individual, but rather, that the total situation of art making, both in terms of the development of the art maker and in the nature and quality of the work of art itself, occur in a social situation, are integral elements of this social structure, and are mediated and determined by specific and definable social institutions, be they art academies, systems of patronage, mythologies of the divine creator, artist as he-man or social outcast."
That's a lot to fit on a T-shirt; Chiuri settled for just the title of the essay. But she attempted to include her work in the nuanced conversation about women's personal stories the way they engage with the broader culture. But how does a dress capture the complicated emotions surrounding the recent announcement that women in Saudi Arabia would be allowed to drive? Or the Capitol Hill conversations about women's health care that take place without the input of women? Or the misogynist culture that permeates so much of Silicon Valley?
Perhaps a more ambitious or daring designer would have found a way. Fashion, after all, has been used to express a range of emotions from sorrow and anger to giddy delight. Instead, Chiuri uses feminism as an overlay or a gloss. That isn't to say that she doesn't believe deeply in the issues raised by Nochlin or in the empowering words of Adichie. But she has reduced them to slogans and backdrop. Their meaning is not carried through in the garments themselves.
The clothes, in fact, are rather childish but without youthful whimsy and delight. The sweaters glitter with fantastical creatures; pleated tulle skirts offer a peek at patterned bloomers; color-blocked leather jumpsuits are cropped at the ankles; and skinny black trousers and jackets look uncomfortable rather than sophisticated.
This wasn't a cohesive collection with a clear point of view or a message as clear-eyed and thoughtful as Nochlin's. The historian made a sophisticated argument about the arbitrary ways our culture judges and penalizes women. Nothing about Chiuri's clothes offer insight into how the designer wants to navigate that system or dismantle it.
Instead, she offers up the sort of glitzy sweaters or branded sportswear that one might find in a duty-free shop. Not bad merchandise, but the sort of products snapped up by frenzied travelers simply because they say "Dior," and not because they are well-considered or inspired.
— The Washington Post
Share this: