Dior Downunder
As Dior opens its new Auckland boutique, here are five things you need to know about the French fashion house.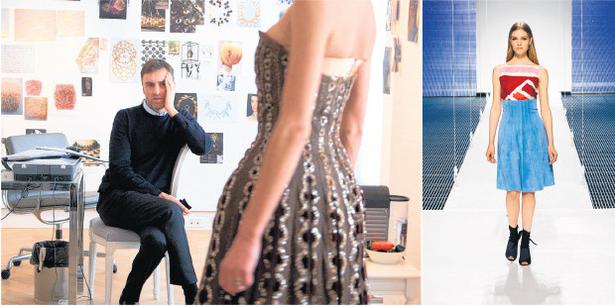 Wednesday Dec. 17, 2014
1. Christian Dior signed an agreement with Gus Fisher in Paris in 1954, giving the New Zealand manufacturer exclusive licence to produce Dior garments locally under his El Jay label. "Monsieur Dior himself recognised the importance of the Australasian market.
He very early on created intricate links with Australia, sparked by strong mutual esteem and admiration," explains Mark Browne, Christian Dior general manager for Oceania and Micronesia. "As early as 1948, Sydney was the host to a show of 50 original creations from Monsieur Dior in the first ever collection shown outside of Paris. The presence of Dior on this side of the world has since steadily grown, captivating women in Australia and New Zealand."
2. The brand has been present in the Auckland market since 1997, with a small boutique inside DFS Galleria, but the new Queen St store will be the first freestanding space in New Zealand. Alongside a wide selection of accessories, it features a 12m glass facade rendered in the iconic Dior Cannage pattern - a first for Oceania.
3. Creative Director Raf Simons began at the house in 2012, succeeding John Galliano and bringing the codes and heritage of the house into the future - and translating them into the real-life wardrobes of modern women.
His collections have looked at everything from Dior's iconic Bar jacket to Andy Warhol's early illustrations, homespun craft to 18th-century French royal court attire. "I am obsessed with defining what is modern," Simons told Harper's Bazaarrecently, "but with a historical understanding as well."
4. Simons was the focus of recent documentary Dior and I, with director Frederic Tcheng following him as he created his first collection for the house. The film features voiceovers from Dior reading his memoir. "When I met Raf, it became pretty obvious that he and Christian Dior shared a lot of the same fear about being exposed in the media; the same sort of feeling of alienation when suddenly people recognise you on the street and think you're a star," Tcheng explained.
"I was interested in linking the past to the present; and how Raf was experiencing this. When we put Christian Dior's voice over it, it seemed like he was talking about what was happening to Raf. It also created this feeling of a haunted house. History is repeating itself, and Raf has to deal with that: embrace the past, but also steer the house into the future. He had to find his own voice, despite being haunted slightly by the voice of Dior."
5. Dior is one of the most beloved of French fashion houses, but the Cruise 2015 collection (pictured left), shown in our fashion shoot (pages 16-19), drew inspiration from American style. Explains Simons, "America is a constant inspiration for me. The pop culture, the energy, the fluidity ... there is just something so alive there.
What I always like in America is that there is such a melting pot of styles." The silk scarf was also a source of inspiration, from the iconography and the geometry translating into the construction of garments, with Simons reinventing scarf prints from the extensive Dior archive.
Share this:
More Fashion / The Latest