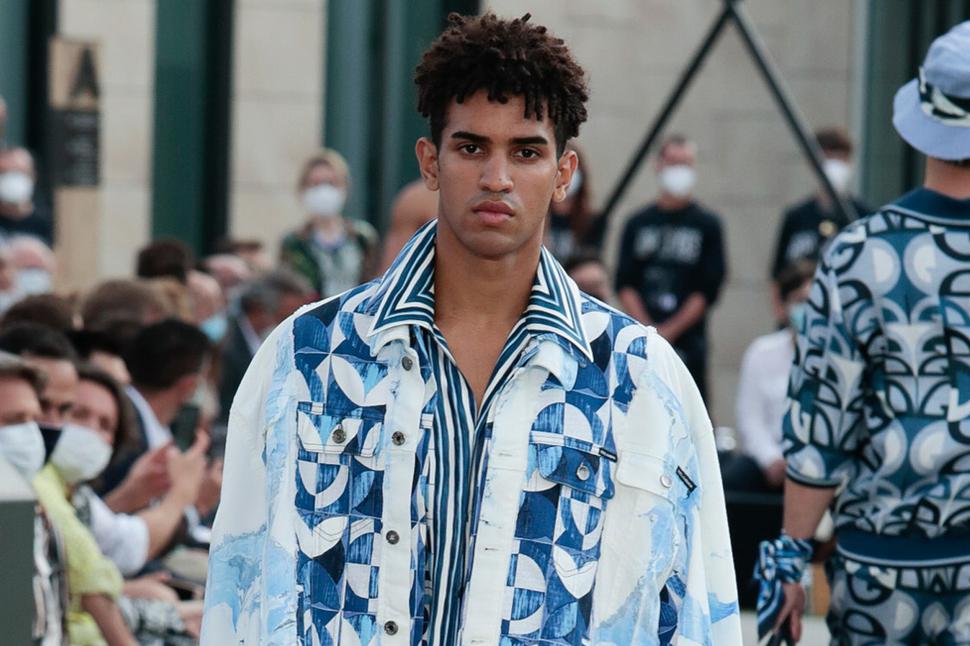 Dolce & Gabbana Redefines The Concept Of 'La Dolce Vita'
In a time of crisis, the concept of the high life takes on a much deeper meaning as the Italian brand displayed at its recent spring/summer 2021 menswear show
Monday July 27, 2020
Stefano Gabbana and Domenico Dolce's devotion to La Dolce Vita takes myriad forms.
From shows in fantastical bel paese locations to high-fashion catwalk homages to the Sicilian familia, and all the black lace and 1950s pinstripes that these entail. But for the house's first show in the wake of the Covid-19 crisis, their patriotism towards their native Italy took a more nuanced approach.
"La Dolce Vita has become a deeper concept than just living the high life, it means caring about the future of our country and each other", said Dolce of the pair's decision to stage their men's spring-summer 2021 show in the grounds of the Humanitas Hospital University campus 45 minutes outside Milan.
WATCH: Dolce & Gabbana spring/summer 2021 menswear show held at the Humanitas University Campus in Milan
The medical institution is at the forefront of research to find a vaccine, and as the crisis hit Milan and Bergamo particularly hard in March, the designers made a sizeable donation to the university. Their involvement is of long-standing - the pair already fund scholarships.
To stage the event - with an audience of 260 compared to the usual 800-plus, and social distancing and masks - a host of creatives offered their services pro bono, from the music to the catering and models. "It was important to send a message of positivity for the future," said Gabbana.
GALLERY: See Every Look From Gucci's Resort 2021 Collection
The crammed benches and gilt of the Milan Metropol theatre, where Dolce & Gabbana shows are usually staged, were swapped for spaced seating, brutalist minimalism and an introduction by junior doctors.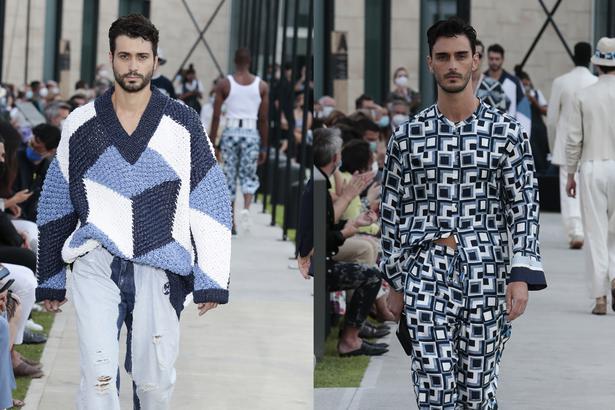 The idea for the collection came last summer, when the designers took a trip to the Gio Ponti-designed Parco dei Principi Hotel in Sorrento and its cooling blue and white ceramic tiles.
Those mosaic patterns of its interior, in Gulf of Naples azure tones, were applied to holiday staples; pristine white cotton tunics and cropped trousers trimmed in blue embroidery, tile-patterned silk pyjama tops and trousers and rustic frayed linens.
READ: Renee Stewart Walks The Runway For Dolce & Gabbana
Dolce & Gabbana artisans debuted some of their most experimental silhouettes to date, splicing contrasting panels onto the torso of suits, or applying knitted sections to the backs and double layers of collars.
The world has been turned upside down, so why not turn tailoring on its head? "It felt important to tell the story of a special location when we're unable to visit the places we love," said Dolce.
At a time when fashion brands are presenting their collections via web links and Wi-Fi, the pair felt that their showmanship had to be experienced in person, in a location integral to the fight against Covid.
"You can't taste a spaghetti Pomodoro by looking at pictures," said Dolce. "It's the same with our collection, you need the atmosphere."
-The Daily Telegraph
Share this: