Renee Stewart Walks the Runway for Dolce & Gabbana
Dancer and former Viva cover star Renee Stewart made an appearance on the runway for Dolce & Gabbana at Milan Fashion Week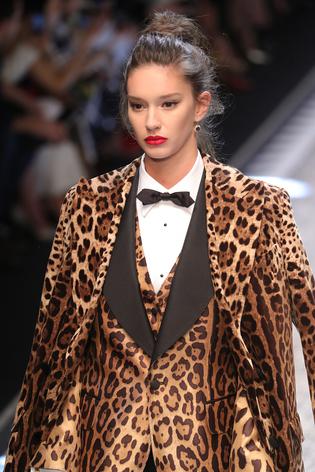 Fresh from walking the red carpet at the Brit Awards in London, Renee Stewart took a turn on the runway for Dolce & Gabbana at Milan Fashion Week.
The 24-year-old contemporary ballet dancer and daughter of Rod Stewart and Rachel Hunter modelled a three-piece tuxedo and coat in the brand's signature leopard print.
On Instagram after the show, Renee thanked the brand for the experience. "Got to feel like a boss in a suit."
In a season that has seen several designers explore themes of female empowerment and diversity, the Italian label chose to showcase their Fall 2017 collection on a cast of 140 women, men and children.
Other notable 'children of' on the runway included Lionel Richie's daughter Sofia Richie, Pamela Anderson and Tommy Lee's son Dylan Lee, and Jude Law and Sadie Frost's son Rafferty Law. The likes of British royal Lady Amelia Windsor, blogger Aimee Song, footwear designers Tabitha Simmons and Charlotte Olympia, and Financial Times fashion editor Jo Ellison also walked in the show.
The collection itself riffed on many of the brand's signature Italo-kitsch prints and classic pieces from its 32-year archives – including bra-strap baring slip dresses, lace separates, and Baroque-inspired embellishments.
Last year, Renee graced the cover of Viva's party issue, showcasing her dance skills and natural love of fashion by wearing the season's best party dresses.
Share this: