Dolce and Gabbana's Extravagant Show
At Dolce & Gabbana's Alta Moda show in Naples, the clothes were extraordinary — but then, so were the clients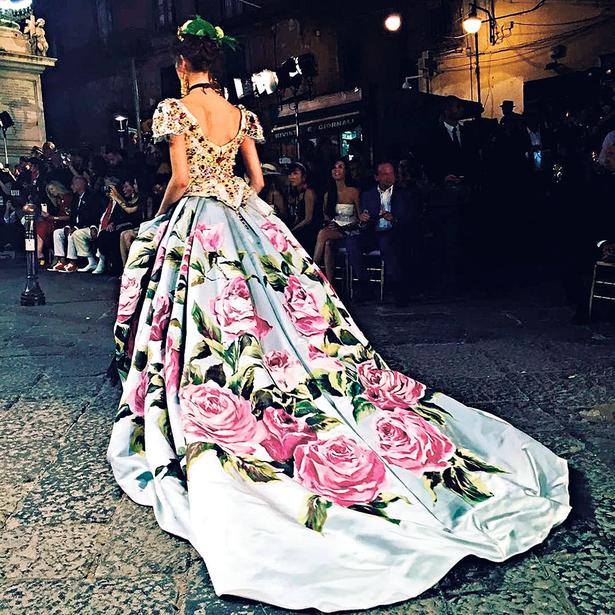 Wednesday July 20, 2016
Four years ago when Domenico Dolce and Stefano Gabbana launched their first Alta Moda collection in Sicily, it was in front of 100 guests, whom they'd tentatively invited in the hope that they might buy enough dresses for the show to become self-financing.
Last week, 400 clients flocked to Naples to watch their largest Alta Moda Collection yet — more than 100 outfits. At the 2012 show, social media was banned, mainly out of respect for the clients whom, Dolce & Gabbana assumed, would want to conduct their luxury shopping in privacy.
Yet there were signs even then, as a clutch of Chinese customers tirelessly took selfies throughout the two-day event, that the modern couture client has changed. Although some like to go about their business with the utmost discretion, others are more open.
Dolce & Gabbana still go out of their way to make these events seem special, organising ever more elaborate and unique settings.
Perhaps it's not surprising then, that their guests feel compelled to share the experience with the world — or that there's no shortage among the world, to partake. There were crowds of onlookers not just for the show, but waiting behind crash-barriers outside the parties. Throngs of Neapolitans, apparently happy to gaze on at the super-wealthy, observed the super-rich with much the same objectivity as an anthropologist would a hitherto undiscovered tribe.
You could say this mutual appreciation is rather sweet. But you can also see why Nanny wouldn't approve — at least the Nanny who always said, "no one's looking at you dear," wouldn't. There were some Chinese guests last weekend who were permanently trailed by professional lensmen. "They've hired these photographers themselves," I was told. Nanny wouldn't know where to begin.
The big winner was Naples of course. "They've given us the confidence to come here," said one client, referring to the designers.
It's true that Naples has something of a gritty reputation. Its warren of narrow, slightly menacing dark streets dating back to Roman times is not ideal for parading around in couture dresses and chandelier diamond earrings.
Yet part of the attraction for the clients of Dolce & Gabbana's increasingly elaborate Alta Moda events is that they provide them with the opportunity to wear their Alta Moda outfits. It's a beautifully circular process that keeps everyone happy and means that Dolce & Gabbana's workrooms in Milan are constantly expanding — along with the designers' reputations.
The label's four-day Naples takeover began with a cocktail and dinner at a palazzo to launch their Alta Gioielleria (couture jewellery) collection. Then came the Alta Moda show, attended by Sophia Loren, a local girl made good, who along with her family sat on — what else? — maroon velvet thrones. The show was followed by a party that saw the designers take over an entire piazza and all the restaurants around it.
Then came the show, in a seaside fortress, of Alta Sartoria, the men's version of Alta Moda, followed by more dinner and dancing — and a pudding buffet that had probably been styled by Michelangelo. Boat trips, pop-up stores, a closing party on Sunday night ... Naples hasn't had this much positive exposure since It Started in Naples, the 60s Sophia Loren/Clark Gable rom-com.
There were many charming references in the Alta Moda collection to Loren's life, from a 50s floral bathing suit and sash embroidered with the legend Miss Elegance (it was winning a beauty pageant, aged 15, that kick-started her career) and the peasant blouse she wore in 1954's L'Oro di Napoli, to her strict, pre-Hollywood tailored suits and the floral balconette bra dress from Marriage Italian Style, 1964.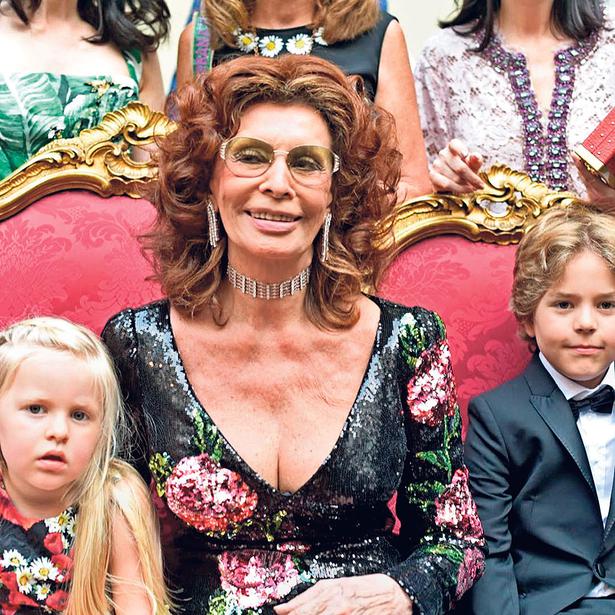 Seeing 100 models genuflect before Loren's throne was a reminder just how many of Dolce & Gabbana's tropes have always been drawn from her back catalogue. There were models in floral silk headscarves, carrying large, flat embroidered bags, models in duster coats with leopard-printed fur collars and models in ruffled lace corseted lingerie-dresses.
In many ways, this was one of their most accomplished collections, rich in detail, wit and craft, with plenty of inspirations from Naples itself — the designers had spent four months going backwards and forwards on research sorties.
There were light-hearted nods to the city's favourite pudding (giant rum baba headwear), its soccer team (an embroidered football shirt) and to its balconies (a sky-blue silk skirt had a line of washing appliqued around it). The latter was immediately snapped up by a client who wore it to dinner the next night.
There were also ornately cross-stitched, sequinned and jewelled gowns drawn from Naples' distinctive Renaissance and Baroque interiors and religious mosaics. Highlights included vast hand-painted ball skirts that took a fortnight's artistry and a long, high-necked ecclesiastical black frock coat embellished with sequinned red roses (a symbol of youth).
There were no big-name models in the women's show. "We only wanted one supermodel this time — Sophia Loren," said Dolce, gallantly. Via Gregorio Armeno, the narrow cobbled street on which the show took place, stretches for 500 metres, but that didn't stop the Dolce team from styling every last centimetre of it.
The artisanal shops, with their carved wooden nativity figures, sorbet drinks and carved lemon soaps, all made locally, had been spruced up in preparation for the fragrant clients who perched on the gilt chairs that flanked either side.
Residents of nearby overhanging balconies had sold unofficial tickets for 40 euros. There was lots of cheering, shouting and an almighty traffic jam as bejewelled, black-tie guests waited to be chauffeured to the after-party. Welcome to Naples — as styled by Dolce & Gabbana.
— The Daily Telegraph
Share this: