Afraid of Bold Prints? Dries Van Noten Will Help You Get Over That
As Dries Van Noten presents his 100th show, Robin Givhan contemplates the Belgian designer's prints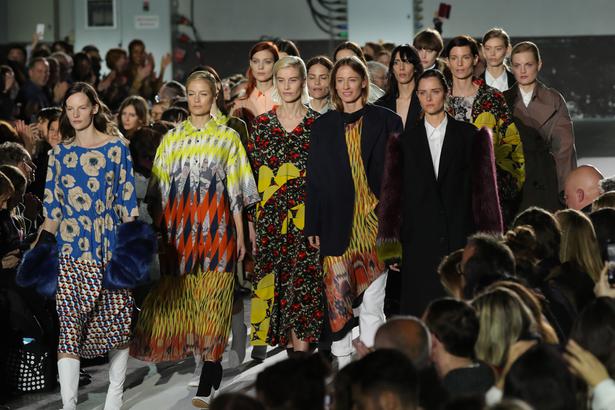 Friday March 3, 2017
To celebrate his 100th fashion show, the designer Dries Van Noten, known for his ebullient use of prints, went through his 30-years-worth of archives to revive his favorites in a new collection.
They were shown off by models ranging from ingénues to midlife sophisticates to matrons of all colors. They walked a runway that seemed as vast as a football field with a confidence and a calm that were both impressive and soothing. For a few minutes, on a rainy and gray day, the world seemed to slow down and brighten and conjure a smile.
Fashion did what fashion is so well-equipped to do.
Van Noten's patterns flowed down his runway slowly and peacefully. He resisted the urge to create a tidal wave effect of geometric patterns, florals, abstract shapes and pure color, so he didn't leave his audience drowning and confused. He served up his ideas at a modest pace. The models moved slowly enough for each look to be admired but quickly enough that there was no time to be bored or distracted.
Van Noten kept his audience focused on beauty, variety, imperfections, individuality. And perhaps most important: continuity.
That's not something that fashion focuses on often. The industry is primarily obsessed with moving forward, searching for the next thing. Of course, that means that obsolescence is guaranteed. As fashion pushes toward the future, the previous season is nudged aside. The past, while a source of inspiration, is not something to celebrate. It must be reinvented, subverted or, occasionally, memorialized.
Van Noten manages to keep his past with him, maintaining its vitality and allowing it to inform his current work. The new looks are in dialogue with the ideas that have preceded them. And his models, both fresh-faced and experienced, underscored how history and age bring their own sort of alchemy to a garment, changing how it is perceived.
The older models - the ones whose heydays were in the '90s or the '00s - move differently, engage with the audience differently. Not better, mind you. They simply cast their eyes about with a sense of familiarity. They've walked this way before, seen this audience countless times. They're savoring something particular.
Prints are personal. A lot of designers use them, but many people don't like to wear them - at least not in public life. You don't see a lot of politicians wearing them. They are largely absent on newscasters. Rarely do celebrities wear them on the red carpet.
Prints can be distracting and polarizing. They can be overwhelming and jarring. Each one has its own distinct personality. They are ethnic and tribal. They are vibrant and alive with all of the contradictions and aggravations that reside within us.
They're a fashion risk. But one worth taking.
- The Washington Post
Share this: