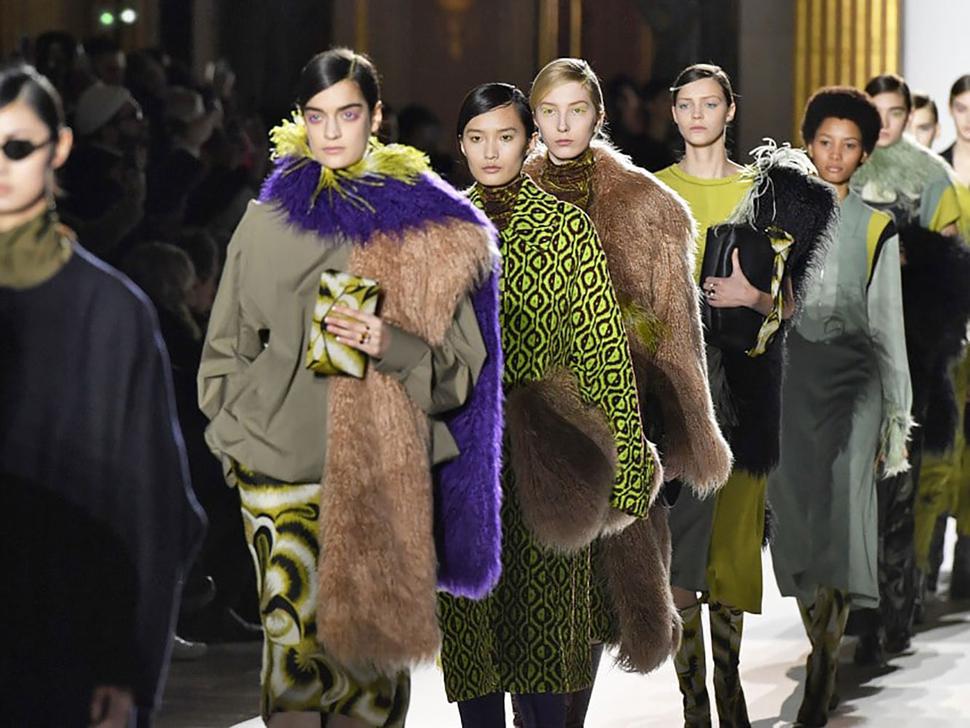 Dries Van Noten's Fashion Magic In Paris
These colours should look hideous together, but somehow they're exquisite
Tuesday March 6, 2018
So often when talk turns to evaluating a designer's skill, the focus is on technical feats of construction: shaping new silhouettes or working out radical proportions.
People think back to Yves Saint Laurent and his popularisation of le smoking - a tuxedo for women. Or the work of designer Rei Kawakubo, who uses her Comme des Garçons collection to reconceptualize the very definition of a dress or a pair of pants. In Kawakubo's world, a shirt really doesn't need armholes and a dress doesn't have to work in three dimensions.
But there is a subtler talent that speaks to consumers' emotions and moods. It's the art of colour. The poetry of mixing dusky shades with iridescent ones. The ability to find just the right shade of red that flatters the skin instead of simply searing the retinas.
Any designer worth their salary should be able to select a few pretty colours to form the foundation of a collection, although some have been known to go off on a soul-sapping tear of mint and coral. More daring designers have narrowed their focus to the subtleties of a single hue. Maria Grazia Chiuri once built an entire Dior collection around navy. Yohji Yamamoto's work is practically defined by his use of black.
READ: The Craze Surrounding Off-White Designer, Virgil Abloh
But other designers - regularly or occasionally - have the ability to use colour with the same element of surprise, majesty and grace as any masterful visual artist. They are able to combine colours in ways that are both startling and compelling.
Their mixing of shades of mint green with sea foam and lime sounds utterly awful. But they've been able to conjure just the right versions of each shade, with just enough depth or enough air that they make a person see something new.
Dries Van Noten has an astonishing eye for colour - and for patterns, too. He's able to layer shade upon shade in ways that should be jarring or even nauseating and yet somehow it all works.
He links his colours by their undertones, with cool tones happily coexisting and warm tones together in another ensemble. But there's really no science to it. It's an art, a feeling, a bit of fashion magic.
Van Noten presented his fall 2018 collection in the ornate central salon of the Hôtel de Ville, Paris's city hall. His first model down the narrow runway wore a black and ivory parka in a swirling hand-drawn print.
More of the same followed. The geometric pattern was like something formed using an old-fashioned toy Spirograph drawing wheel. But soon his graphic prints were bumping up against maribou feathers in shades of emerald and beet red, navy brocades in wallpaper prints and perfectly formed checks.
For Van Noten, the idea was to create a sense of serendipity, a feeling of naturalness and unselfconscious delight. In a video discussion of his work, Van Noten remarked that he was intrigued by Art Brut, a term used by the artist Jean Dubuffet to describe the creative expression offered by outsiders.
There is a controlled chaos in Van Noten's collection, a hallucinogenic quality in which colors swirls and collide in a way that delights the eye as a piece of abstract art might. A person can simply get lost in the depth of colour.
READ: Runway Trend: It's All About Embracing Personal Style
Other designers have shown their colour prowess in more controlled and restrained ways. Designers Christophe Lemaire and Sarah-Linh Tran blended multiple shades of brown in a single ensemble for their Lemaire collection. They mixed caramel with lemon yellow. They made a distinction between the pale orange of a cantaloupe and the richer shade of a clementine. They paired a travertine gray with the silvery gray of a storm cloud. The result was a palette that often felt soothing and calming but without ever looking dull or flat.
Colour is transportive. At Jacquemus, it takes the viewer to North Africa and to Morocco where designer Simon Porte Jacquemus found his inspiration. His sand-coloured caftans, azure-blue slashed trousers and olive tree-green draped tops reflected the landscape of Marrakesh. He used the ruddy brick colour of the architecture and mixed it with the deeper red of the sunsets.
Colour is memory. And Jacquemus used it to tell the story of a holiday that made a lasting impression.
Rochas, designed by Alessandro Dell'Acqua, opened with subdued daywear in shades of chocolate and caramel. But he soon added lilac and cherry red. He mixed seafoam green with emerald. The interplay of colour exuded luxury and indulgence and self-satisfied delight.
Colour announces that a person wants to be seen - that they are, if not happy for the attention, then at least comfortable with it. Black is discreet and sophisticated and endlessly chic. But it also hides a multitude of sins and woes. Insecurity and self-doubt are more easily hidden in the shadows of an all-black ensemble; they are evident and magnified in head-to-toe yellow.
READ: Travel Diary: Kate Sylvester in Hong Kong
Before the burdens of adulthood begin to weigh people down, they're more willing to wear colour. They're more likely to expose their emotions freely, to exude an unseemly degree of joy, to be the neighborhood circus act. But then maturity sets in. Reality strikes. Colour is no longer for work unless work means standing in front of a TV camera. And then colour is costume.
Adulthood signals the repetition of the enduring refrain upon seeing the fuchsia dress in the store window: Does it come in black?
The black is more practical. I'll get more use out of the black.
Perhaps you will. But will it bring you as much joy as the boisterous, ridiculous, delightful colour?
Share this: