Get to Know: Driss Lambaraa of Tango
Vintage expert Driss Lambaraa from Tango travels the world hunting out the very best in second-hand designer fashion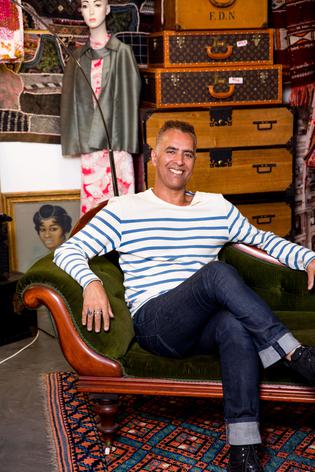 Since the age of 8, Driss Lambaraa has had a sharp eye for second-hand clothing. Born in Casablanca, Morocco, he fondly remembers ships arriving from America with large bags filled with 50s and 60s fashion. As a child he would help the dealers sort through the garment bags they would then on-sell at the local flea market. After many years spent living and travelling throughout Europe, he moved to New Zealand in 1991 and opened Tango a year later in K Rd's St Kevin's Arcade. His unique store, which is brimming with top designer vintage and furniture, is today at Little High St in Auckland's CBD. Driss shares some of his fondest memories from over the years and offers some helpful advice for when it comes to shopping for vintage.
Where do you hunt out the vintage pieces for your boutique?
From all over the world. I travel once a year to Europe for mostly three weeks to a month. I fly straight to Paris, where I have family. From Paris I go to Amsterdam, then on to Germany because I speak German, then Austria where I used to live, then to Italy. Because I speak six languages (French, Italian, Portuguese, German, English and Arabic) it's easy for me to communicate. I also get boxes sent over from Europe throughout the year. I also travel to Morocco — they have beautiful vintage.
What would be one of your most memorable vintage finds?
A three-piece Chanel suit and Chanel airline hat from the 60s. I found it in a stylish rich lady's wardrobe in Paris in the 80s.
READ: The 7 Best Vintage Spots
How would you describe your store to someone who has never visited it?
It's a vintage store with designer furniture and garments. It's all about the piece. It's mostly all designer brands made in France, Italy, Germany and Japan — people come for that. People who don't know it . . . when they come, they are really happy and they love the store.
What is your vintage selection criteria?
One-off pieces, it doesn't matter what era, what age — it can be from the Victorian era until now. It's all about the piece and preferably we have designer European garments, plus some nice vintage New Zealand designers.
What have been some of the standout moments in your career?
I have met amazing people through my business, which has opened doors to travel the world. I have met a lot of wonderful people from fashion to cinema, mad people, lovely people and famous people from Jerry Hall, to Arnold Schwarzenegger and Shari Belafonte.
What did you do before opening Tango?
I was living in Europe working in hospitality. I had a fashionable bar that was visited by a lot of trendy people . . . models and a lot of crazy people. It was kind of a party bar, a bit like Studio 54.
How would you describe your personal style?
Unique. I like a bit of everything from vintage to top designer garments. It can be 30s or 40s garments or it can be Jean Paul Gaultier, I like both vintage and modern design.
How did where you grew up influence your flair with fashion?
The 60s lifestyle and the music — that's how you build your personality with fashion and style. In the 60s in Casablanca, Morocco it was a big hippie era and I was a teenager at that time.
What sets Tango apart from other vintage stores in New Zealand?
I think it's very personal, I buy what I love and what I like and some people love it and some people don't. I don't look at other stores here and then buy — I really just do what I love to do with my style, my experience and knowledge. That's why I think vintage stores are different to other stores. I believe because of my background that there are a lot of other things that other stores don't buy because maybe it doesn't interest them. We don't just do fashion we have furniture, lamps, painting, furs, costume jewellery.
What is your favourite era?
The 60s, because I had the most wonderful time during that era. When I had my bar in the 80s that was a fantastic time too.
What style advice do you give to your customers?
Always buy genuine vintage, always touch the fabrics too: they have to be 100 per cent cotton, silk, or wool. Wear what you feel comfortable in for your figure.
• Tango, 55 Little High St, Auckland Central. Ph (09) 300 7165
Share this: