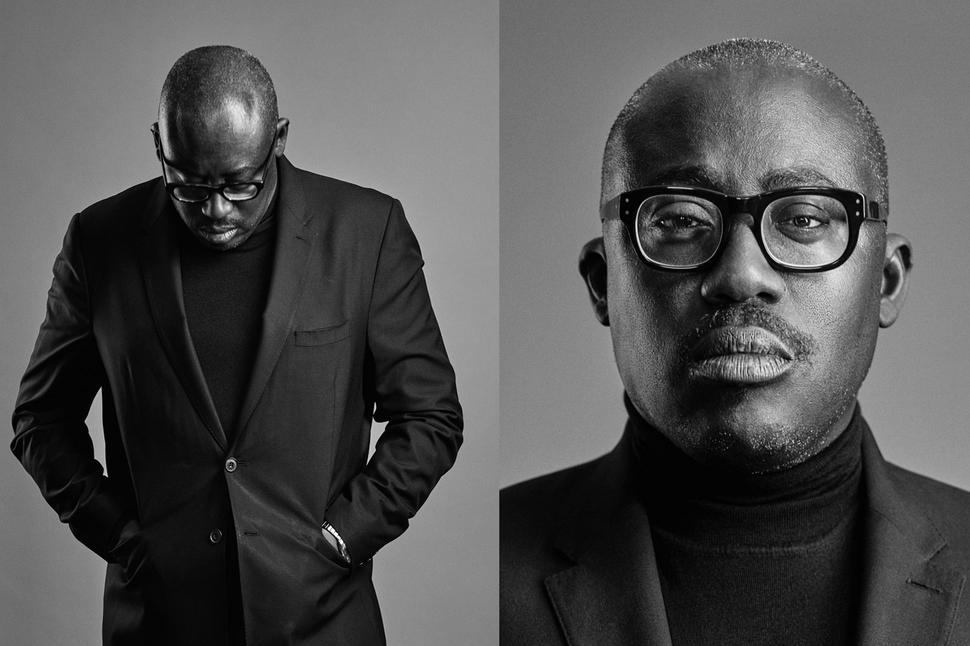 Is Edward Enninful The Next Anna Wintour?
He just took over British Vogue. Now, he's poised to be the most consequential fashion editor of his generation
Wednesday Nov. 28, 2018
Edward Enninful, the new editor in chief of British Vogue, is supremely confident in both his aesthetic beliefs and in his worldview. In short order, he has upended a century-old publication, transforming its masthead to be more reflective of the global audience it seeks to serve and crafting some of the most memorable, inspiring and diverse fashion covers of the past year. His work exudes authenticity. He's made inclusiveness look organic and effortless. And he's made fashion look glorious.
Yet Enninful, on this day in the middle of Paris Fashion Week, is flummoxed over a coat. Not just any coat, Enninful tells me, but his coat. It's caramel-coloured, a gift from Riccardo Tisci, the recently appointed creative director of Burberry. The colour has thrown Enninful thoroughly off balance. He prefers the strict camouflage of black and white: Black suit. White shirt. Black-framed eyeglasses. It's his uniform.
The Burberry coat is a classic and looks splendid on Enninful, but he clearly does not feel fine in it. He's chatting up his colleagues, killing time before the start of the umpteenth show of the day, and he's clutching the coat around his torso with his shoulders hunched forward as if he's attempting to vanish within its tailored confines. Most people would not have such strong feelings about a simple piece of outerwear, but Enninful has spent his entire adult life considering the way clothes not only make us look but also the way they make us feel. And the coat makes Enninful feel exposed at a time when he is in the spotlight as never before.
READ: Fashion Icon Andre Leon Talley Is Ready To Talk About Race
Enninful began his fashion career as a model, an instrument for telling fashion stories. Later, when he became a stylist, he selected the costumes for such narratives. As a fashion director for glossy publications, he was able to write the visual story itself. Now that he's in charge of British Vogue, he has the power to determine whose stories are told at all.
"I always feel that the strongest stories resonate with the times we live in. So my stories will always be a bit social — they'll have an edge," Enninful tells me. "This is a time when the world is so divisive. So many walls are up. It's so important that British Vogue just says, you know, it's okay. It's okay to show beauty." It's OK to highlight differences. "Diversity does work," he adds with emphasis. "It's OK."
Enninful, 46, took the helm of the highly regarded British glossy in August 2017, marking a litany of firsts. Enninful is the first man to run the 102-year-old fashion magazine and its first black editor in chief. But those would be mere footnotes in his biography were it not for the singular perspective he brings to his work. He wants to celebrate art and creativity, of course. But he wants to do so in a way that feels both real and aspirational. He has been unabashed and vocal about the historical lack of diversity in British Vogue's pages and on its staff, and he's determined to remedy that specifically and within the fashion industry at large.
"There's such a buzz about him. Normally that subsides after the first couple of issues. You know people get over it and move on and look for the next thing. But I think they just find it so pleasing, and it's working in every direction," says veteran fashion editor Grace Coddington. "I love what he's doing. I really do. ... For me that's the way magazines should look."
Enninful's take on globalism and his expansive view of culture have gotten him noticed. In the suddenly vigorous guessing game of who will one day succeed Anna Wintour, fashion's most famous and powerful editor, Enninful is now top of mind. The corporate lords of Condé Nast, Vogue's owner, have been adamant in batting away speculation that Wintour, 69, is stepping down or even slowing down anytime soon. "She is integral to the future of our company's transformation and has agreed to work with me indefinitely in her role as [Vogue magazine] editor-in-chief and artistic director of Conde Nast," said chief executive Bob Sauerberg in a statement this summer. Still.
The idea of Enninful as the next Anna Wintour — that is, the next editor to wield outsize influence within the fashion industry and to become iconic outside of it — does not require a move to New York and an office at One World Trade Center. That perch would give him a bigger audience and greater financial might. But he already has extraordinary influence. If Wintour is the producer of studio-financed, big-tent blockbusters, Enninful is the critically acclaimed indie filmmaker whose work punches you in the gut. It is rich and dynamic. It may rile you up or soothe you. It will make you think.
READ: Fashion's New Prince Pyer Moss Is Determined To Make The Industry More Relevant
People also tend to forget that Wintour was not an omnipotent devil-clad-in-Prada when she climbed to the top of the American Vogue masthead 30 years ago. She grew into that role, and the kind of power she amassed reflected a fashion world that was becoming more corporate, more enamoured with celebrities, more hierarchal.
American Vogue remains an advertising behemoth, but it has not been immune to the economic travails of magazines. The next Anna Wintour will rise out of an industry that is now more diffuse and deflated. It is a borderless business, one in which celebrities are just as likely to rise from social media and Nollywood as network television and Hollywood. The role of kingmaker is less important when a young designer can sell direct-to-consumer, broker a lucrative sneaker deal or court the affections of myriad influencers.
Enninful is well positioned for this new landscape. He has an extraordinary, artful eye that makes his work stand out amid the visual chaos. He regularly engages with his more than 855,000 followers on Instagram. He has his eyes set on Africa as a place to expand his readership and is travelling to Ghana this fall to advocate for arts education there. He's well connected within fashion's establishment and in the world of entertainment. He knows Oprah, for heaven's sake. And he's laser-focused on arguably fashion's most pressing social issue of the day: diversity.
For his inaugural issue of British Vogue, Enninful chose Adwoa Aboah as the December 2017 cover star. The biracial, British-Ghanaian model and activist has a honey-coloured complexion, a sprinkling of freckles across her nose, the neck of a gazelle and a buzz cut. She is not especially long-limbed or lithe; she exudes solidity. On the cover, she wears a Marc Jacobs minidress in shades of pale pink and brown with a matching turban by the British milliner Stephen Jones. Her eyelids glitter with metallic turquoise shadow, and her lips shimmer in red. Aboah looks as though she has stepped from the 1970s by way of the 1940s. Her style borrows inspiration from the African diaspora while it revels in a slick disco glamour.
The image is a striking mix of references brought together by Enninful and photographed by Steven Meisel. It confidently rebuffs street style and informality. It is unapologetically high fashion — knowing, assured, refined. And yet it also says: All are welcome.
READ: Michelle Obama's Inspirational Memoir Also Rings True & Tough
It was received with lusty applause in the British press, on social media and in the broader fashion world. The heightened enthusiasm was a reaction to the industry's especially bleak record on inclusivity. When British Vogue's outgoing editor, Alexandra Shulman, posed for a portrait with 54 members of her staff, the entire group was white. During Shulman's 25-year tenure, there was a 12-year period when no black model appeared alone on the cover of the magazine. Until this year, no African American photographer had ever shot an American Vogue cover in its 125-year history. For more than 100 years, no black man or woman had ever served as editor in chief of any Condé Nast publication, until 2012 when Keija Minor became editor of Brides.
A black woman has never won a Council of Fashion Designers of America award for menswear, womenswear or accessories. And in 2013, the international runways were so disproportionately white that Bethann Hardison, a former model agency owner and activist, with support from Iman and Naomi Campbell, published an online list of design houses whose actions they characterised as "racist" due to the lack of people of colour in their fall shows.
In an industry that draws inspiration from the global melting pot, few people of colour have had authorship over the tales being unspooled, how beauty is defined, where status is conferred and the way in which femininity is depicted. One might argue that in 2018, Enninful's emphasis on diversity — which also includes size, ethnicity and culture — is inevitable, obvious or easy. Indeed, many international editions of Vogue have bloomed: China, Mexico and Latin America, Arabia. But the truth is that no other editor at one of fashion's leading legacy publications has treated multiculturalism as a fundamental operating principle.
READ: Amal Clooney's Stunning Vogue Cover
Enninful impresses readers and reassures his peers by nimbly incorporating diversity without democratising fashion; he has not diluted it, over-explained it or given it a stronger connection to the gritty streets. In Enninful's hands, fashion remains as rarefied and fanciful as ever. Inclusive, he says, does not mean down-market. He offers the same tempting fantasy that has for generations attracted fabulists, social swans, mid-country dreamers and creative entrepreneurs. He simply acknowledged that black and brown kids have been dreaming, too. What did their starry-eyed visions look like?
"Usually when a new editor takes over, there's a shakedown period when an editor finds their voice," says Jonathan Newhouse, the trim, rather bookish-looking chairman of Condé Nast International who hired Enninful. "In Edward's case, he produced a masterful, standout product from the beginning."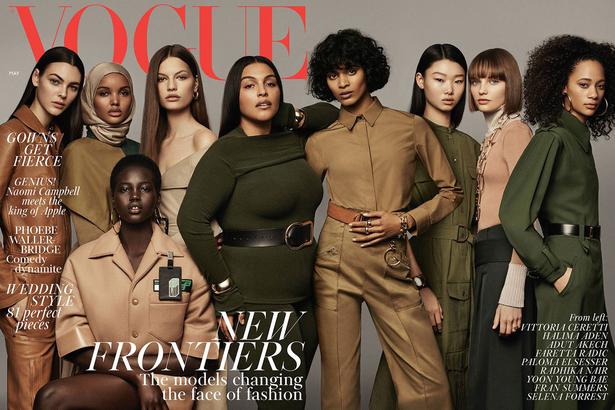 Enninful's May cover showcased nine up-and-coming models that included women of colour, plus-size and hijab-wearing. They were dressed in shades of khaki, taupe, olive and brown and staring out at the viewer: confident, perhaps a bit defiant. A few critics cried reverse discrimination: ivory-complexioned redheads and blue-eyed blondes had gone missing. But again, the feedback was overwhelmingly positive.
June brought the model and actress Cara Delevingne. Ariana Grande was photographed for July. In August, Enninful styled Oprah Winfrey in an ivory Stella McCartney gown with a ruffled neckline matched with diamond and emerald medallion drop earrings. "For me, it's a joy to be able to grab Oprah Winfrey and turn her into an empress dripping in the best gowns, dripping in diamonds," Enninful says. A woman who had been photographed thousands of times was revealed anew.
READ: Legendary Ex-French Vogue Editor Shares Her Story
By fall, it seemed that Enninful had created a ripple effect. Traditionally the most advertisement-packed issue of the year, the September fashion magazines have long been stubbornly homogenous. But this year, major magazines featured women of colour on the cover. Beyoncé was the September star of American Vogue in a history-making photograph by Tyler Mitchell, who is African American. Other cover girls that month included models Slick Woods and Naomi Campbell, and actresses Tracee Ellis Ross, Lupita Nyong'o, Ruth Negga, Tiffany Haddish and Zendaya.
But Enninful led the way with Rihanna wearing a dramatic floral headdress, with the hand-drawn eyebrows of a silent movie siren and lips glimmering like lacquered blackberries. It marked the first time a black woman had ever appeared on a British Vogue September issue.
When Enninful was plotting that cover, he considered the season's trends. And then he began to build a character, drawing from different historical periods, like the 1960s when daring women shaved off their eyebrows and pencilled in exaggerated new ones. "I remember sending [Rihanna] this book that I had that dealt with African tribesmen," he says. "It was just so left field, but that's what makes a picture, when you take all those inspirations and influences and meld them together to create something that's quite new to the eye. That's when I feel I've really succeeded."
Enninful's work echoes with the influence of Diana Vreeland, Richard Avedon, Helmut Newton. He is precise — free but intentional. His work is lush. He creates a visual shorthand for our fantasies and fears. He plays with the tension between high culture and low, between the privileged and disenfranchised, between the Western world and elsewhere. And the results are profoundly, otherworldly beautiful.
"He has a vision and a talent for telling a story," Newhouse says of Enninful, whom he has known for 20 years. "Vogue is kind of a magic act. How do you describe the difference between a beautiful image and an ordinary image? It's hard to put in words; you can't put it in a business plan. But success depends on that."
Enninful, whom colleagues call genial, even-tempered and just plain nice, has the sort of British accent that sounds, to American ears, unfailingly polite, yet delightfully conspiratorial.
He describes himself as European, African and British — in that order. "If I wasn't all those things I don't think I'd be able to do what I do or see the world the way I do," Enninful says. "I see it from the perspective of 'the other.' Maybe that's the strength of my work."
Enninful was born in Ghana but raised in London's Ladbroke Grove neighbourhood, which sits alongside the more famous Notting Hill, with all of its cinematic glamour. When Enninful was growing up, Ladbroke Grove was populated by recent arrivals from Africa and the Caribbean, as well as those of Chinese descent, working-class whites and gays.
READ: Alexandra Shulman On 100 Years of Vogue
His mother was a seamstress, and his father was in the Ghanaian army and worked with the United Nations. "There was a lot of us. Six of us. And we were like a tribe and kind of didn't need anybody else," he recalls. "At home, I lived in Africa: the food, the clothes, the people who came to visit my parents. And then I'd go to school. I'd be in England. So there was always that diversity, [but] I didn't even know what it was called. It's always been part of me and my family and my upbringing."
His family wanted him to become a lawyer; they expected something intellectual from him. But Enninful loved art and design. He and his mother would "sketch clothes together. Design things," he says.
"She had a lot of African wives [as clients], so every day the women would come into the house in their headscarves and all these colours. She'd have me zip them into these peplum dresses. I remember that so well, and then later she'd tell me how to make clothes."
"We didn't have much money and I was very much into fashion," he says. "So I'd go to the secondhand market and buy the clothes for two pounds or whatever, back in the day, and re-create clothes for myself — clothes I could face the world in. Like your armour."
Enninful was a tallish, lanky 16-year-old when he was discovered on the Underground on his way to school by Simon Foxton, a stylist who told him that he had a particular, distinguishing model's "it," which in this case was full lips, hooded eyes, flawless ebony skin and a bone structure of angles and planes that catch the light just so. His parents grudgingly let him model while he was in school.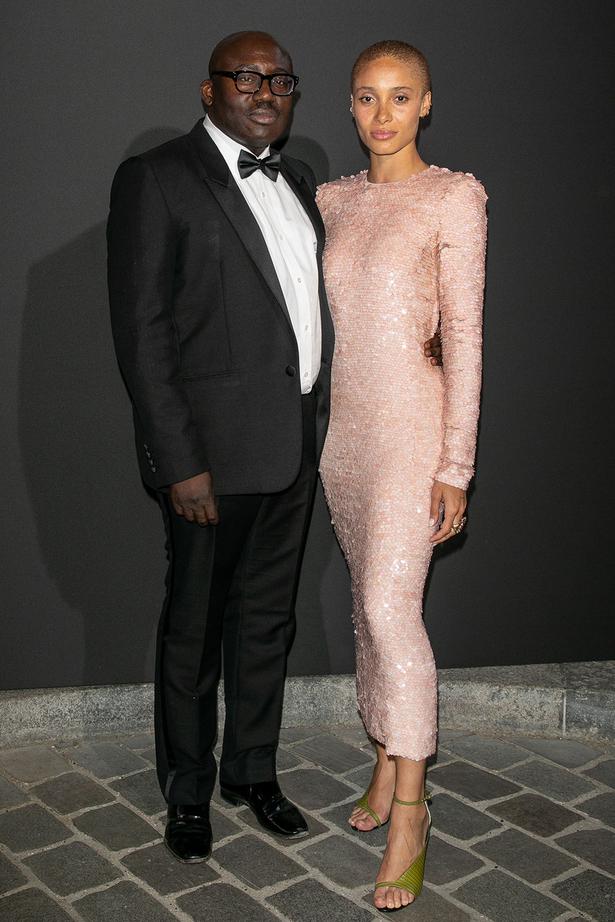 Edward Enninful and Adwoa Aboah attend the Vogue Foundation Dinner. Photo / Getty Images

He realised that his artsy leanings could translate into a career thanks to people such as Foxton, whom he began assisting on shoots for i-D magazine, a London-based chronicler of youth culture. His parents gave him a month to work at i-D — after which he was expected to focus on school. When he was offered a full-time job as the magazine's fashion director, he was 18. He left school — to his parents' horror — and stayed at the magazine for two decades. (He eventually earned his degree from Goldsmiths, University of London.)

"I decided that my destiny really was to work in magazines and just to say something, not in the traditional way of, you know, being a lawyer or doctor, but just to say something through art and beauty," he says. "I was very young. But I knew I had a voice."

Enninful's signature visual language is rooted in those formative years in the 1980s, drawing from what has been referred to as the Buffalo era. Codified by the late stylist Ray Petri, it was defined by rebelliousness and self-expression, a do-it-yourself attitude and a mash-up of cultures and ethnicities. Visually, it meant boys in skirts, girls cast as boys and multiracial kids. The Pan-African Boho style of Soul II Soul exemplified it, as did Culture Club's Boy George bedecked in a treasure chest of flamboyant jewellery by the artist Judy Blame. The movement's soundtrack was Neneh Cherry's 'Buffalo Stance'.

READ: How Ralph Lauren Has Defined Fashion For 50 Years

Enninful's work also bears the marks of 90s American grunge with its emphasis on youthful realism and human imperfections. And one can see the hand of a teenage Enninful who rummaged through secondhand bins and witnessed the kaleidoscope of colours and patterns paraded through his childhood home by women whose roots were in Africa rather than Europe.

Any rough edges are smoothed over by a high-minded, intellectual, respectful sense of fashion history. "I used to spend all my money on books I couldn't afford just so I could learn about the people who had been before — all the great editors, the great designers. You have to study. [Styling] is not just going to a party and thinking you're fabulous because you know how to put outfits together," he says, likening styling more to acting or singing. "You have to study your craft."

He turned fashion into social commentary as a contributing editor at Vogue Italia in the early 2000s. One of his most memorable fashion shoots boldly commented on the modern obsession with plastic surgery and our inability to accept human imperfection. The 2005 feature depicted bandaged models in various states of recuperation and reinvention. There were blackened and bruised eyes, bloody bits of gauze and magnificent designer frocks. It was a jarring juxtaposition of superficial confidence and deeply rooted insecurity, of self-creation and self-destruction. Enninful didn't mock fashion's doyennes; he exposed their truth.

In 2008, he was instrumental in shaping Vogue Italia's groundbreaking Black Issue. A response to the fashion industry's near whitewashing of the runways in New York, Milan and Paris, the project exclusively featured black models in all of its fashion spreads. It celebrated blackness while underscoring the ways in which it's sidelined and categorised as "other."
During the early 2000s, Enninful also was contributing to American Vogue. His first story, in 2005, was photographed in a laundromat. He followed up with one shot in a supermarket. "I wanted to bring this element of reality to American Vogue," he says. He also learned how to balance art and commerce.
"I was very young going into Vogue, in my early 30s, and I learned that fashion is a business," he says. "It's not just telling all these fanciful stories."
"I was doing all these Italian Vogue stories — 60 pages of head shots and a little scrap [of clothing], and you get to Anna and you have 12 outfits, and you have to create a story around these 12 outfits, and you find that it's not just 12 outfits on a rack [at the magazine] but it's units in a store."
He moved on from American Vogue to become fashion director of W magazine. There, he once styled Rihanna as a post-apocalyptic warrior princess in a feather coat, armloads of tribal bracelets, skeleton medallions and a king's ransom of jewels. In another story, model Linda Evangelista became a cyborg matron. Naomi Campbell was a chic Michelle Obama doppelganger.\
READ: Zoe Kravitz on Style, Diversity & Her Latest Role
"We shared the same set of values. We're both European," says W editor in chief Stefano Tonchi, who was born in Italy. "We lived the '80s in the same place with the same ideas, the same set of images, the same music, the same clothes. We believe in diversity. We both live it as gay men to start with — and with the people we work with."
Enninful spent about five years at W before stepping into his current position. He was not the obvious choice. He was not a woman; he was not white. And while he was well connected, he had not come from posh circumstances. But Enninful is well liked in an industry known for its prickly characters and unapproachable personalities. The announcement was met with surprise and delight.
"In this business, he's somebody who is always positive, who's always looking for solutions," Tonchi says. "Most of the time, we spend our life pushing the stone up the hill. It's nice to have someone helping you push it."
Enninful works from a modest office on the fifth floor of Vogue House, a 1958 dun-coloured brick and stone building whose exterior is neither as elegant nor as stylish as its name would imply.
The interior is functional. Its open floor plan is filled with unremarkable workstations and old magazines. Odd bits of fashion paraphernalia are pushed into corners, including an Edward doll commissioned by Harvey Nichols that consists of a large bespectacled brown head atop a Giacometti-like body dressed in a black suit. It has been turned to face the wall. Enninful's own office is a glass box dominated by a large desk, which he occasionally thumps for emphasis when talking, and stacks of fashion and art books.
We meet there in early September, after a long holiday and before he heads into the circus of international runway shows. He's finishing up a morning staff meeting. There are some 40 people on his team, as well as regular contributors including filmmaker Steve McQueen, makeup artist Pat McGrath and Campbell. He's hired stylist Julia Sarr-Jamois as a fashion editor at large, Alice Casely-Hayford as digital editor and Donna Wallace as fashion and accessories editor. They are all women of colour. There are some dozen other editors, interns and assistants whose ethnicities read like roll call at the United Nations. And beginning this year, the magazine also has a new publisher after 26 years: Vanessa Kingori, who is of Afro-Caribbean descent.
Alexandra Shulman, who preceded Enninful, was the longest-tenured editor in chief in the magazine's history, and she cast it as a champion of British designers and as a thoughtful read with a bohemian take on glamour. Indeed, Shulman's own style was more muddy Wellingtons than high-gloss Manolos. When she was asked about the all-white group portrait of her staff, she told the Guardian newspaper that when non-white candidates applied to work for her, "they almost always did in fact get the job. But relatively few came up through the pipeline, for whatever reason, so that might account for why there weren't more." Enninful has begun reaching out to local schools, cultivating the talent pool in digital media and trying, with his very presence, to change the presumptions about who is welcome at Vogue House.
READ: How Fashion Is Getting Political
There was a perception that one had to be wealthy, connected or of a certain class to work at British Vogue. Indeed, both of Shulman's parents once worked at the magazine. "So many people thought it wouldn't be possible for them to work at Vogue. Now they're not scared to pick up the phone, to pick up their CV because they know, 'Oh my God, we can!' They know that the possibility is there," Enninful says. "All these magazines are putting these incredible women of colour on the cover, and I hope it's not just a fad. The only way we can really stop it from being a fad is to get the people working behind the scenes [more diverse]."
"And the way to get there is ... getting the kids coming in here to see what's possible, to see what can be done no matter what background you're from. To see me, from my background," he goes on. "If I'm here and I can do this, there is no reason why these kids can't do it."
Enninful delights in how his team is also diversifying the front row of fashion shows. The mythical front row. In the alchemy of fashion show seating charts, it's a designation reserved for those who are gatekeepers, decision-makers, newsmakers. It is not a diverse place.
In 2013, Enninful remarked on this fact in especially blunt terms. As the fashion director of W magazine, he was in Paris for haute couture shows, a civilised realm of one-of-a-kind gowns and made-to-order daywear presented to admiring clients and industry professionals. Enninful arrived at one of the day's shows to find his counterparts at other magazines all seated in the front row. Enninful had been seated in the second. He was not pleased. And he did not take his designated seat.
This wasn't a matter of wanting an unobstructed sightline to the runway. It was not ego. And while it may have been a minor detail, it was not a petty one. So he tweeted: "If all my (white) counterparts are seated in the front row, why should I be expected to take 2nd row? racism? xoxo."
It was the sort of remark that might have bubbled up privately over dinner but had never been stated publicly by someone of Enninful's stature, in part because so few editors of his stature are black. "At that moment, I thought, 'I've been here working all these years, for 20 years. Same as this editor and same as that editor.' And there's just a level of respect, really," he says. "I wouldn't mind every fashion director in second row. But if you're putting me behind my contemporaries, then that means that is a problem that we need to address. My parents [said] when these things happen, stand up. So I stood up ... for myself — and for the future, really."
The matter was resolved privately to Enninful's satisfaction. "I'd do it again," he says. "I was taught certain things that were right and wrong. It's that simple. And you know, at the time, I had to right a wrong."
In Enninful's quest to halt the inertia of tradition - to make a century-old product modern - there have been bumps along the way. He severed ties with longtime editors and criticised the former editor in chief's failure to be inclusive by making plain his determination to be so. He hurt feelings and nicked egos. And there is concern among close readers that the magazine is publishing fewer long-form feature stories, a concern Enninful says is overblown. "British Vogue always had a history of great journalism, and I guess because I come from the visual [side] people assume that maybe I can't read," he says. "I studied English literature at university. I used to write all the things for i-D." British Vogue, he says, has published substantive features on abortion in Northern Ireland and racial tension in London, among others, and will continue to do so.
Based on the numbers, the changes Enninful has made have been positively received. While overall circulation for British lifestyle glossies is down, British Vogue had a 1.1 per cent uptick in circulation over last year. According to the Audit Bureau of Circulations, its circulation as of August 2018 was about 192,000. (In comparison, American Vogue's circulation is about 1.2 million, while Vogue Italia has a circulation of about 114,000.)
READ: Supermodel Patti Hansen Reflects On Her Iconic Life
"The reaction of readers and business partners, they feel [British Vogue] is relevant," Newhouse says. "Our revenues are up by 8 per cent, for a magazine that's more than 100 years old. That's not just a feeling; it's transforming into real revenue and profit."
British Vogue may never be an advertising colossus like its American counterpart. But Enninful has nonetheless become a leader by the example he has set. He's turning a legacy brand into a next-generation fashion bible, not by reinventing the product but by reflecting its audience. To see Adwoa and then Vittoria, Halima, Adut, Faretta, Paloma, Radhika, Yoon, Fran and Selena on the cover of a fashion institution, one that regularly featured Princess Diana, is, well, something.
"I realise: Oh my God, this might be normal to me, but for Vogue, it's a different thing. Seeing this on i-D or W is different from seeing it on the cover of British Vogue with its incredible history," Enninful says. "It feels more real. It seems more substantial."
Diversity is becoming part of the magazine's legacy. It's being written into its future history. Which matters because Vogue "stands for tradition," as Enninful points out. "It's not going to evaporate in a year or two."
— The Washington Post
Share this: