Edward Enninful is the New Editor of British Vogue
Stylist Edward Enninful succeeds Alexandra Shulman at the British fashion bible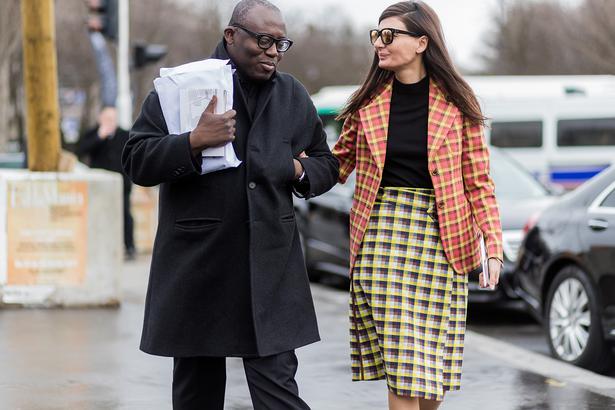 Tuesday April 11, 2017
Widely respected stylist Edward Enninful has been announced as the new editor-in-chief at British Vogue.
Describing his appointment as "truly a dream come true", Edward told British Vogue that he grew up in Ladbroke Grove reading the magazine, and was honoured and humbled at being made editor.
"I realise I am stepping into the shoes of a hugely respected editor in the shape of Alexandra Shulman, someone who has chosen to leave at the top of their game with a legacy of 25 years of success.
"British Vogue is a great magazine with a legacy of creativity and innovation. I look forward to continuing to produce an exciting beautiful magazine for its readers."
One of the world's most influential and connected stylists, Edward is behind some of fashion's most enduring and controversial fashion images from the 90s through to today.
He has been the style director at New York-based W magazine since 2011, and had worked closely with top Vogue editors Anna Wintour and the late Franca Sozzani as a contributing editor to their titles. He was behind Vogue Italia's influential and lauded 'All Black' issue in 2008, and made an appearance in the American Vogue documentary The September Issue.
The 45-year-old began his career as a model for i-D magazine, before he was announced, at the age of 18d, as the title's fashion editor - then, the youngest editor at a major title. Today, he is the first male editor of a major Vogue title and the first black editor of a mainstream fashion magazine.
WATCH: Edward Enninful Opens Up
In a press release announcing the news, Jonathan Newhouse, chairman and chief executive of Conde Nast International, described Edward as "an influential figure in the communities of fashion, Hollywood and music which shape the cultural zeitgeist".
"Edward is one of the most talented and accomplished fashion editors in the world."
He is also one of the most vocal, particularly on issues of fashion's lack of diversity - an issue that fashion, and British Vogue, have had long-time issues with.
Last year Edward was awarded an OBE for services to diversity in the fashion industry.
"For me fashion succeeds when it says something about the times we live in," he told the Telegraph last year.
"I acknowledge the fact that I've been luckier than most, being spotted at 16, a black kid from Ladbroke Grove, not wealthy, from that class. But we need more diversity, from schools to internships to mentorships. That's what I try to do.
"It's very easy to say, oh, there's one black model in a show and one black or Asian model in an advertising photograph, so we've filled the quota. No, it should be a continuous conversation. It shouldn't even be an issue as far as I'm concerned. Beauty's beauty."
Last month in response to Donald Trump's controversial immigration policy, he assembled a group of fashion insiders for a powerful short film titled "I am an immigrant".
WATCH: Edward's "I am an immigrant" film

Edward's appointment has been met with wide support within the industry, with several well-known figures celebrating the news on social media.
Kate Moss' agency shared a photo of the model - a British Vogue stalwart who has appeared on the cover almost 40 times - and Edward hugging on set, writing, "We love you @edward_enninful!!! ?? Can't wait to see @britishvogue under your reign."
Rihanna, who has worked with the stylist on several shoots, wrote, "Congrats @edward_enninful!! For the culture, for the kidz!!! @britishvogue I respect it! It's about time!"
His close friend Naomi Campbell, who accompanied Edward when he received his OBE, wrote on Instagram that "today history was made".
"Congratulations @edward_enninful OBE your deserve this!!! I'm truly Happy for you words cannot describe how I feel for you right now. And for what you will do in bringing people together being at the Helm of @britishvogue. God is the greatest!!! I Love you."
On Twitter, New York Times fashion director Vanessa Friedman wrote, "This is going to shake things up".
Edward succeeds long-standing British Vogue editor Alexandra Shulman, who announced she was leaving after 25 years at the helm of the magazine.
Of Edward's appointment, she said: "Every Vogue editor arrives with their own range of talents and experience and Edward is very known, respected and liked within the fashion industry. I look forward to finding out his plans as soon as possible and working with him over the next few months of transition so that British Vogue continues to be the leading magazine in this market."
She congratulated her successor on Instagram, writing, "I hope you love Vogue as much as I have".
Edward will start his new role on August 1.
Share this: