Elle Macpherson: 'I'm So Happy'
Elle Macpherson talks to Jessica Beresford about business, family and, of course, her undies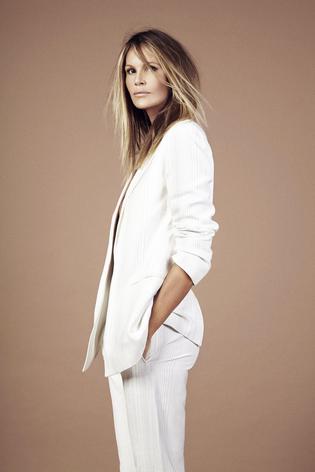 Elle Macpherson sits at a table, her eyes closed in a meditative state, taking deep belly breaths — in through her nose and out through her mouth. Her signature mane, as lush as ever, frames her faintly lined face, ending in honey curls down at her chest. A thick grey knitted scarf is wrapped around her neck, even though it's relatively warm inside.
The occasion for our meeting is to talk about her latest business venture, an act she's become familiar with — and perfected — over the past few decades, although she's having a moment of calm before launching into her pitch. There's complete silence.
We're in the Melbourne office of her business partner Simon de Winter, with whom she's collaborating on her second namesake lingerie line, Elle Macpherson Body. She's been flying here every couple of months from her home in Miami, where she relocated to from London close to two years ago with her sons, Flynn and Cy.
After a long 30 seconds, she opens her eyes and starts to speak in that hybrid, international accent: a telling sign of a rich, well-travelled career.
"I'm so happy because I'm finally able to do what I've always wanted to do — it's become what I've always wanted it to become," says Elle, which I surmise is a sneaky jab at her former partner Bendon, the originally New Zealand, now Australian-owned, company with which she ran Elle Macpherson Intimates with for 25 years. It was hugely successful, too, worth more than $200 million according to Women's Wear Daily. Her breakthrough maternity bras were even endorsed by Oprah.
But all that turned sour at the end of 2014, when the brand decided to focus on growth in the Northern Hemisphere — having already dominated Australasia — and enlisted celebrity drawcard Heidi Klum, the social media-savvy personality, when Elle's partnership contract expired. It seemed like the perfect controversy, providing further bait for a pair already pitted against each other by the media. One headline read, 'Elle Macpherson loses lingerie line to rival Heidi Klum', another 'Heidi Klum steals Elle Macpherson's undies'.
But Elle Macpherson the brand was always bigger than Bendon. Like many of her fellow supermodels, she's so ingrained in popular culture, few wouldn't be able to recognise her in a line up. In a 2001 Gilmore Girls episode, the characters describe someone as "an Elle Macpherson kind of pretty". She's hosted Saturday Night Live. She played Bruce Wayne's girlfriend in Batman & Robin. She even had a recurring role on Friends as Joey's "hot" flatmate and love interest. Not to mention her Sports Illustrated Swimsuit Issue covers — she still holds the record, with five, three of which were consecutive.
Although she made a name for herself as a model in the 1980s, earning the illustrious title The Body, she is now, first and foremost, a businesswoman. And a businesswoman doesn't let 25 years experience go to waste.
"I just feel like I know what girls want. I understand the business, I've learned a lot, and I really want to apply my experience in meaningful ways. So I took some time out to reorganise, and I'm really enthusiastic and excited to be presenting this collection."
She likens the new venture to a phoenix rising from the ashes: a good thing coming out of a bad situation.
READ: Up Close with Heidi Klum on Her NZ Visit
Elle had been approached by a number of other people leading up to the split from Bendon, says Simon de Winter, but she wanted to keep the business based in Australia, her country of origin.
"From our first meeting in Miami at the end of 2014, we started communicating regularly as to how we would set up the business," says Simon, who already has two other lingerie lines on the market in New Zealand.
"I flew down to Miami from New York and Elle and I had breakfast together on her patio. From that first meeting we were very much aligned in terms of the brand vision."
Rather than licensing, Elle and Simon agreed that co-ownership was the best way to go about structuring the business. As the creative director, Elle handles all the product and marketing, while Simon is focused on the commercial side.
"I believe in collaboration, and co-operation, so my interest ranges from logo design to fabric choices to marketing, advertising, budgets, margins, to coat hanger design, to PR," Elle says.
"For example, I produced the shoot, so I found the girl, we found the photographer, we chose a location, we chose the garments we wanted to shoot, the energy we wanted to shoot behind it, the logo — of course I work with people, you know, I'm not a logo specialist, but I worked with somebody for eight months on what kind of logo we'd do, and it went through 150 revelations before we got there."
Doing things a little differently this time around, Elle isn't appearing in her own campaigns. She's taking a step back to let the product speak for itself.
"I feel like there are so many fabulous girls of the new generation that it's time for this brand to be worn — obviously it's going to be worn by me and designed for women like me — but I just love that it's time for this to be seen by a new generation of girls."
Elle also seems to be bringing to the brand a protective streak, stemming from being a mother, by consciously shunning anything too overtly sexual in the advertising.
"I felt that I had a responsibility to some extent, because I have two stepdaughters, who are turning 16 and 18, and in America, the only real choice they had for lingerie was Victoria's Secret. I felt there must be another alternative that is cool.
"Victoria's Secret is perceived as cool, so I really wanted to create a brand that was different, and still cool. This version of coolness is something I would like to share with my daughters. Because it's healthy, beautiful, it's within her, it's not trying to be something."
READ: Kate Moss' Beauty Routine
That cool, casual nature does seem intrinsically Elle, the bombshell from Downunder who once wore flip-flops to the Met Gala. On the day of our interview, she's wearing white silky track pants with a black stripe down the side, a black T-shirt and slides. If she's wearing any makeup, I can't tell. Her height takes me by surprise, even though I'm expecting her to be six foot.
Elle insists her looks have never meant that she wasn't taken seriously outside modelling.
"I couldn't be in the business if it wasn't for the way I looked — which wasn't particularly traditionally beautiful, it was a look that stood out because I was tall or broad shouldered or whatever — but I feel I've been able to really enjoy and use my opportunities and . . . not squandered them."
Surely she squandered some opportunities? She was part of the supermodel heyday, after all, and they looked like they had a lot of fun. But you don't think of Elle Macpherson in the same way you do Kate Moss: that "work hard, party harder" ethos. She's obviously been pretty cautious with what she does and says. Even as we're talking, Elle's very guarded and careful not to say anything controversial. She won't be drawn into having an opinion on much, as though she's been burned in the past. That obviously comes with the package of being famous, and like many of her fellow supermodels, Elle has always known how to market herself as a brand.
Cindy Crawford, who also rose to fame in the 80s, says one of the first projects she worked on with Elle was shooting with Gilles Bensimon in Senegal for Elle magazine. Even back then, Cindy says, the Australian model showed an entrepreneurial streak.
"Elle was one of the first models of my generation to take her brand and use it to develop her own businesses. I think we really respected that about each other."
READ: What it Takes to Be a Supermodel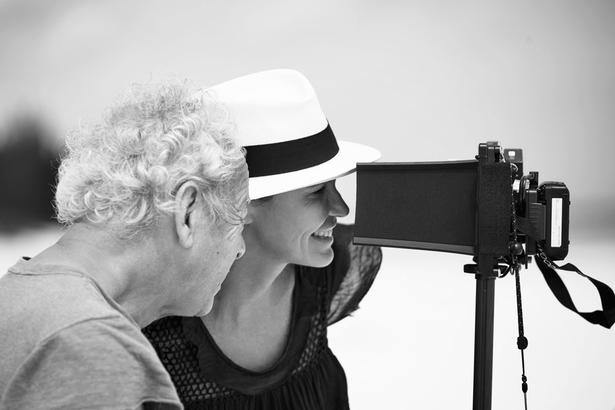 After a successful few years modelling for publications, Elle made her own solo calendars, behind-the-scenes videos and exercise tapes.
"It wasn't a calculated strategy, it was more that kind of spirit of: 'Here's an opportunity for me to make something for myself'. It's self-sufficiency," says Elle. "I'm not going to sit there and wait for somebody to come and say, 'Would you like to do a calendar?' If I have an idea, I'm going to do it.
"I've noticed in hindsight, that I've created a lot of the opportunities I have had throughout my career. I don't mean that in a pretentious way, I mean in a sort of naive way. There's that saying: 'Why do small businesses do well? Because they don't know any better, and if they did they wouldn't attempt half of what they do.'
"I feel like a lot of the things I've done have been purely out of naivety and courage — the combination of having a purely Australian spirit, being naive in some areas, having courage to give things a go, and also a desire to be purposeful in my choices."
And she's incredibly organised. Elle schedules every aspect of her life — business, exercise or pleasure — into her diary. "Everything I want to do gets done because I've made time, precisely, in the day to get it done.
"A lot of people think organisation is controlling and difficult, but actually it makes your life easy
and effortless."
That discipline has obviously worked well for Elle, because even in her 50s, she still ventures into unfamiliar territory. She's just launched the new lingerie, and she also has a fledgling wellness company to take care of. WelleCo was founded three years ago, starting with a product Elle developed with a nutritionist she went to see after what she describes as a "health scare".
"I explained my symptoms, that I wasn't feeling well, I felt like my diet and exercise plan wasn't working for me anymore. I was trying to apply the things that I had been doing since I was 20, and it just wasn't working.
"I started taking this alkalising greens powder, and really noticed a difference, so we started tweaking the recipe to address some of the symptoms I was feeling. Within two weeks, my life changed. Everything changed. My skin got better, I started to sleep, my hair grew, my nails grew, I lost weight, I felt stronger, my thinking was more rapid, I was craving less sugar, I was drinking less coffee, I felt nourished from the inside.
"And I just thought, if this is working for me, I think it could really help other people.
"So on my 50th birthday, I decided, with my friend and business partner Andrea Bux, to build a company, a wellness business, that would start with this particular product."
WelleCo has now grown to include protein shakes, and sleep tea, with plans to introduce more products in the future.
"Wellness is such an important part of my life, it's what I breathe, it's what I believe in. It's authentic and it was a natural progression for me to start a wellness business and to share the things that I've learned.
"It's the same thing for the lingerie, I've been doing this for 27 years, it's part of who I am."
In a 2005 interview with Vanity Fair, a 42-year-old Elle said she was at the peak of her career. She was at the helm of a successful business, having already enjoyed 20 years in the spotlight as a model and actress. Nearly 10 years later, at 52, Elle's still saying the same thing.
"I think I'm in the best time of my life. Building Elle Macpherson Body and WelleCo have probably been the most satisfying experiences that I can remember.
"At this point in my life I'd rather be doing things that really resonate with me — I have two businesses, and that's where I put my energy."
And sitting in front of her, hearing about a life well-lived, I'd be inclined to believe she is getting better with age.
• Elle Macpherson Body is available at Farmers.
Share this: